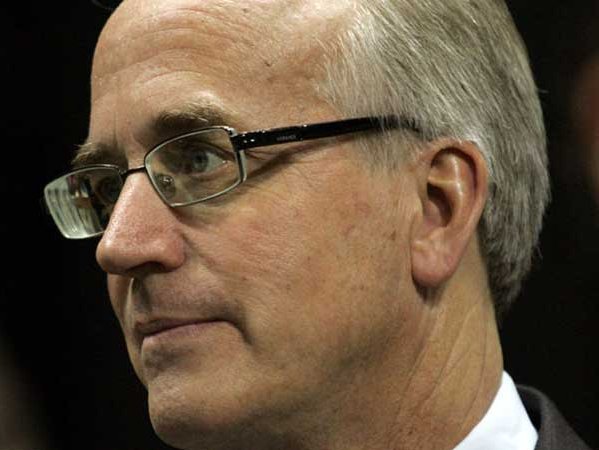 Milwaukee Talks: Bucks' VP John Steinmiller
Few people can offer more insight into the Bucks than John Steinmiller.
As the franchise celebrates its 40th anniversary this season, the team's vice president of business operations celebrates his 38th. The Chicago native and Marquette University graduate worked his way up from performing odd jobs around the office for minimum wage to handling the day-to-day operations of a team with an estimated value of nearly $300 million.
Steinmiller sat down with OnMilwaukee.com and discussed a number of topics including his history with the team, his memories there, the arrival of Yi Jianlian and the future of the Bradley Center and the franchise.
OnMilwaukee.com: How did you end up with the Bucks?
John Steinmiller: I was in my senior year at Marquette and I needed some money. We were in the old union on a Friday afternoon, sitting around the table and one of my fraternity brothers said there was a job opening with the Bucks. He said it only paid about five bucks an hour and was only about eight hours a week; they just wanted somebody to change the sign. I said "I'm not doing that," but I went down to the office on 7th and Wisconsin and talked to the manager.
OMC: Do you remember still who that was and how did the first meeting go?
JS: Her name was Kathy Bartley, a tremendous lady. It was a front office of only eight people at the time. That included a general manager, an accountant, a receptionist, a president and sales people ... it was a much smaller operation that it is now. She brought me in and explained the job and what it paid. They had one of those marquee signs where you had to change the letters. Everybody I knew considered it grunt work, but I considered it outdoor advertising. I started that day, I changed the sign and she had me come back again Monday.
OMC: And so began your life with the Bucks. It sounds like very humble beginnings.
JS: The first week was about four hours and by the next week it was as many hours as I could give them. Pretty much seven days a week I was there. I was in my final semester and I pretty much did whatever they wanted. I got coffee and found things to do because there was always something to do. I got to start working on the ticket side and the beauty of the small operation exposed you to a lot of different people and different jobs.
OMC: When did you move up to a full-time position?
JS: Right after I graduated in December 1970. The bulk of my work was with the Bucks Summer Camp Program and with the ticket department. In 1972 or 1973, several of our people went to Houston including Ray Patterson, our president. He went to Houston and became the president there and Wayne Embry, who was our player personnel guy at the time, was promoted to GM and I got promoted to public relations.
OMC: That had to be a big move for you. Is that what you had wanted to do in the first place while you were at Marquette?
JS: That's really what I was looking for. I had majored in communications at Marquette.
OMC: Weren't you the youngest PR guy in the league at the time?
JS: Yeah, I think I was about 23. It was serendipitous. A lot of good things happened at the right time. A lot of people who believed in me gave me an opportunity that I probably didn't deserve.
OMC: Did you want to end up in sports, or were you planning to end up working in agencies ... maybe the public sector?
JS: In college, I didn't intend to pursue a career in pro sports. I really focused on advertising and marketing. Eventually all the bookwork and prep work that I Iearned in college has been put to use, but I really saw myself more in the advertising field, where I had spent a couple summers interning in Chicago. But there were such great people there in the organization and it was growing.
OMC: It had to be a lot of fun for you, too. The Bucks in the early 1970s were among the best teams in the history of the NBA. What was that experience like for you?
JS: It was early NBA and it was in its growing period. There wasn't nearly the exposure or the number of teams; I think we were the 10th or 11th team in the league at the time. We were in the old Milwaukee Arena and we had the best player in the game in Kareem Abdul-Jabbar and the second-best player in the game in Oscar Robinson. It was a great time and we dominated.
OMC: They were kind of like Shaq and Kobe, but without the drama. That 1971 team was pretty incredible.
JS: The stats are all there. We were a 3-year-old franchise. No expansion team has won a championship as fast as the Bucks did at that time and no franchise -- in any sport -- has since. It might not ever happen that quickly again. It was a golden era and there have been a few silver eras since, but it was truly a time of exciting growth. To go from an expansion team in 1968 and win a championship in 1971, it's just unheard of.
OMC: That 1971 team doesn't get nearly the accolades -- even here in Milwaukee -- that other championship teams like the Lombardi Packers or the 1982 Brewers get. How do you feel about that?
JS: It's underappreciated by some people and the media. Yet there are some people who would say that the 1971 team was one of the most dominant of all time. There's a book out that rates dominance of certain NBA teams. I've always felt it was one of the best teams. You would go into games in 1970-'71 knowing that the Bucks were going to win. It was such a great feeling.
OMC: It's not like the Bucks were playing watered-down, weak competition, either. There was a lot more talent distribution at that time. How much does that speak to what those teams were able to accomplish?
JS: It wasn't that we weren't playing great teams. It wasn't a weak league ... we were just so dominant. It was such an awesome year. The team made it look easy. You'd walk out of the Arena and fans would be grumbling about another 20-point victory. They just made it look so easy and so efficient.
OMC: Fielding a team today with that much star power would probably not have anywhere near that kind of success.
JS: They weren't hot dogs, the egos weren't large. It was true precision basketball. I'm not saying it was better than it is now; it was a brand of basketball that was almost flawless. I am not sure if they kept turnovers then, but I'm sure there were nights where they only turned the ball over three or four times a game. It was just dominant.
OMC: The success wasn't limited to just 1971, either. There were a string of incredible teams, weren't there?
JS: Yeah, we were good for a couple of years even though there was only one championship. We went to the NBA Finals in 1974 (losing to Boston in seven games) and we derailed the Lakers' 33-game winning streak in 1972. There were so many great things done during that period that I don't want to say were taken for granted, but I think are underappreciated or overlooked.
OMC: Why do you think that is?
JS: A lot of it was because it was a smaller league then. The media isn't anything near what it is today and, obviously, there was no internet. The games were only televised on Sundays. It was just an underexposed game. As a result, you have to be a historian or true fan of the game in that era to understand just how good those teams were.
OMC: Was it tough during the 1980s? The Bucks were so good and so close every single year. It had to be frustrating to be in the mix every year and not be able to get over the hump.
JS: We were good, but so was the rest of the Eastern Conference. It seemed like we had to play Philadelphia or Boston every single year in the playoffs. One or the other got to the NBA Finals just about every year. In some cases, we were playing both of the conference finalists every year just to get our shot at the finals. It was hard. Those were true teams; complementary groups of players under a young, but gaining-experience-every-year coach in Don Nelson.
OMC: Boston and Philadelphia had some pretty amazing teams during the early 1980s. That was the Moses Malone/Larry Bird era for those teams.
JS: We kept hitting our heads against the wall. If we got by Boston one year -- we swept them one year, 4-0 -- then Philadelphia was waiting for us in the next round and vice versa. It was frustrating. Those teams, too, get underrated. But I think to get your due, you have to win a championship or at least, get to the Finals. We had some very good teams, but in the playoffs, we ran into some better teams.
OMC: Those teams also produced some of the more memorable names in franchise history. Many of their jersey numbers are hanging from the Bradley Center rafters.
JS: Those teams were solid. Nobody was satisfied with 50-win seasons, but they were good teams. There was great chemistry with Brian Winters, Bob Lanier, Junior Bridgeman and later, Sidney Moncrief ... just some solid teams.
OMC: A lot of the players you just mentioned came to Milwaukee as a result of the Kareem trade. What was it like having to trade a player who was arguably the best in the game at that time?
JS: It was interesting, for sure. Kareem used tremendous diplomacy and had tremendous respect for the game and the organization. He didn't make his wishes known in a way that would hamstring us, unlike what you see these days. He had his mind made up; he dealt with ownership in confidentiality and candor.
Ownership, to their credit, didn't roll over by any means. They tried to persuade him to stay, but in the end he was determined. He allowed the franchise to pretty much get the most they could under the circumstances. In the end, it set us up pretty well for many years with a lot of those players. In fact, we made the playoffs the next year while they missed it. Our best player had been traded, but we were in good shape in terms of building for the future.
OMC: The team also had to get used to a new coach after Larry Costello -- who had coached the team since its inception -- stepped down early in the season.
JS: Nelson was an unlikely replacement after 13 games. We got through that season and from then on we were in the playoffs every year but one. I think 1978-'79 was the only year we missed under Nelson.
OMC: You mentioned how small the front office is when you came on board. What's changed over the years?
JS: Because of the growth of the sport, it's a much larger business and grows every year. There are 30 teams now. The broadcast and media exposure and the money needed to have a viable franchise and the people needed to make it successful are so much bigger now than when I first started. It requires so many more people and so much more expertise than it did in the 1970s. It's a much larger business than it's ever been and it's only going to get bigger.
OMC: The game itself is a little different than it was in the 1970s, too. It seems to be more, maybe isolated. Have you noticed anything on the court that may be different now?
JS: The players are so much different now. I'm not saying they're better-conditioned. In the 1970s and '80s, the off-season training and conditioning activities were much more basketball-focused. Strength training didn't really come around until the later part of the '80s.
The players now have been on weight and strength programs since high school. Our players now are stronger and better conditioned. In some ways, they're products of a high school or college system that is often short-circuited. There's also a lot of AAU and summer camps and things like that. It's a different level and in some cases, I don't think all the players are as ready for the NBA as players were back then after four years of high school and college.
That's even more abundant with the number of players coming out early or skipping college altogether. There was a maturation process. Development is speeded up now. We're getting younger players who are very talented but still trying to catch up with their more established peers off-the-court.
OMC: How has the franchise changed in terms of how it fits into the community?
JS: I think our community outreach is as great as it's ever been. Our entire team is out there several times a month doing different things. During our 28-day training camp, our whole team was out in grocery stores and schools. Yi was out changing smoke alarms and behind a deli counter at Pick 'N Save. Our players understand that it's our responsibility to do good things and help people have better lives and be part of the community. They know the represent the franchise off-the-court. Its part of being a Milwaukee Buck and it always will be.
OMC: Milwaukee has a lot of sporting options for a market its size. Not too many cities along these lines have two NCAA Division I programs, Major League Baseball, the NBA and even though it's in Green Bay, the NFL. Where do the Bucks fall?
JS: For the city, we have more sports than any market its size. No doubt about it, it's not even close. Like you said, we have D-I, MLB, NBA, NBA and professional soccer and hockey. There's auto racing and a pro golf tournament that Chicago doesn't have every year anymore. All those things in line, this market has a great menu for sports that far exceeds what economists say the market can support.
OMC: Does that make it harder for your staff to do their job and sell the product and the franchise?
JS: I don't think it's hard, per se. It's a condition that you know of, address and accept. You find out as much as you can, do the best you can and find ways to get better. We don't look at the market size as a negative but rather an opportunity. We try to figure out how to expand in Wisconsin, into Northern Illinois, up north, out west. We can't go east because the lake is there but we need to know our market and how to grow it. We're here. We're going to stay viable. Maybe it's hard in some ways, but those who look at it as hard aren't going to succeed.
OMC: One thing I've noticed that's impressive is that while there is a lot of talk in town about the future of the Bucks and the Bradley Center, the team -- unlike in some cities where there are public threats of moving or demands for new facilities -- is more inclined to work from within. How important is it to use the existing building to generate revenue?
JS: It's critical. We have to maximize every possible source of revenue in the building. The community at large will make the decisions that need to be made at the right time. In cooperation with the Bradley Center, the Bucks have matched the Bradley Center's desires to get the most out of the building.
OMC: People talk about a replacement, but it's only 20 years old. It still looks pretty new in most places. How have the Bradley Center people Sen. (Herb) Kohl worked together on the situation?
JS: It's a solid facility, but it lacks the ability to do certain things that some other, newer buildings do in terms of generating sponsorship revenue and providing fan amenities. In the interim, while the solution is discussed and debated, there are great steps being made that can help us during this period. Some of it we're doing ourselves, some we're doing with help from the Bradley Center. It's a partnership and it has to be.
Sen. Kohl, as owner, is never going to leverage his situation the way most sports owners would or have. Sometimes, it's a disadvantage, but it's the professional and model citizen way of doing business.
You're right, though. We've carved out areas and new destinations and created new things within the building. The Bradley Center looks great. It's a great facility. This building today looks as great as more than half the buildings in the league. This building is a good-looking 20-year-old.
OMC: It's hard to believe the Bucks have played more seasons in the Bradley Center than they did at the Arena. Can you ever recreate the experience and the atmosphere of that building?
JS: Yeah, we were at the Arena I think 19 years and we've been here 20. We were over 90 percent capacity almost every night there. It kind of makes you wonder where we'd be if we had 15 or 16,000 seats in that era. We had to turn fans away then and there wasn't as much TV so we really, in essence, turned away a lot of nurturing fans when we played in the building that only seated about 11,000 fans.
OMC: Is it fair to say that the Bucks wouldn't be here anymore had the Bradley Center not been built 20 years ago?
JS: It's very fair. It was a situation where the owner then gave the city 90 to 120 days to find a way to find a local owner. Sen. Kohl was certainly the last person on the order of interest and the only one to really step up.
OMC: What have you added this year?
JS: Our suite holders can take advantage of new valet parking at 6th & State Streets. We've upgraded our Club Cambria area and added Club 71, which is a new party-suite type of atmosphere that's already sold out for the season. Miller Brewing renovated a suite space that they will use as a way to bring their people into the building. And, of course, Yi.
OMC: What did bringing Yi Jianlian and the Chinese market into the fold mean for the franchise?
JS: I think along with the Chinese element, he comes to the team when we have a young, deep and talented roster. Lost in the cultural discussion is the fact that we're adding another young, talented player to the roster. I think we focus too much sometimes on that he's from China; he's a heck of a player. He's arrived on the scene with a good team. That said, he makes us a better team and at the same time opens up our franchise, the NBA and the Milwaukee 7 region to the people of China.
We found out that 35 of our games -- 21 of them from Milwaukee -- will be televised in China. That means our team, our product and our game-day experience will be introduced in China. Where else outside of the United States do you want to be in terms of growth? He brings a great deal of talent, enthusiasm and interest not just from China, but from around here as well.
Facebook Comments
Disclaimer: Please note that Facebook comments are posted through Facebook and cannot be approved, edited or declined by OnMilwaukee.com. The opinions expressed in Facebook comments do not necessarily reflect those of OnMilwaukee.com or its staff.