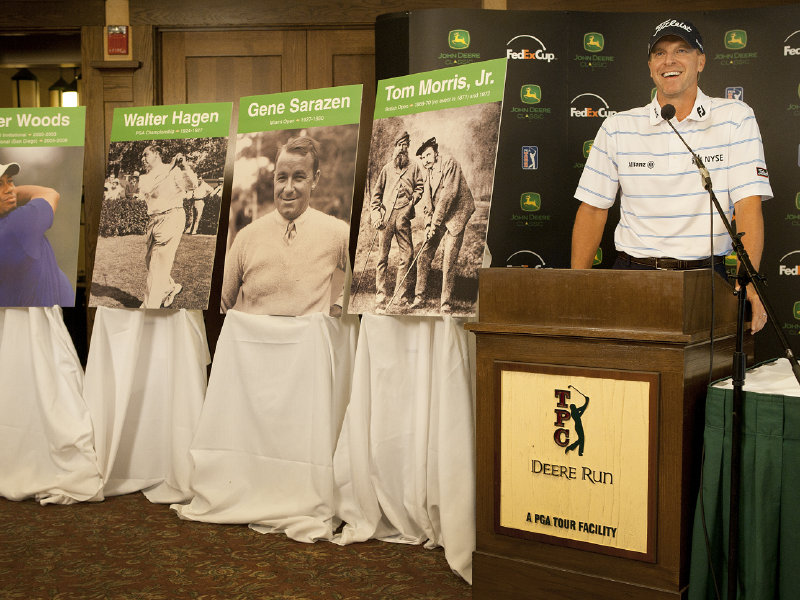 Steve Stricker continues quest for first major championship at U.S. Open
Along the Pacific coastline, across the angled fairways and over the bowled greens of The Olympic Club, Steve Stricker learned how to win a major championship.
He was just yards away from Lee Janzen throughout that Sunday afternoon in 1998 when Janzen chased down Payne Stewart and captured his second U.S. Open by one shot.
The Madison resident and world's 11th ranked player returns to his schooling grounds 14 years later, but despite the lessons learned, he hasn't been quite able to master the assignment.
Stricker has been close, with a tie for fifth behind Janzen and then a runner-up finish at the 1998 PGA Championship. He's had six other top six finishes in major championships, including a fifth place finish at the U.S. Open in 1999 and a tie for sixth in 2006.
Yet, at the age of 45 Stricker has yet to break through and he realizes time is short. He's OK with that, though.
"It's not life or death," he said. "Obviously I'm 45, so that window of opportunity is dwindling. Nicklaus won when he was 46. Holy cow, how can he win when he's 46? I haven't won a major yet. He won 17 up to that point. I realize where I'm at. I also realize I've played some great golf over the last five, six years, won a lot of tournaments. That gives me the confidence that I could still do it. I just have to put four good rounds together, get the putter going a little bit, see what happens. I enjoy the U.S. Open. It's a huge challenge."
Some may feel that attitude, that thought process, weakens his chances at winning his first major this week at The Olympic Club. On the other hand, it may be exactly what drives him to the trophy.
"We've become very good friends and we've discussed a lot of these things," said two-time U.S. Open champion and fellow Madison resident Andy North. "It's a major championship, and you want it, and you build your schedule around being rested and prepared for when you get to a major championship, but once you get there then you've just got to go ahead and play golf. You can't make too big a deal out of it. You still have to put it in the fairway, you still have to hit it on the green and you still have to figure out how to putt. There's nothing magical. I think sometimes guys put way too much pressure on themselves and end up trying too hard. In a major championship, if you just keep plugging along and plugging along and you're playing OK, by the end of the week you're going to have a chance. You don't have to go and try and force the issue there as much as some regular tournaments, in my opinion."
Stricker heads into this week not playing his best golf, having tied for 50th at The Memorial two weeks ago and having missed the cut The Players Championship three weeks before that. On balance though, he is having another solid season with four top 10s in nine starts, including a victory at the season-opening Hyundai Tournament of Champions.
"I've had a good year so far except for the last month. Just not really what I expect. I'm not playing poorly, it's just I'm not getting the ball in the hole," he said. "Olympic would be the great place to get it going. Huge Ryder Cup points there. Have not won a major. It would be fun to get in the mix of that and try to win one."
Working for him as he heads to a notoriously difficult driving golf course is that he is 16th on the PGA Tour in driving accuracy, 13th in greens in regulation and first in proximity to the hole.
Those are stats that could put him in the dark-horse category for his first major.
"If you can drive the ball in the fairway there, you can play the golf course," said North, who will be analyzing play as part of ESPN's coverage of the championship. "It's going to have some really long holes – welcome to reality of golf today - but the guys can handle it. They have the length to handle it. The key to Olympic is you have to drive the ball in the fairway. Why it's so difficult is they're not only narrow, but Olympic has been built sort of on a side hill so you have a lot of holes that dogleg a little bit one way or the other and you're not only playing the dogleg, but you're playing a fairway that slopes from one direction to the other because of the hillside."
While Stricker has been driving the ball well this season, working against him is that he, surprisingly, rates just 66th in scoring average (70.8) because he is near the bottom of the tour in putting.
He is 104th in total putting, a number that looks compared to his ranking on putts from three to five feet: 144th. And those are supposed to be the easy ones for tour pro's. Stricker is slightly better on putts from five to 10 feet (116th) and from 10 to 15 feet (89th).
Stricker is hoping his affinity for the ocean front classroom helps shake him out of the doldrums around the greens.
"It's one of my favorite courses," he said, noting he first played it in college at the University of Illinois. "It's just a great, traditional, old-style golf course. I think there's only one fairway bunker, and there are no water hazards, I don't think, on the course. It's just right in front of you, tough as can be. A lot of little movements off the tee where fairways are maybe sloping in a direction where it's very difficult to keep it in the fairway, and of course the USGA will have the rough up, the greens fast, so it'll be a tough challenge."
Thoughts that would make many players furrow a brow only brought a smile to Stricker.
"I finished fifth in '98," he said. "I must have played it okay. So I'm looking forward to it."
wbrsyabw
Facebook Comments
Disclaimer: Please note that Facebook comments are posted through Facebook and cannot be approved, edited or declined by OnMilwaukee.com. The opinions expressed in Facebook comments do not necessarily reflect those of OnMilwaukee.com or its staff.