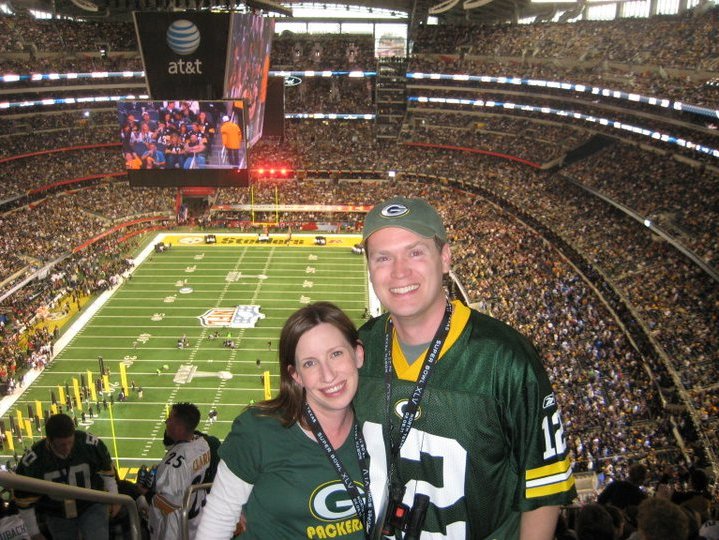 Super Bowl shutout
Note: OnMilwaukee.com's Doug Russell in reporting from Indianapolis this week, covering Super Bowl XLVI between the New York Giants and the New England Patriots.
INDIANAPOLIS -- It was supposed to be the trip of a lifetime, never to be forgotten. Instead, it was a nightmare that seemed like it would never end.
One year ago, the Packers played the Steelers in Super Bowl XLV in Arlington, TX. Cowboys Stadium was built by the taxpayers of that city with two things in mind. One, to have the biggest, most spectacular, most talked about, most envied edifice to sports and entertainment excess known to man; and to host Super Bowls.
Not Super Bowl, mind you...Super Bowls. Many of them. To be part of the short-list rotation that once included Pasadena and San Diego; that now includes suburban Phoenix and has always included Miami and New Orleans. So called "Jerry World" (for Cowboys owner Jerry Jones) also was bold about its lust for a BCS game as well. It was more than a football stadium. It was a showcase.
When Super Bowl XLV was awarded to Cowboys Stadium in May 2007, it was a full two years before the stadium was even completed. Because Jones is who he is, he promised the biggest, most grandiose, incredible event that the NFL had ever seen.
As part of that promise of enormity was the pledge to break the all-time Super Bowl attendance record. The goal was to better the mark of 103,985 set in 1980 during Super Bowl XIV. Since Jones' stadium had a permanent capacity of about 80,000, using areas left open but available for temporary seats and standing room, a new attendance record was in sight. After the Cotton Bowl Classic on Jan. 2, crews got to work on installing 15,000 additional seats that would be sold for the Super Bowl just over one month later.
That was the plan. Game day on Feb. 6 proved otherwise.
"When we finally got to the front of the line after going through the metal detectors," ticket holder Bobbi Barclay remembers. "They scanned our tickets, and we got a big red 'X' on the scanner."
It couldn't be, could it? After all, the lifelong Packers fan and her husband David had already laid out thousands of dollars for tickets, airfare, and hotel for a once-in-a-lifetime chance to see their team vie for an NFL championship. And now they get a big red "X" on the scanner? What went wrong? Did they buy tickets from a disreputable source? Was it just an electronic error?
Whatever the issue was, they weren't getting inside.
Adding to the sickening sense of panic already setting in to the couple's collective stomach, Bobbi was 35 weeks pregnant with their second child.
"We had an elaborate plan in place of how we were going to get there early," Barclay says today. "I was going to take a lot of breaks, I was going to sit down a lot and how we weren't going to try to do too much. "
That plan went out the window the instant that "X" reared is ugly head.
"We were told to go stand in a section of other people waiting," Barclay continues. "As it turns out from talking to those people, we surmise that we are all in sections that end in 'A' for auxiliary. We were in section 425A. So, we stood around for quite some time. I had to find someone willing to take me inside the stadium to use the restroom."
Meanwhile, Las Vegas resident (and lifelong Packers fan) Craig Newby had also traveled to the Dallas area to check another item off of his bucket list.
"I went in and it seemed like they were having some sort of issue and they were completing construction," Newby recalls. "We tried to get some answers, but there was just a lot of confusion."
That confusion was because the fire marshall would not approve certain areas of seats that simply were not finished and up to code. Inexplicably, in certain areas, railings had not been installed; in others there were risers that were not properly fastened in. Although there was tremendous political pressure to have a good showing during a week that had already been panned by traveling NFL reporters, the only thing that would have been worse than closing off those sections of sold seats was to have someone get injured or even killed by an unsafe section.
"It seems surprising in retrospect that they knew that they were having an issue completing those seats in time for the game," Newby says. What made the situation even more unbearable for those seated in the affected areas was that there was a total lack of information being shared by stadium workers, security personnel, or the NFL.
"After standing around for some time, we finally were proceeded to be sent all about the stadium, Barclay says. "It was pretty clear that no one knew what the heck to do with us, and we weren't given very good information. At this point people were saying that they think there is something wrong with the seats, and that was all we knew."
"They kept saying that a Ticketmaster representative would come down and take care of the problem," Barclay's husband, David, remembers. "Nobody came down, so eventually they told us that we had to go all the way around to a tent on the other side of the stadium complex and started to lead us there. After we finally got all the way over there, the person in that tent said they had no idea what we were talking about."
Page 1 of 2 (view all on one page)
Next >>
Facebook Comments
Disclaimer: Please note that Facebook comments are posted through Facebook and cannot be approved, edited or declined by OnMilwaukee.com. The opinions expressed in Facebook comments do not necessarily reflect those of OnMilwaukee.com or its staff.