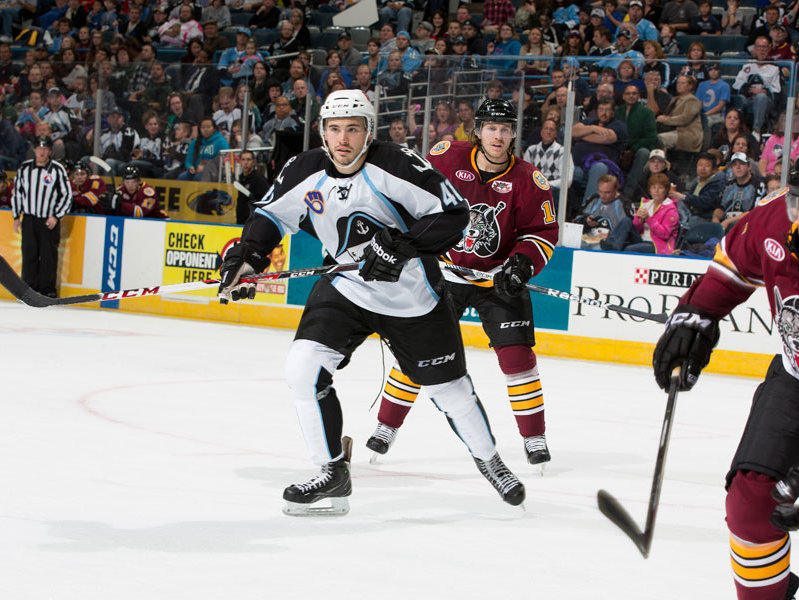 Beck builds an NHL resume
Dean Evason was a little surprised to see big No. 41 skating for his Milwaukee Admirals this season, as the 6-foot, 2-inch, 207-pound right winger Taylor Beck spent the better part of last season in the National Hockey League with the Nashville Predators, being called up from Milwaukee on March 19 and finishing the season there.
He appeared in 16 games, and got some milestones out of the way quickly, like scoring his first goal and handing out his first assist just four days into his call-up.
Beck's talent – especially on the offensive end – has been evident from his junior days in Ontario, Canada. It's why the Predators made him a third round pick in 2009 after he was named the Ontario Hockey League's Most Outstanding Player.
But it's not just offense that gets you to the NHL, and it's not just offense that keeps you there.
"That's the biggest thing," Beck said. "I have to show up and be the same player every night. Sometimes everything is not going to go your way offensively and that's when you focus on being a great defensive player and really finishing your checks. You have to show up every night. You can't take a night off when you play in this organization. That's something I definitely learned and am applying to my season."
Consistency, or the lack thereof, was something Evason and his staff, as well as Nashville coach Barry Trotz and his staff tried to impress upon Beck last year – that talent is wasted if it's not used on a night-in, night-out basis.
That is especially true in the NHL, where you're playing against the best hockey players in the world on daily basis.
"On the ice last year, playing for us, he would have a phenomenal game," Evason recalled. "He'd have like six scoring chances, score a goal and an assist, be the best player on the ice. The next night he was horrible. He wasn't able to handle the success he had individually and he wasn't able to back that up."
That's why the Predators sent the 22-year-old back to Evason, at least for the first half of this season.
"When he came back he could've went one of two ways – he could've been a guy that said I should be in the NHL, I was in the NHL last year and been very negative about coming to play in Milwaukee," Evason said. "Or, he could've done exactly what he's done and that's continue to work at his game and develop not only on ice, but off ice and mature. And, just continue to work at that in order to be better prepared when I think he and all of us believe he'll be there in not distant a future here."
Beck has appeared in 34 games for the Admirals this season, but the focus hasn't been so much about putting the puck in the net – the points will come, as he says – but it's about being a solid two-way player and bringing that effort to the ice daily.
"I know to play in the NHL you have to be a two-way player and I think I am that now," Beck said. "I've got a defensive side to my game. The offensive side will always be there for me. That's the most important thing for me."
All year, Evason has had Beck start on every Admirals penalty kill, whereas last year he was on the third or fourth unit. Evason has seen his big winger use his size productively on both ends of the ice by not turning the puck over but also check smartly to force mistakes.
"We asked him and Barry Trotz has asked him to be more of a power forward as opposed to be a skills, cute forward and he's done that this year," Evason said. "He has carried the puck. He's drove the net. He's done all the things that we've asked and they've asked to give him an opportunity to have success when he gets back to Nashville."
This is the second straight oddly scheduled season for the NHL, with the Winter Games in Sochi, Russia forcing a break for the better part of February.
That will allow Beck to get some extra seasoning and additional opportunities to showcase that newfound consistency before, perhaps, departing Milwaukee for good.
"It fueled my fire a little bit coming down," Beck admitted. "I want to be the best player I can every game and I want to be best player in every game that I'm here and show them that I should be up there and hopefully get up there soon and keep doing what I'm doing here."
"The biggest thing is that Taylor Beck has recognized that for him to have success he has to be a consistent player on both sides of the puck and to his credit, obviously, he's been doing that," Evason added. "Clearly we don't believe he's going to be with us long term for sure."
Facebook Comments
Disclaimer: Please note that Facebook comments are posted through Facebook and cannot be approved, edited or declined by OnMilwaukee.com. The opinions expressed in Facebook comments do not necessarily reflect those of OnMilwaukee.com or its staff.