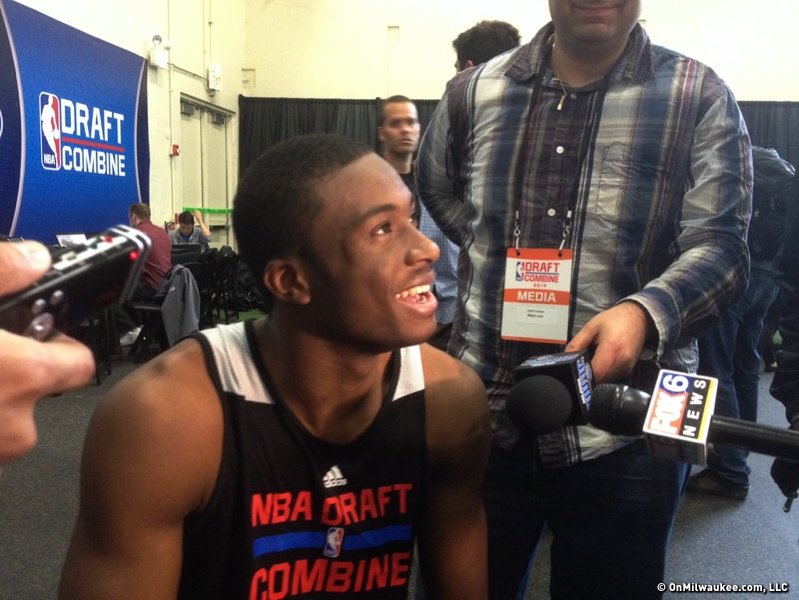 Thanasis Antetokounmpo out to forge his own trail
Thanasis Antetokounmpo stood at the free throw line in the Cousins Center following his predraft workout with the Milwaukee Bucks in early June, and his little brother Giannis – all 6-feet, 11-inches of him – tried to sneak up behind him.
Unsuccessful in that attempt, Giannis hugged Thanasis, and palmed his head.
It's been a good summer for the brothers working out together in spurts, as the two spent their first year apart last season with Giannis in Milwaukee and Thanasis in Delaware, playing for the 87ers of the NBA Developmental League.
While Giannis earned national recognition for his athleticism and personality, and potentially as the steal of the 2013 NBA Draft, his older brother toiled in relative anonymity.
It was an important for Thanasis, however, to spend the last season in the NBADL.
He wasn't 6-9 (as Giannis was in pre-draft workouts). His offensive skill set wasn't as tantalizing. He was athletic, with a vertical leap well over 40 inches, but would NBA scouts come to see him in Greece?
"For me, it's different," Thanasis said. "I have to work hard and show people what I can do so people can trust me and rely on me because I try to be a reliable person.
"I really wanted to know if I could make the same difference here. I wanted to see if I could make the same impact with energy and hard work."
The staff of the Delaware 87ers declined to comment on Thanasis' play or development last season, saying the organization is focusing on the upcoming draft and players currently under contract, but he did improve as he adjusted to American basketball.
His field goal percentage dropped to 41.5 and 40.2 percent in the motnhs of December and January, but then steadily rose to 50.8 (February), 53.9 (March) and 57.1 (April).
His rebounding and assist totals also rose, and he finished the year averaging 12 points, 4.3 rebounds per game while shooting 46.9 percent.
"I work hard, I work 100 percent, so I got heavier," said Thanasis, who plays at 217 pounds. "I didn't know we'd play so many games, back-to-back, back-to-tback, so I got heavier. During the last two months, the coach(es) helped me get loose, start lifting weights in the proper way, and the hard worked paid off."
Thanasis wound up representing the league over the NBA All-Star weekend in New Orleans in the slam dunk contest, and was named to the NBADL All-Defensive third team.
"He gained experience from that," Giannis added. "He's 21 years old and he's a hard-working kid. I know any chance that is coming way, he's going to try to pick it up. When he got a chance to go to the D-League, he just grabbed the chance."
That improvement paved the way for an invite to the NBA pre-draft combine in Chicago, which resulted in in a half-dozen interviews. That led to individual workouts across the country, including in Milwaukee.
"We wouldn't have had him in if our interest wasn't sincere," Bucks director of scouting Billy McKinney said. "I know he's Giannis' brother, but it's funny, as we've talked about Giannis, when we had him earlier, there was a lot of discussion about his brother and his incredible athletic ability. And once he was able to play in the NBADL, he was able to develop some of his skills. And much like young players that are really tremendously gifted athletically, he's had the chance to improve his shooting and defense and do a lot of things."
McKinney went on to call Thanasis an "atomic dog" on defense – "one of those guys, he guards you so close when you go home at night you gotta look around you to see if he's still with you."
It's something Thanasis has heard throughout his evaluation process, that he is a defense-first, high-energy, high-character player that needs work on his offensive game.
But while he admits his athleticism has got him in the door in America, it's an immeasurable that can put him over the top.
"I would say my greatest strength is I'm a good kid, good character, reliable person," Thanasis said. "I'll do whatever the coach says, tells me to do, just to win. When me and my brother came, they'd ask us, are you guy nervous, are you guys going to play, and we told them, look, if that team wants us just put up a half point in every game, just to win, we'll win. If I score 20 points and my team lose, I can't sleep. It's all about the wins. It's all about the winning and giving 100 percent."
So it's no surprise that Thanasis approached the combine, and all of his individual workouts, a bit differently than other draft prospects. He saw them not as showcases, but as practices. He said he was in "game mode" – and the goal was to absorb the coaching, the competition, and get better.
"Wherever I go, I'm the worst player," he said – then repeated it, almost to impress that he wasn't being modest. "So if he works twice, I have to work four times. If he works four times, I've got to work eight, because he's already better than me, he's already here in the states and I just got there. I have to work better than him. I don't think that's going to stop."
It's impossible to predict when, or if, Thanasis will be drafted Thursday night, but he will assuredly be on a team's training camp roster and play summer league ball.
For him, it's not about where, either. It's about the opportunity. But, his dream – his family's dream – is that the Bucks do call his name with one of the three second round picks they currently hold.
"It's not in my hands; it's not in my family's hands," Giannis said. "It's in the Bucks' hands. Anything the Bucks choose to do, I'll be happy with that, because I love the Bucks and I love being here. I think they're going to make the right choice."
"That's the dream," Thanasis added. "We talked a lot, if we played together it'd be a team full of passion and energy. But, we'll see."
And the Bucks have no concern about the mental state of their up-and-coming star if, for some reason, they did select Thanasis and he could not make the team.
"Not as much," McKinney said. "I think their way of thinking, coming from Greece, is a little different sometimes from players from the United States. They have a little more of a global view of things and probably a little better understanding of what it entails to be able to make a team."
Giannis will be with Thanasis in New York, supporting his big brother to the end. In the end, it matters little where Thanasis ends up, as long as he ends up somewhere.
Why?
For him, for Giannis, and their younger brothers who also share NBA dreams, it's simple.
"My family is my team."
Facebook Comments
Disclaimer: Please note that Facebook comments are posted through Facebook and cannot be approved, edited or declined by OnMilwaukee.com. The opinions expressed in Facebook comments do not necessarily reflect those of OnMilwaukee.com or its staff.