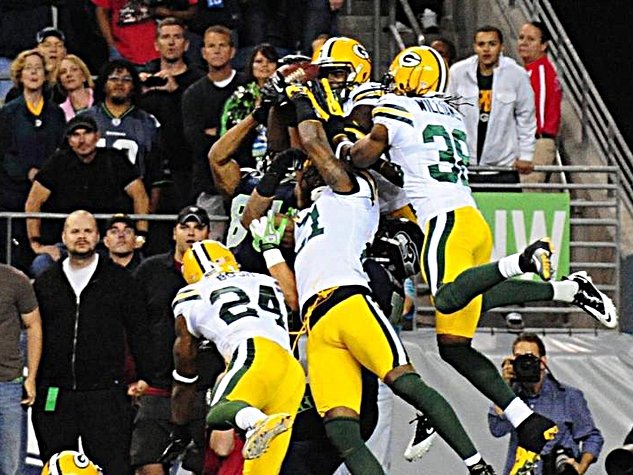 The top Wisconsin sports stories of 2012
When you look back at 2012, what sports stories will you remember most? It's hard to say. A year is long, and these past 365 days were jam-packed with mind-boggling performances, head-scratching news items and hair-pulling results.
What a year in Wisconsin sports.
Here were our top stories of 2012:
Jan. 2: Oregon edged Wisconsin, 45-38, in the 98th Rose Bowl, scoring 10 fourth quarter points to erase a 38-35 deficit and hand the Badgers' second straight loss in the "Granddaddy of them all."
Jan. 15: The 15-1 Green Bay Packers lose at Lambeau Field to the New York Giants in the second round of the NFL playoffs.
Jan. 24: Prince Fielder officially leaves Milwaukee, signing a nine-year, $214 million free agent contract with the Detroit Tigers.
Feb. 4: Packers quarterback Aaron Rodgers is named the 2011 NFL MVP.
Feb. 23: Ryan Braun's 50-game suspension for PED use is overturned.
March 6: Marquette University senior Jae Crowder is named the Big East Player of the Year.
March 13: The Milwaukee Bucks send fan favorite and former No. 1 draft pick Andrew Bogut to Golden State (along with Stephen Jackson) for Monta Ellis, Ekpe Udoh and Kwame Brown.
March 18: Marquette advances to the Sweet 16 of the NCAA Tournament for the second straight year and the Milwaukee Wave defeated the Baltimore Blast 12-10 to win its second straight Major Indoor Soccer League Championship. Marcio Leite was named the final's Most Valuable Player.
April 1: The Milwaukee Admirals made the highlight shows thanks to a bench clearing brawl with the Rockford IceHogs at the BMO Harris Bradley Center.
April 15: With a regular-season ending victory over the Charlotte Checkers, the Admirals clinched their 10th straight playoff appearance and an AHL record 10th straight season with 40 or more wins.
April 30: Braun hits three home runs in a game for the first time in his career against the San Diego Padres, driving in six runs in an 8-3 victory.
May 11: Brewers closer John Axford allowed three ninth-inning runs to the Chicago Cubs in an eventual 8-7 extra-inning Brewers win, ending the Ax Man's consecutive save streak at 49. Axford famously left the ballpark after the game to be with his pregnant wife, leaving a note for reporters.
July 27: The Olympic Games begin in London, England, and the State of Wisconsin was represented by a dozen athletes who participated in 11 different sports.
July 28: Zack Greinke is traded to the Los Angeles Angels of Anaheim for shortstop Jean Segur and two minor league pitchers.
Aug. 20 to Sept. 21: The Brewers go on a stretch of play where they go 24-6 and climb from 55-66 to 78-72 and into the thick of the National League wildcard race behind the surprise pitching of Mike Fiers, Mark Rogers, Wily Peralta and Marco Estrada and a bullpen that found a groove.
Sept. 24: The Seattle Seahawks defeat the Green Bay Packers 14-12 on Monday Night Football following the replacement officials holding up the on-field ruling that the Seahawks caught a Hail Mary touchdown, despite replays conclusively showing the Packers intercepted the pass.
Many members of the Packers then took to Twitter to voice their displeasure, oftentimes profanely. The NFL did not fine any of the players for their outbursts, and the regular officials were back two days later.
Sept. 30: Madison resident and Edgerton native Steve Stricker loses to German Martin Kaymer in singles play during the Ryder Cup at Medinah Country Club, capping an incredible four-point comeback on the tournament's final day.
Oct. 3: The Brewers ended the 2012 season leading the National League in runs scored (776), homers (202) and stolen bases (158). The 1996 Colorado Rockies were the last team to accomplish that feat. On the mound, Brewers pitchers struck out 1,402 hitters to rank second in Major League history to the 2003 Chicago Cubs (1,404).
Nov. 24 – Wisconsin running back Montee Ball scored his 79th career touchdown against Penn State, setting the Football Bowl Subdivision (FBS) record set by Travis Prentice in 1999.
Nov. 31: Bucks forward Larry Sanders ties Kareem Abdul-Jabbar's franchise record for blocked shots in a game with 10 against Minnesota.
Dec. 1: Ball etched his name in the record book again when he rushed for his 74th career TD, setting another career FBS record.
Dec.5: After three straight Rose Bowl berths, Wisconsin head football coach Bret Bielema suddenly departs Madison to take over the head job at Arkansas.
Dec. 20: Former Olympian and University of Wisconsin great Suzy Favor Hamilton admits to working as an escort in Las Vegas.
The past year was one to remember. What could possibly be in store in 2013?
Facebook Comments
Disclaimer: Please note that Facebook comments are posted through Facebook and cannot be approved, edited or declined by OnMilwaukee.com. The opinions expressed in Facebook comments do not necessarily reflect those of OnMilwaukee.com or its staff.