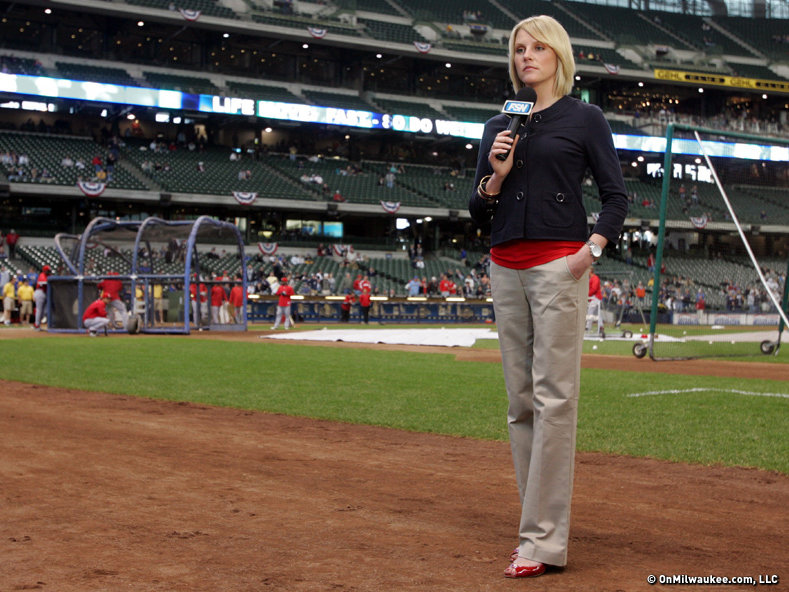 Milwaukee Talks: FSN Wisconsin reporter Trenni Kusnierek
Even though Trenni Kusnierek worked in Milwaukee TV for a handful of years, the people who stop and talk with her these days at Miller Park probably aren't recognizing her from her stint that ended five years ago at WDJT-TV 58.
It's a little surprising, then, that only one month into her job as a FSN Wisconsin sideline reporter, kids are asking for autographs and grown men are asking if she's the Trenni they went to grade school with.
Maybe it's the resurgence in Brewers' popularity, but more likely, fans are quickly noticing that Kusnierek knows her stuff. In a male-dominated industry, she's not just a woman who knows what she's talking about -- she's a reporter who asks the right questions and coaxes the right answers.
Kusnierek, 31, is once again getting noticed. The Muskego High School and Marquette University graduate's 2001 Milwaukee Talks on OnMilwaukee.com still gets reads. In fact, it's one of the most popular Milwaukee Talks we've ever done.
Which is exactly why we needed an update, and Kusnierek let us tag along during a recent Brewers home game. With an earphone quietly broadcasting both the game and chatter from the truck at all times, she shared her thoughts on what it's like to come home, both professionally and socially. Enjoy this latest Milwaukee Talks.
OMC: How is doing regional and team sports reporting different than working at a local station?
Trenni Kusnierek: There are four or five options of local TV stations you can watch. People aren't going to watch just one station. But for the Brewers, you can only watch the Brewers. So your visibility is a little bit higher. You don't only get Brewers fans, but lets face it, the Brewers are huge in Milwaukee right now. When I left 58 and went to Pittsburgh, I found I was I noticed a lot more quickly. Part of that is that I was the only female. I worked for Fox Sports Net, and I was brought out to do the Pirates and Penguins. When the Penguins went on strike, I did Steelers and Pirates. I went through the whole Super Bowl process, and it was great. I was a beat reporter, basically. If you're a local news reporter, you might come to the ballpark twice a week, but you never get to know the guys and have access to them.
OMC: What brought you back to Milwaukee?
TK: I was just ready to come home. I missed my family and friends, and doing regional sports, while it was really fun in Pittsburgh, I didn't have a tie or a history with the team. Without a vested interested in a team, it becomes a just job, and when it becomes just a job, I don't think you can do as well at it.
OMC: I noticed that you got yourself up to speed on the team really quickly. You don't seem new to this job.
TK: That's the other thing: I followed the Brewers while I was covering the Pirates. I was scoreboard watching every day. I would watch on my Treo and follow Brewers games. I knew the team, but there are some things I didn't know. I found out today that Ned (Yost) builds computers. He switched from PC to Mac, and I'm a Mac girl. I'm learning the personalities of the guys, and who are the better talkers.
OMC: Did you know your coworkers from the last time around?
TK: I knew Bill (Schroeder) better than Brian (Anderson). I knew Brian Mikolajek, the guy in our truck, really well. I had met John Walsh, our producer.
OMC: Walking around with you at Miller Park, I'm stunned to see how many people stop and introduce themselves or ask for autographs. Do these people recognize you from Channel 58, or is this mostly from one month covering the Brewers?
TK: It's been five years since I was here. Sometimes I would see people when I came back, and people would say, "Hey, you used to work at Channel 58!" I think I was more noticeable, because Jessie Garcia and I (were the only women sports reporters) in town. Now there are four females, so we don't stick out as much. But we still kind of stick out.
OMC: Milwaukee is a smaller market than Pittsburgh. Does it hurt your career, in a linear sense, anyway, to move back home?
TK: I would say my opportunities to advance my career are just as good here as they are in Pittsburgh, because this is different than local television. I'm regional, so you can pick me up on satellite. I came home because I wanted more freedom to do more network stuff. I've done a fair amount -- my first (network) job was in 2004 or 2005, and I did ABC college sports. They offered me a six- or seven-game package, but I could only do four games because of my schedule. I started doing stuff for the NFL Network and "big" Fox. I covered a couple of golf tournaments and the Super Bowl. I've also done the Big 10 Network, and recently, I just did some stuff with CBS college sports. This job is considered full-time freelance, so if I'm not working, I have the opportunity to do other freelance work. I looked at it as the best of both worlds.
Page 1 of 2 (view all on one page)
Next >>
udcsfstqewyzsrewvcedfwbuzrb
Talkbacks
rainbowtrout | Aug. 13, 2008 at 9:14 p.m. (report)
Watches CNN and likes Bill Maher...another liberal in the Milwaukee sports media.
High_Life_Man | May 5, 2008 at 11:14 a.m. (report)
Nice. And nice to look at! A much better signing than Gagne. She needs to work on the annoying head-nod when players are answering her question. Nervous tic, I suppose.
LegallyBlonde | May 3, 2008 at 11:22 a.m. (report)
I love Trenni! She's so refreshing. I love it when she's on the road and doing a report in the outfield bleachers of the opposing team. And all the people are sitting in the crowd, mowing down their peanuts, and they have no idea we are watching them too. Trenni, keep doing those. But overall, you are a great asset to the broadcast, thank you.
udcsfstqewyzsrewvcedfwbuzrb
Facebook Comments
Disclaimer: Please note that Facebook comments are posted through Facebook and cannot be approved, edited or declined by OnMilwaukee.com. The opinions expressed in Facebook comments do not necessarily reflect those of OnMilwaukee.com or its staff.