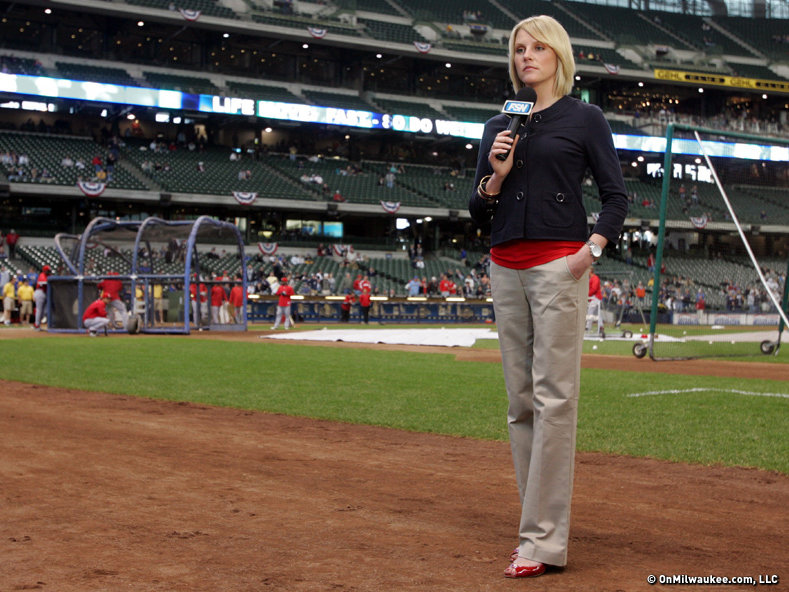 Milwaukee Talks: FSN Wisconsin reporter Trenni Kusnierek
(page 2)




OMC: Do you have work lined up after the baseball season?

TK: I'm signed up for the Bucks and Brewers. If there's one day when I'm not on, I could go down to Chicago and anchor for the Big 10 Network.

OMC: As someone who has done a lot of interviews, I tend to watch other reporters with a critical eye. Without naming names, I've noticed that you've been able to coax good answers out of players who tend to give one-word replies to questions. How do you overcome those cliché athlete interviews?

TK: I guess I didn't notice -- thank you. I think the best way to do it is if someone doesn't answer you the first time, rephrase it in a manner that they have to answer it. I think it's the tone of voice you use when you ask. The biggest mistake that reporters tend to do is attack a guy. They want to prove that they know what they're talking about, especially the females. So you ask a really hard question that makes them coil back and not want to answer. If you ask "who, what, where, when, how," first of all, you don't give them a chance to say yes or no. And you make them feel like they are having a conversation with you, and you give them an opportunity to explain themselves.

OMC: Are any Brewers who are great interview subjects?

TK: I'm not just saying this, but most of the guys are really, really cooperative. One day in a long extra-inning game, Jason Kendall's family was in town. I asked him to do a post-game interview, and he said, "Hey, can I get you tomorrow, my family is here?" I have no problem with that. Corey Hart, Ryan Braun, J.J. Hardy, Billy Hall, Gabe Kapler and Price Fielder are really, really good. There are certain rules with starting pitchers. Some guys don't like to talk a day before starts. Those are the only guys you have to work around. The other day, I asked Mitch Stetter to do a live interview with me. He was 12 minutes early. This team is really good at dealing with the media.

OMC: How much of the "good old boy" attitude do you encounter?

TK: For the most part, they treat me like they treat everyone else. When I first went to Pittsburgh, because they didn't know me, there was a little bit of apprehension. But once they found out that I knew what I was talking about, all the other stuff comes naturally. Here, it's great. I can just sit and talk baseball with the guys. I've had a number of reporters come up to me and say, "Hey, you're doing a really good job. It's nice to have you here." That, to me, is the greatest compliment. I had someone say to me today, "It's not only that you know baseball well for a girl, you just know baseball." But there's always going to be a good old boys network. Look at the press box, it's all dudes.

OMC: How about the locker room? There sure is a lot of frank, male nudity.

TK: I hate going in the locker room, but everyone hates going in the locker room. Guys are better, though. When I first started interning, it was nothing for guys to brush up against you, take off a towel in front of you. Now, especially because I travel with the team and meet their wives and their kids, they're embarrassed.

OMC: Who are your role models in the industry?

TK: Lesley Visser has been a huge role model in my career. I've actually fostered a bit of a friendship with her, dating back to when I was at 58. I met her at a Bears game. People locally, too. I still call Dan Needles and Andy Kendeigh and ask them for feedback and check in with them. (Channel 12) was my first internship.

OMC: How has your unusual schedule affected your social life?

TK: It's terrible. It's hard to have a good social life when you're on the road all the time. I'm working opposite of when every else is. Even when I meet someone I want to go out with, they'll say, "Hey, do you want to go out on Saturday?" I say I can't, because I have to work a night game. "How bout Sunday?" I would, but it's a getaway game -- but I'm back in 11 days. Eleven days later, most of them have forgotten.

Guys recognize me from TV and want to talk about sports and want to know about the players. So my dates aren't about me and getting to know me, they're about getting to know the Milwaukee Brewers. If that's the case, ask out Ryan Braun. I don't mind if people ask me about my job, because that's part of who I am. But that's not the only part of who I am.

OMC: Is the version people see of you on TV different than when you're off the air?

TK: It's really me. The same kind of goofy things I say to "Rock" (Bill Schroeder) when I talk about the number of shoes I bought on the last road trip -- that's me. What you don't see, though, is the other side of me. You only see the sports reporter. You don't see the person who really loves going to the symphony. You don't see the person who loves art and to travel and loves reading.

OMC: What do you do in your tons of free time?

TK: I'm a runner. I've done a couple of marathons, and I'm training for my fourth half marathon. I love international travel. I've been to Europe three times. My next trip will be Peru or Africa. I love politics, and I'm fascinated by how it blends with religion. I'll watch "SportsCenter" quick to see what happened, but I'm more likely to watch CNN. I love Bill Maher because he makes you think. I watch a ton of documentaries, too.

OMC: Do you think you'll ever do some work that's not focused on sports?

TK: Absolutely. My goal is to do a non-sports documentary. That's not to say I won't continue to do sports, but I'd like to do something that stops people and makes them think. I'd like to combine all my passions into one.

<< Back

Page 2 of 2 (view all on one page)


Talkbacks
rainbowtrout | Aug. 13, 2008 at 9:14 p.m. (report)
Watches CNN and likes Bill Maher...another liberal in the Milwaukee sports media.
High_Life_Man | May 5, 2008 at 11:14 a.m. (report)
Nice. And nice to look at! A much better signing than Gagne. She needs to work on the annoying head-nod when players are answering her question. Nervous tic, I suppose.
LegallyBlonde | May 3, 2008 at 11:22 a.m. (report)
I love Trenni! She's so refreshing. I love it when she's on the road and doing a report in the outfield bleachers of the opposing team. And all the people are sitting in the crowd, mowing down their peanuts, and they have no idea we are watching them too. Trenni, keep doing those. But overall, you are a great asset to the broadcast, thank you.
Facebook Comments
Disclaimer: Please note that Facebook comments are posted through Facebook and cannot be approved, edited or declined by OnMilwaukee.com. The opinions expressed in Facebook comments do not necessarily reflect those of OnMilwaukee.com or its staff.