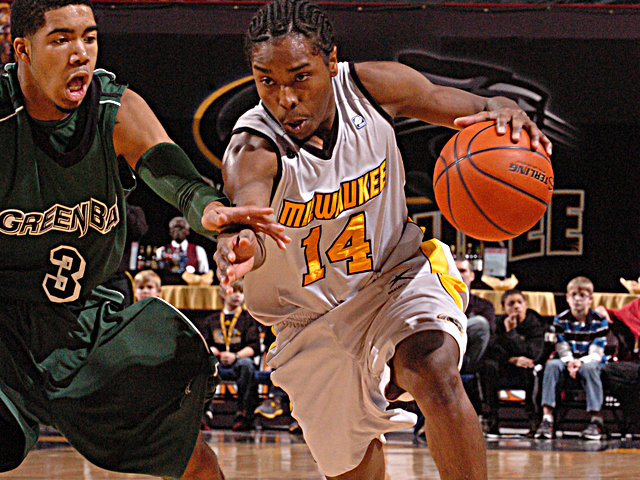 Panthers look to seize opportunity in the Horizon League
On the outside, it looks like the flag has fallen in the Horizon League.
Its bearer, Butler University, bolted for the Atlantic 10, leaving the Horizon League without its signature program. Since the 2000-01 season the Bulldogs won 20 games 10 times and made six NCAA Tournament appearances, which included two Sweet 16 appearances and stunning runner-up finishes in 2010 and 2011.
Butler also won (including ties for first) the Horizon League eight times in that stretch.
The Bulldogs have been so synonymous with the league that their departure has overshadowed the programs that remain.
"It's a conversation piece right now because they're gone," University of Wisconsin-Milwaukee Panthers head coach Rob Jeter said. "As the season progresses then someone else becomes that conversation piece, and hopefully it's us. I think that's really where it is."
It's not a long shot.
The Panthers, which fell to the Bulldogs in the second round of the Horizon League tournament last year, have appeared in the NCAA Tournament three times in that stretch with one Sweet 16 appearance in 2004-05.
Wright State and Cleveland State have also made tournament appearances in a conference that is often afforded just one berth.
"Obviously Butler represented our league because they made two championship runs and that was phenomenal," said Jeter, who coached the Panthers to the 2005-06 NCAA tournament following an 87-71 victory over Butler in the Horizon League title game.
"And having them in our league was beneficial because we play in that league. It gave us some national recognition, but now it's time for someone else to step up and gain their spot and get some national recognition. It's hard to say how that goes but it's more of a conversation piece right now for us as this level.
"For us the competition is what we really kind of focus in on, focus on yourself and get yourself really good and things kind of work out."
With that, the Panthers look inward and hope to put together back-to-back 20-win seasons for the first time since 2005-06.
"As far as thinking 'Why not us?,' that really hasn't come to my mind because I think we've got to focus more on ourselves," said senior forward James Haarsma.
The team is expecting to play at a faster pace behind the addition of junior college transfers Jordan Aaron and Thierno Niang at the point guard spot, which will be a different look for fans an opponents alike.
"It's going to be entirely different this year," Haarsma said. "People are expecting us, especially early in the season, to be that team that slows stuff down. It's going to be a lot different. They will get film and they will adjust, but I know when we play those types of teams it's never easy to prepare for. It's definitely not. It's going to be hard no matter what."
The Panthers will be counting on Haarsma and senior off guard Paris Gulley, along with Aaron, to score while big men Kyle Kelm (6-9), Ryan Haggerty (6-8) and J.J. Panoske (6-10) offer a variety of options inside, and outside, the paint.
"We like to get up and down the court this year being that we have faster guards," Aaron said. "We do a lot of ball screening and with the bigs that we have, they're great shooters and they can work inside. Being that we have so much space on ball screens, I can see guys open for 3s or I can drive it in and dish it off to a big guy to finish. We can do that, too. We're going to be a great team this year."
Jeter hopes his Panthers will be in position to take up the flag of the Horizon League by the end of the year, but he was quick to acknowledge that competition will be fierce. Detroit has a McDonald's All-American in Ray McCallum, Jr., who is the league's preseason Player of the Year.
Then there's Valparaiso, which actually won the league's regular season title, who is back with reigning conference Player of the Year Ryan Broekhoff and is again predicted to win the league. And, despite the loss of the Bulldogs, the Horizon League is the only conference in the country to return its entire All-League First Team – which includes Youngstown State's Kendrick Perry, Green Bay's Alec Brown and Valpo's Kevin Van Wijk.
Loyola returns Ben Averkamp, whom Jeter calls the best big man in the conference while Cleveland State returns All-Horizon Second Team pick Anton Grady.
The Panthers were picked sixth in the league's preseason poll, but that hasn't diminished the team's confidence as it opens the season Friday against the University of Mary at the Klotsche Center.
"Of course we want to be that team that wins a conference championship and everything but we know we still have a lot of work ahead of us right now," Aaron said. "We look forward to that, and we think we can do that. We think that we can play with any team in the NCAA. That's how we come in to every game, with that mind state."
Meet and interact with the 2012-13 UWM Panthers on the next page.
Page 1 of 2 (view all on one page)
Next >>
Facebook Comments
Disclaimer: Please note that Facebook comments are posted through Facebook and cannot be approved, edited or declined by OnMilwaukee.com. The opinions expressed in Facebook comments do not necessarily reflect those of OnMilwaukee.com or its staff.