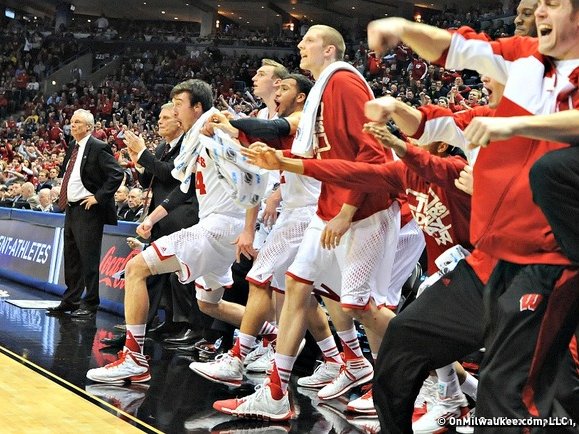 A Marquette fan reacts to Wisconsin's Final Four berth
Congratulations to the Wisconsin Badgers.
The University of Wisconsin is going back to the Final Four (it last reached the Final Four in 2000, losing to Michigan State). But now the Badgers are the first men's basketball team in our state since the 2003 Marquette Golden Eagles to make the NCAA's version of its men's basketball championship.
It's an amazing feat and one that should be embraced, loved and cherished. If you're a UW grad, go to Dallas. You'll love it and it's sure to create amazing memories no matter the outcome of the game(s).
I won't be going, but I'll be watching, as I'm sure you will be. It's great for our state when any of our teams rise the ranks and battle for a title. Nothing brings us together like sports championships.
Yet as a Marquette graduate, many like to rib me and other MU grads for our non-tournament season and UW's success. It's all in good fun and it's what makes sports and rivals great.
True story. I watched the end of the Wisconsin-Arizona game in the Court Side Club at the BMO Harris Bradley Center after the Bucks-Heat game. It was awesome to experience the win in a collective, shared environment.
Beautifully, Marquette legend and current star of the 30 for 30 documentary "Untucked," Bo Ellis, was in the crowd. He's a huge Bo Ryan fan.
"The guy's great and shares my name," he told those around him.
But, he's also a loyal Marquette guy as he and his teammates won the school's only title in 1977. Dignified gentleman that he is, Ellis cheered the UW win but when fans (including my lovely wife) wanted to high five him after the Badgers win he respectfully declined saying, "I'm a Marquette guy."
He didn't, as he shared with me later on a shuttle ride, cheer against UW (and never does) but he seemed to still respect the in-state rivalry between UW and MU. Both sides do, and that's what being "fanatic" is all about.
Side note, wouldn't it be great if UWM and UW had a Michigan vs. Michigan State type of rivalry? Totally different topic and subject, though.
I grew up a Marquette fan, so Bucky's always been a basketball rival. I can, like many of my MU brethen, endorse the rise in state basketball tides lifts all team boats theory. But, I don't have to totally enthusiastically cheer their success. It's what fan loyalty is all about.
Biggest picture thought for this year's Final Four? Friendly sports rivals or not, our state's commitment to higher education needs to be stronger and unwavering. For Wisconsin as a state to get better, we need UW, UWM, Marquette and all of our other institutions to win both on and off the court.
Onward, On Wisconsin and we are Marquette!
Facebook Comments
Disclaimer: Please note that Facebook comments are posted through Facebook and cannot be approved, edited or declined by OnMilwaukee.com. The opinions expressed in Facebook comments do not necessarily reflect those of OnMilwaukee.com or its staff.