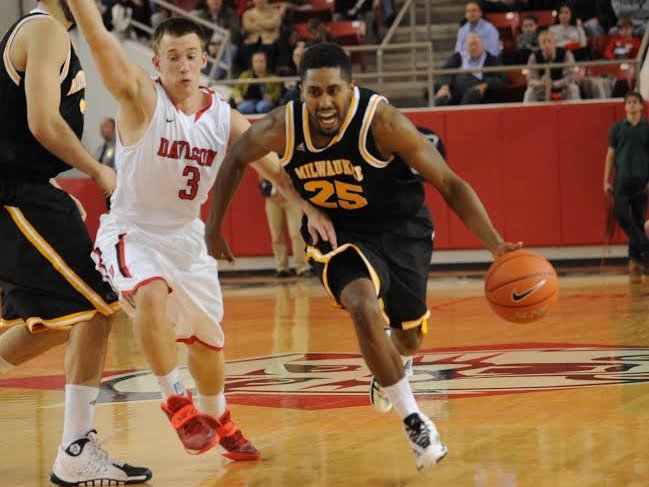 Panthers off to a hot start
Twenty-one seconds.
That small snippet was all that was needed to see something was different about this University of Wisconsin-Milwaukee men's basketball team. Something clearly is different, as the Panthers defeated the University of Northern Iowa, 83-72, on Tuesday night at U.S. Cellular Arena to improve to 8-2 on the season, matching the program's win total for last season.
"We tied already from last season? Wow," Jeter said sheepishly.
Twenty-one seconds of play tells you why.
Leading 48-45 in the second half, Panthers point guard Steve McWhorter set up Kyle Kelm with a feed inside for a layup, drawing a foul. He made the free throw, pushing the lead to 51-45. Northern Iowa's Deon Mitchell put up a quick 3, missed, and McWhorter tracked the rebound, and pushed the ball up court.
He dumped the ball off and cut to the paint, throwing a little elbow in the chest of a UNI defender trying to roll across to Matt Tiby's direction, who was setting up for a 3 on the wing. Tiby hit the shot for a 54-45 lead, then broke down court as UNI's Seth Tuttle got behind the defense and seemed poised for an easy basket.
Tiby elevated, careened over the top of Tuttle, and sent the ball into the band. His roar, coupled with that of the fans, nearly drowned out the whistle for a foul. Tiby didn't care – no one cared. As the Panthers formed a huddle during a media timeout, Tiby celebrated with his teammates while Jeter glared at the officials, hands on his hips.
Twenty-one seconds.
This is definitely different.
"Coach preaches to us to play with a chip on our shoulder," McWhorter said. "No matter how the game goes I try to get our team to play like that, to play as if we're down 10 throughout the game, so when we do go down, we're still playing with that chip on our shoulder and I think that allows us to battle back."
That chip was created off a disappointing and injury-plagued eight-win campaign a year ago, one that McWhorter and Tiby had to watch from the sidelines as transfers. They were scout team members, unable to make a true impact on the final result.
"This team has really battled through adversity throughout this season, we went through adversity last year coming into this year, and our team has really stuck together and come together as one," Tiby said.
As for those who are back, seniors Kelm and Jordan Aaron and sophomores Austin Arians and J.J. Panoske have improved.
"They put together a nice team," UNI coach Ben Jacobson said. "The versatility of their lineup is very good. To have five guys on the floor that can make a 3-point shot; and they all pass the ball well, especially the two starting bigs (Kelm and Tiby). The two that come off the bench (Panoske and Malcolm Moore) have played well for them at times but they also have made three's. A couple of them, enough to stretch you out a little bit.
"I've known Robbie for a long time but without knowing this team inside-out, having Kelm and having Jordan (Aaron) as seniors, having those two guys that went through a tough year last year and now they're seniors and they've got some good pieces it seems to be that they've got a real good thing going from a chemistry standpoint. And when you've got good camaraderie with their group, which it appears that they do, they've got a chance to have a really nice season."
But it's that chip, that little something different, which has had the biggest impact to this point. It's why that even as this group still learns to play together, it could overcome an 11-point deficit early in the second half against Northern Iowa.
UWM has lost two close games to Loyola (by four) and De Paul (by nine) and have won games on the road so far. Later in the year, victories over Davidson and Tuesday's over Northern Iowa could look really good.
The Panthers host another respectable mid-major program on Saturday, this time at the Klotsche Center, in Bradley University. Then, on Dec. 11, they get their toughest test of the year with a trip Madison to take on the University of Wisconsin Badgers.
"We're starting to find some leaders on this team," Jeter said. "And we've been talking about a process with this group. One, is first buying in. Second is getting this group to learn how to play together. And then the third part of it is trying to find leadership and some heads are starting to peek up in that category."
Talkbacks
Squinn | Dec. 4, 2013 at 3:06 p.m. (report)
Great article, good to see someone has the guts to be optimistic about a team and not bandwagon a poor story to "Shut Down" the team and count them out before their season even started. People with that negative mentality are going to be the ones to drive the Bucks out of Milwaukee too.
pfan | Dec. 4, 2013 at 2:33 p.m. (report)
Nice article and nice recognition for a team worth watching. I wonder if Begel still wants to shut down the program?
Facebook Comments
Disclaimer: Please note that Facebook comments are posted through Facebook and cannot be approved, edited or declined by OnMilwaukee.com. The opinions expressed in Facebook comments do not necessarily reflect those of OnMilwaukee.com or its staff.