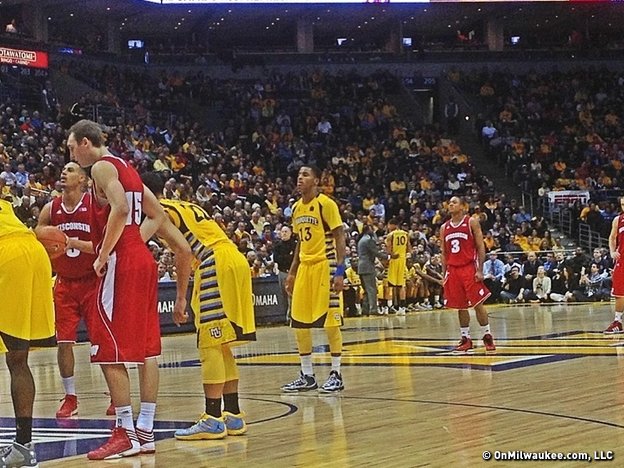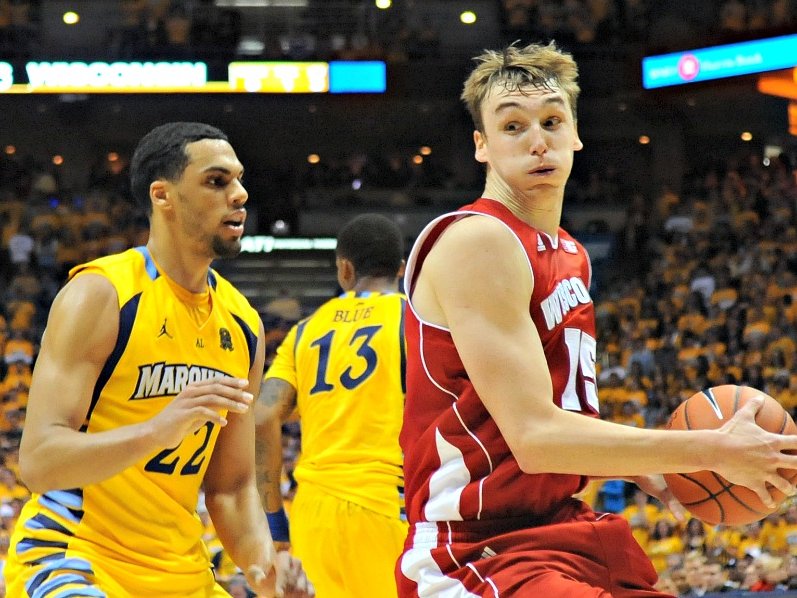 Marquette's Vander Blue makes statement in win over Wisconsin
How quickly time can pass in college basketball.
Three years ago, Vander Blue was the toast of Wisconsin. Coming out of Madison Memorial, which he helped lead to a state championship game his senior year, Blue was one of the most highly regarded players in the state. He was a top-25 recruit in the Class of 2010 according to Rivals.com and a consensus top 40.
Oh, and he was once committed to the Badgers.
The summer before stepping foot on Marquette's campus, Blue was a member of the USA Basketball U18 National Team, helping Team USA to a gold medal in the FIBA Americas U18 Championship.
Now, there's a new face of Wisconsin basketball. Sam Dekker, the 6-foot, 7-inch freshman out of Sheboygan Lutheran made national highlights by leading his team to a state championship last year. He was one of the most highly regarded players in the state, a Parade All-American and a top-20 recruit in his class.
This past summer, he was named to the USA Basketball Men's U18 National Team, a squad that won gold in the FIBA Americas Championship.
When Marquette met Wisconsin for the 119th time on Saturday at the BMO Harris Bradley Center, the contest wasn't just about two inconsistent teams looking for a big win. It wasn't necessarily about Wisconsin-Marquette.
There was a subtext: Blue vs. Dekker.
For Badgers fans, it was the one who turned his back on his hometown squaring off against the phenom who honored his commitment. For Golden Eagles fans, it was a chance to say their program got the better player.
The game meant something to Blue, for sure, but he wasn't about to let personal feeling negatively affect what he – and his teammates – were trying to accomplish.
"I didn't want to come out and be over excited and hurt our team," Blue said. "So, I just wanted to make sure I took rhythm shots, shots I take every day, and my teammates were finding me and shots were going in early in the first half. I was trying to do whatever it took to win."
Such lessons can only be learned over time – even if it does fly by.
"I think that as Vander's life has matured, his game has matured," Williams said.
"That happens with a lot of guys, but I think where Vander's at in his development is one, he knows who he is. And number two, he's accepted who he is. And sometimes that's hard for any of us to do in our profession and because we want to be more, we want to be better, and that's OK, but how you work to be more and how you work to be better within the confines of what you can do great now is really important. I think because he's matured so much as a human he's able to understand that better as a player."
Though Blue and Dekker play different positions, and are asked to do different things, the fans got their wish. Williams alternated defenders on Dekker, who was making his first start, with a trio that included Blue.
On the other end, Dekker would find himself man up on Blue on the perimeter.
And in the first half, the two had an unspoken duel.
If the freshman made a play for the Badgers, when he scored on two of his five shots, Blue was the Golden Eagle who took it to the basket on the next possession. The junior guard finished the first half 6 of 8 from the floor, including two shot clock-beating 3-pointers, and scored 15 points.
"I thought he was really good in the first half, maybe the best - I don't know how many minutes he played in the first half, I think it was 16 – but I think he was really good on both ends," Williams said.
Dekker tried to match at times, but was unsuccessful, going 2-for-5 for five points. Blue, Trent Lockett and Jamil Wilson frustrated him, preventing clean looks.
"It looked like he was ready for it early and as things started to build up he realizes he has a lot to learn," Badgers coach Bo Ryan said. "That's what great about having him on our team. He'll be better."
In the second half, Blue's shot deserted him – he would make only two more baskets – so he impacted the game more subtly. There was the key defensive rebound, the strip of Traevon Jackson deep in the paint as the Badgers were climbing back into the game, then the long inbound pass thrown perfectly to Junior Cadougan to put the dagger in the Badgers with less than a minute left.
Dekker will assuredly get better. It was his first start, in front of a sold-out, hostile crowd. Two of the Badgers top players were injured, forcing the team into matchups that weren't always to its advantage.
He finished with three turnovers, six points and eight rebounds in 36 minutes.
"He's a guy that competes but results were not there," Ryan said. "So, he's got to get those opportunities again and see what he does with them."
For his part, Blue took the court with purpose, and was the best player on it in the Golden Eagles' 60-50 victory.
Time will tell the story of their careers – Blue already has two Sweet 16 appearances under his belt – but Saturday added another layer to his thickening resume. Even if he didn't want to say the matchup meant more than just another 'W.'
"I just want to make sure that every single day, I look at it a day at a time - don't look too far ahead, don't worry about things that's over with," Blue said. (Williams) is always telling me that.
"There's no time for me to be immature in any type of way. I have to always make sure I'm on my p's and q's and that's what I'm going to be. If I'm on my p's and q's we'll always have a chance to win."
Talkbacks
Midwest | Dec. 12, 2012 at 12:52 p.m. (report)
I'm an avid MU fan but it's hard not to see the bright future ahead of Dekker. The kid can play.
Facebook Comments
Disclaimer: Please note that Facebook comments are posted through Facebook and cannot be approved, edited or declined by OnMilwaukee.com. The opinions expressed in Facebook comments do not necessarily reflect those of OnMilwaukee.com or its staff.