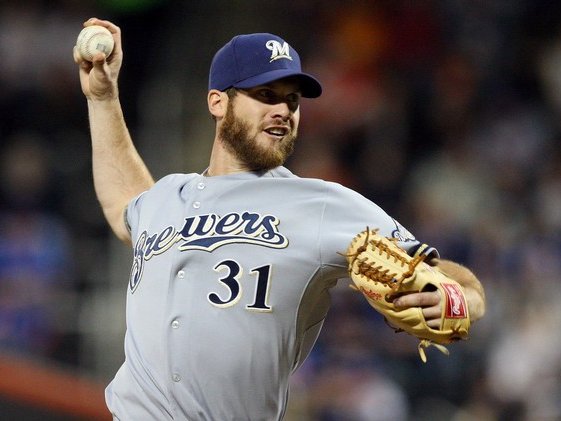 Is Dave Bush in the Brewers' long-term plans?
Thanks to thier recent success, overwhelming talent and home-grown status, the Brewers have managed to maintain some roster stability over the last few years.
Ryan Braun is locked into a contract for the foreseeable future. Prince Fielder will be here through at least next season, as will Bill Hall. Yovani Gallardo and Manny Parra are a few years away from salary arbitration.

Corey Hart, J.J. Hardy and Rickie Weeks are next on the list of young players about to see significant raises, either through salary arbitration or by a long-term contract.
Common logic says Hardy could be dealt after the season since prospect Alcedies Escobar is unlikely to move from shortstop – though, with Weeks' current injury situation, he's seeing limited action there with Class AAA Nashville – and Hardy has shown no inclination to move to second or third.
Trevor Hoffman and Braden Looper are on one-year deals and Mike Cameron, if he keeps producing, could be brought back with Tony Gwynn Jr. out of the picture and prospect Lorenzo Cain sidelined with a knee injury.
But those are the obvious choices. What about the decisions nobody thinks about? Take for example, Dave Bush.

Since coming to the Brewers from Toronto in the Lyle Overbay trade, Bush has become an afterthought in the rotation. Ben Sheets, Jeff Suppan, CC Sabathia and Yovani Gallardo got the big contracts and big accolades. Bush, meanwhile, has just gone to work.

He's had troubles and still has a penchant for allowing the big inning, but at the same time, he's done a yeoman's job; eating innings, improving his game and getting better and better each time around. Heading into tonight's game at Minnesota, Bush (3-0) leads the rotation with a 3.74 ERA and 53 innings pitched and has only allowed 11 walks – the fewest among Brewers starters.

In fact, his 1.87 walks/per nine innings puts him among the National League leaders.
"He's not underrated in my mind," manager Ken Macha says. "He goes out there and he's very workman-like. He's a 'pitcher.' He controls the bat speed. He knows how to maneuver the ball, sinking it; that good curveball that creates problems for left-handed hitters."
Bush has very quietly emerged as a dependable, veteran pitcher. His 3-0 record this season doesn't even come close to illustrating the type of job he's done. Twice, he's been the victim of blown saves and he leads the team with seven quality starts. Opponents are hitting .236 against him and the Brewers are 6-2 in games he starts.
After getting off to a rough start, being briefly demoted to Nashville and dealing with an ill-fated home/road platoon situation, Bush was a big reason the Brewers made the playoffs last season. He went 7-3 in his last 18 appearances to finish the season 9-10 with a 4.18 ERA. He allowd just a run in 5.1 innings in Game 4 of the NLDS; Milwaukee's lone post-season victory.
For his career, Bush is a .500 pitcher (46-46, 4.40 ERA). But that didn't stop the Brewers from chasing after Jeff Suppan or Braden Looper; two pitchers that were somewhat similar, though older, than Bush, who turns 30 later this year.
Bush won't light up the radar gun or pump his fist after a big strikeout. He doesn't have a history of injuries and he is probably one of the quietest big-leaguers in the game.
"I'm not a flashy guy," Bush says. "There isn't anything spectacular to do out there, it's just staying within myself and keeping it relatively simple. I keep my pitch count down, throw strikes, mix my pitches. I'm not going to blow anybody away."
The Brewers will pay Suppan more than $12 million this year and next and, Looper is getting $4.75 million. Considering the down economy and how the market has played out, Bush – making $4.5 million this year could conceivably be signed for something in between those figures for a couple of years; perhaps a three-year deal with a fourth-year option.

Will Dave Bush ever win a Cy Young Award? Probably not. He won't even, in all likelihood, ever be considered a top one or two pitcher in the rotation. Still, he's thrown roughly 200 innings per season since joining the Brewers and has steadily lowered his ERA, home run and walk totals.
But championship-caliber teams need the unheralded role-players and supporting cast to get over the hump. Bush, who has no problem letting his teammates take the spotlight, could be a wise choice as the next young Brewer to be inked to a multi-year deal.
Talkbacks
johnnyhep | May 24, 2009 at 5:24 p.m. (report)
If I have to hear about how "fast" Cory Hart is one more time, I'm going to snap. It wouldn't be so bad if he stretched the occasional single into a double or just once kept a ball from getting past him into the right field corner. So yes, I'd rather see the Brewers work on signing Dave Bush.
Facebook Comments
Disclaimer: Please note that Facebook comments are posted through Facebook and cannot be approved, edited or declined by OnMilwaukee.com. The opinions expressed in Facebook comments do not necessarily reflect those of OnMilwaukee.com or its staff.