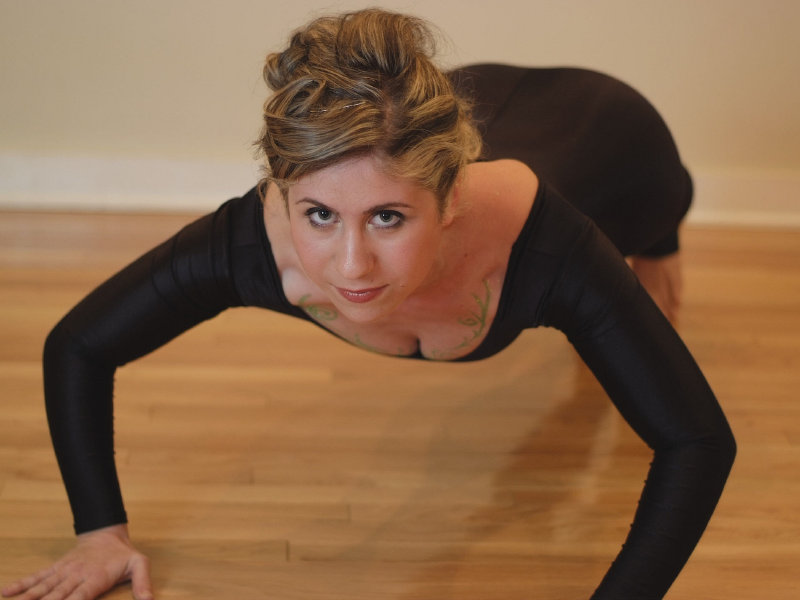 Milwaukee mom overcomes loss, creates Wisdom Wellness
Sophia Gatti Taylor says she was born to move. For much of her life, dance and yoga were a large part of her existence, and today, she is the founder of Wisdom Wellness, a local one-woman business offering integrative fitness, nutritional coaching and personal training.
"I am the world's first holistic personal trainer," says Taylor, who received her personal training certification in 2010.
But despite being a born mover, Taylor found herself in a rut after a succession of painful experiences. Six years ago, she lost an infant son due to a congenital heart defect just a few days after he was born. Then, two years ago, she had an unexpected caesarian section that resulted in a healthy daughter.
But despite the joy of her new baby, Taylor continued to struggle with the emotional pain of losing a child, a sense of betrayal by Western medicine after having an unwanted C-section and the challenge to reclaim her pre-pregnancy shape.
"I had to find strength within myself to make the journey back from postpartum depression and the cesarean to physical and mental strength," says Taylor, who is currently working on a certification from the American Association of Drugless Practitioners and holds a holistic health coaching certificate from the Institute of Integrative Nutrition.
Then, six moths ago, Taylor's husband moved on after a 13-year relationship. Although initially shocked, she says the unexpected break-up forced her to create a new reality for herself and her daughter – one that was about pursuing her true calling.
Taylor started to build the foundation for Wellness Wisdom and realized, in the process, she was creating a unique service. The core of Taylor's holistic approach to health and wellness is to help people rid themselves of painful, limiting mindsets that are holding them back and to create a fitness lifestyle that is sustainable and creates real change.
Taylor says she works with a lot of clients who are at turning points in their lives and want to get physically and emotionally strong.
"I have been there," she says. "I know what it takes to get better. I believe in changing bodies, minds and lives."
Part of Wisdom Wellness' appeal is that the exercise plans can be practiced anywhere. Taylor calls them "real-life, gym-less workouts created for busy people who want to look fit and feel well."
Taylor holds sessions in her Victorian Milwaukee home on Humboldt Boulevard or with groups at a space in Bay View. She will also work with people in their homes. One training session costs $85, or she offers several packages. In spring 2012, she will also offer movement classes for kids and adults, a mother / daughter workout class and more.
Taylor's clients range from cancer survivors to people recovering to serious injuries to professional models trying to stay healthy and slim. She says her programs are designed for anyone, from a person who has very limited mobility to a serious athlete. She attempts to limit her number of clients to 10 at any given time so she can give as much as possible to individuals.
"Wisdom Wellness is about personal transformation and exclusivity is an aspect of what sets me a part as a holistic personal trainer," she says.
Taylor says she plans to develop her business to its fullest potential and then, someday, hopes to write a book and open a Wisdom Wellness retreat center in Italy. Taylor, who has dual citizenship, spent summers with her parents in the Republic of San Marino, from which her mother emigrated decades ago.
Taylor credits the Extreme Moms group for helping her move forward and build her business. The Extreme Moms, a local non-profit group that helps mothers foster independence and power via extreme sports, will host an empowerment boot camp this spring, and Taylor plans to be a part of it.
"The wonderful women in this organization blow my mind and nourish my soul. It's about releasing fear and living life to its fullest," says Taylor.
Talkbacks
iabston | Nov. 14, 2011 at 9:42 a.m. (report)
Congrats Sophia, You're a Wonderful backbone in the Milwaukee community. Looking forward to what your fingerprint on this town will bring.~!
Facebook Comments
Disclaimer: Please note that Facebook comments are posted through Facebook and cannot be approved, edited or declined by OnMilwaukee.com. The opinions expressed in Facebook comments do not necessarily reflect those of OnMilwaukee.com or its staff.