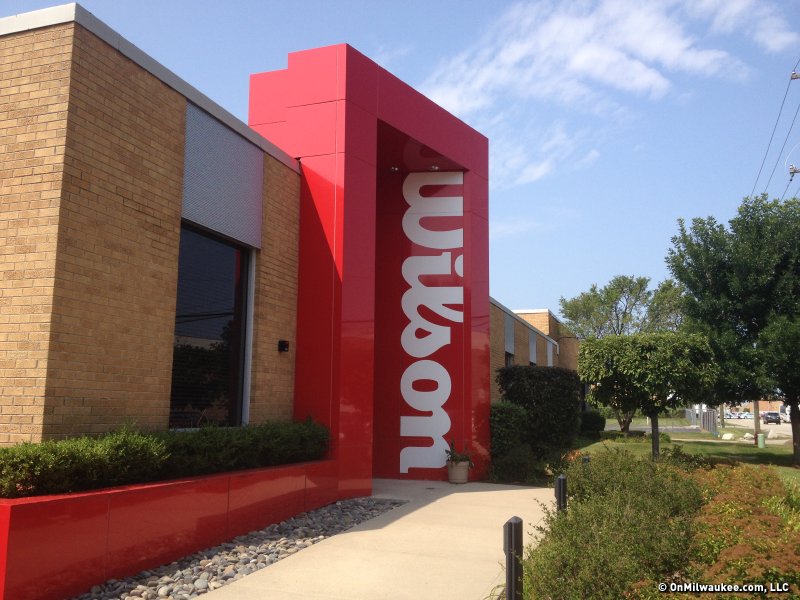 Wilson Golf: Not your father's clubs anymore
SCHILLER PARK, Ill. – Situated between a parking structure and across from a taxi garage off Foster Avenue, you wouldn't necessarily think the building was the nerve center for a global golf (and tennis) manufacturer.
The red entry way doesn't exactly hide the building, and it's just minutes from O'Hare International Airport in Chicago and the burgeoning entertainment area in Rosemont, which is now home to the Big Ten Conference's headquarters.
But it is hidden away in the sense that there isn't a golf course or driving range around the corner. This is the guts of Wilson Golf, which turned 100 years old this year.
Staff player Kevin Streelman rang in the centennial with a PGA Tour record seven straight birdies to win the Travelers Championship in June.
"Clearly his iron play was unbelievable down the stretch, and that's what we are known for," Wilson Golf president Tim Clarke said.
If 40,000 square feet can seem small, it does here. The small foyer requires coded entry into the building, and you have a chair to sit in if you're waiting for someone. The first space you see features some desks, finished equipment models, and a conference room.
Through set of double doors, you step immediately into the company's tennis custom fit center – including the handle molds for the company's pro's – including Roger Federer and Serena Williams.
About six steps left, and you're into the golf operations custom operation. If you buy a set of fitted clubs (about 30 percent of all Wilson order are), and if you live in the United States, Canada or Mexico, this is where you get it from.
There is a fitting center (pictured below) on site for VIPs and Wilson Staff golf professionals, as well as a tennis court and half-court basketball area to test out new equipment.
Photo: Wilson Golf
In the back, prototypes of golf clubs are molded in three dimensions, first in plastic, then steel, to give developers a true look and feel for what their computers create (I was not allowed to photograph prototypes and research and development-related products). A machine fires golf balls into a steel plate just a few feet away at around 130 miles per hour to test its durability.
The pod of cubicles that serves as the golf division's research and development area is literally littered with hundreds of golf clubs and prototypes, tightly stuffed in bags, leaning on racks or lying on the floor.
It's not glamourous. It's not sexy. But it's definitely cool.
Take the four rows of muted grey file cabinets just steps from the golf fitting center: Inside are the manila file folders for every tour player or celebrity that ordered Wilson irons, from Gene Sarazen and Arnold Palmer to Michael Jordan and Walter Payton (he had "Sweetness" stamped on his).
If you ever stumbled across an older family member's clubs, or tried to hit them, you would definitely recognize the Wilson brand, the iconic red band around the hosel or perhaps the "button" on the back of the blade.
They were hard to hit, but they meant that you were a player.
"When I grew up my dad had that set of goosenecks in the closet that I wasn't allowed to touch because they were the nice, 1970's, early '80's beautiful blades," laughed Streelman, who won his first two PGA Tour events with Wilson equipment.
"They were difficult to hit, but at the same time if you could hit 'em you quite a ball striker. They were great to practice with as well."
But a handful of years ago, as the country was reeling economically, the brand decided to re-invent itself. No longer were they to be just "your father's irons."
"We knew there was no quick fix for us at that point in time and we were re-trenching ourselves in the golf space," Clarke said. "We knew we had to go after competitors one at a time. Our iron share since 2006 has more than tripled (but) we've still got a long way to go. Our golf ball share is four times bigger than it was. We were really doing the baseline blocking and tackling and we knew that was going to take time."
Now, it started with re-introducing its storied history to the newer generation.
In all, the brand has been in used in the winning of 61 major championships, beginning with Sarazen's 1922 U.S. Open victory and the last coming in 2008 with Padraig Harrington's PGA Championship triumph.
Palmer, Sam Snead, Billy Casper, Hale Irwin, Johnny Miller, Wisconsin's own Andy North, Ben Crenshaw, Payne Stewart, John Daly and Vijay Singh also used Wilson equipment to win majors.
Sarazen invented the modern sand wedge with Wilson, Palmer the 8802 putter.
But then, they needed to move it forward.
The looks had to be modern, sleeker. But, in a curious move – at least compared to the club making competition – Wilson decided against rolling out new lines of clubs every few months.
There would be no quarter-by-quarter bump with new releases. If you bought a set of Wilson irons (or drivers or woods) – that was the line you'd see in stores for a two year cycle. It was the line you'd see in Harrington, Streelman or Ricky Barnes' bag on television.
It wasn't an easy path to set upon.
"It's a grind out there, but we're still doing well – we're up over last year and I don't think a lot of golf companies can say that today," Clarke said. "The strategies and the things we put in place back in 2007, we've been very disciplined to them and it does show that a logical, sensible business plan in a chaotic business can work and can reap some benefits."
The company looks toward the future while embracing the past.
Its DUO compression golf ball (there is more rubber in the core, which lowered its compression but increased its speed off the face) design has been copied by other manufacturers, and has cut into the market share of more well-known ball makers. Its
And while the company does make drivers and woods, irons are its specialty – and it takes great pride in maintaining the premium performance of its lines, whether it be for its tour-caliber players (Feel), to mid-handicappers (Feel) to beginners (Distance).
"I think what we have today is a brand that is truly transcending the generations, whether it's my dad who was always a Wilson player or myself, but what's really cool is seeing some of the younger players who are very interested in what we're doing ," said Clarke. "And that's what we need to continue to do over the long term."
Editor's note: A review of the FG Tour M3 irons will be coming shortly to our golf site, TeeItUpWisconsin.com.
Facebook Comments
Disclaimer: Please note that Facebook comments are posted through Facebook and cannot be approved, edited or declined by OnMilwaukee.com. The opinions expressed in Facebook comments do not necessarily reflect those of OnMilwaukee.com or its staff.