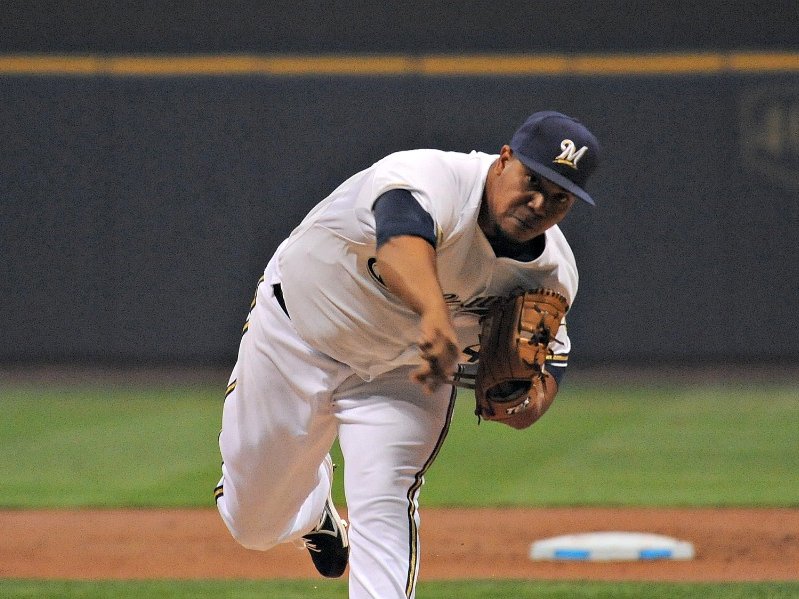 Pounding the strike zone is key to Peralta's success
A year ago, everyone in the Milwaukee Brewers clubhouse could see it.
The sinker that could touch the mid 90s, dancing its way around the bottom of the strike zone. The slider that was near-unhittable, but would often hit the dirt before a swing could be committed. A fastball with pop, only it would rise dangerously at times.
Martin Maldonado was the one often charged with trying to coax those pitches out Wily Peralta over the plate, and away from solid contact, but the right-hander had trouble doing that in early 2013.
Through his first four starts of last year, Peralta was tagged for 13 earned runs in 22 2/3 innings (5.16 earned run average) while batters hit .276 off of him. He walked 11 and struck out 13.
It was there, the potential. It just needed to be corralled – and then released consistently.
A year later, Peralta has seems to have done just that.
"Just look at his numbers," Maldonado said. "His numbers don't lie."
Through his first four starts of 2014, the 24-year-old is 3-0 with a 2.19 ERA, allowing just six earned runs over his first 24 2/3 innings. He has struck out 19 and walked only six.
"I think he has," Roenicke said of Peralta taking that next step in his development. "He's a guy that's got – everybody knows what he has. When we go in to face somebody, they know. And it's so good, that when he's down in the zone, I don't care if you're looking for it every pitch, you can't hit a 96 sinker that's moving all over the place. Then when he gets two strikes, or if he wants to mix one in earlier, he's got a slider that, same thing, if he's on the plate and down with it, you can't see it."
Peralta returned to the Dominican Republic over the winter with a desire to not only build his body for the grind of 30-plus regular season starts, but potential postseason innings as well. More importantly, though, he looked inward with a desired outward effect of peppering the strike zone.
"Just a mental thing, and mechanics," Peralta said. "If you're consistent in your delivery, you're consistent in the strike zone."
"I've been watching (teammates Kyle) Lohse, Yo(vani Gallardo), (Matt) Garza, those guys. And all those pitchers, (Detroit Tigers' Justin) Verlander, all those guys that have success in the big leagues, they just work ahead in the count. That's the thing, in my mind, when I went back to the offseason was just be consistent in my mechanics and be able to throw strikes and work ahead in the count. That's the thing I'm worried about. I don't worry about anything now, hits. I just work ahead, one pitch at a time, and throw strikes."
He's been remarkably effective at it to, especially for a player who, as a prospect, earned a reputation for being all over the place.
In his four starts, Peralta has thrown strikes 62, 66, 66 and 65 percent of the time – rating only behind Garza for consistency in that area for four starts. This is splitting hairs, at least so far this season, as all five Brewers starters are throwing strikes at more than a 60 percent clip. That has propelled the Brewers to the best record in baseball at 15-5 and a 2.66 team ERA.
"Every pitcher we have here, that's the mentality they have," Maldonado said. "It's a big difference when you're in the count 0-1 than 1-0. It's a big difference in batting average. I think that's why our pitching staff is so good. We've been attacking the strike zone from the get go."
For Peralta, pounding the strike zone was an important step that he worked on taking.
To do that however, the first foot he had to put forward was harnessing his competitiveness, and channeling it outward positively. No longer do you see him melt down if something doesn't go his way.
"I think moving forward, I think he's in a really good place mentally," Roenicke admitted. "Physically he's … he's pretty nice."
"That's the thing that I've been working on a couple years since I was in the minor leagues," Peralta admitted. "It's growing up, it's a profession, and that's the mentality, to be in control of that situation and not let it go away and get a big inning."
There is room to grow, of course.
If you look at the top end of the pitching spectrum in the National League – two-time Cy Young Award winner Clayton Kershaw – and you'll see that over his last 11 starts (final 10 of his Cy Young season last year and his only appearance in 2014), he has thrown strikes anywhere from 63 to 75 percent of the time. He regularly tops a 70 percent strike rate.
It sounds preposterous on the surface, but it's a ceiling Maldonado can see.
"I think he's getting better and better every year," he said. "He's going to be a guy we have to count on if we want to compete this year. He's only going to get better and better every year."
That's where Peralta wants to get to, also.
If he doesn't have his slider coming out of the bullpen, he wants to be able to find it in the back half of the start. He wants to be able to throw it for strikes when he's behind in the count, too. And, mastering the ability to keep every pitch down as he tires will take more work, will be another step in the process.
He's confident that will come. For now, if he can extrapolate these first four starts over the next 25 or so, it'll be an affirmation of the work he's put in already.
"It feels great, man," he said. "I think it's good for me, it's good for helping the team, too. Sometimes, every pitcher is going to have a rough start once in a while, but if you're consistent, that's my main goal this year."
Facebook Comments
Disclaimer: Please note that Facebook comments are posted through Facebook and cannot be approved, edited or declined by OnMilwaukee.com. The opinions expressed in Facebook comments do not necessarily reflect those of OnMilwaukee.com or its staff.