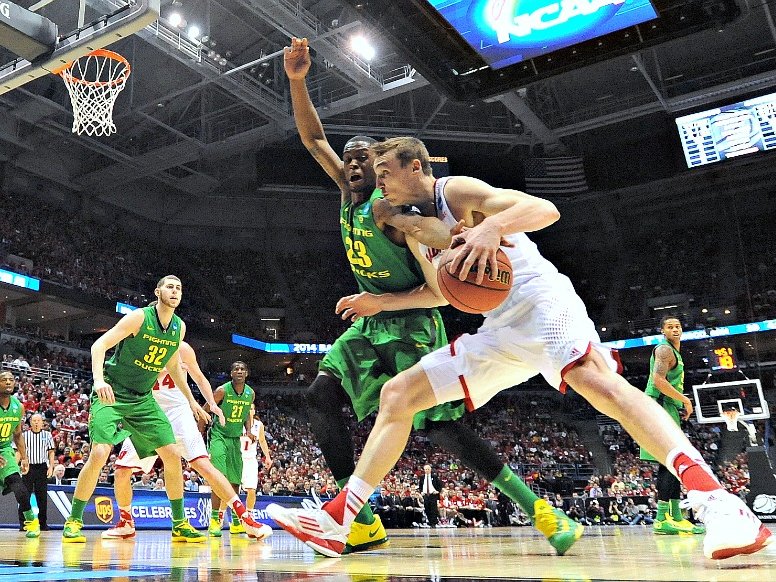 Badgers out to solve the Sweet 16
When Bo Ryan pulled up his chair on the interview podium on the Wednesday before the NCAA Tournament began for his Wisconsin Badgers last week, he talked about the desire to play 240 minutes of tournament basketball. To do that though, his team would have to win the 40 minutes in front of them.
They did that in Milwaukee, holding seed on a relatively home court with a blowout victory over American University and a come-from-behind effort over Oregon.
Up next, the sixth-seeded Baylor Bears. Eighty minutes down, another 40 to go.
It's the only way the Badgers can look at it, even though this is the third Sweet 16 appearance for the program in the last four years. The previous two trips, in 2011 and 2012, ended at this juncture.
"I think any time you start looking ahead, you get yourself in trouble," senior guard Ben Brust said. "Right now the focus is Baylor, just the next game in hand. If you take care of business, the rest of the stuff just comes with it. So staying at the task at hand is important to us."
The task at hand is a streaking Baylor team that, after a tough start in Big 12 conference play, has won 12 of its last 14 games, dating back to Feb. 12. And one of those losses came in the conference tournament championship game to Iowa State, the ninth-ranked team in the country.
Scott Drew employs a zone with 7-foot, 1-inch center Isaiah Austin roaming the paint to swat away anything within his prodigious wing span.
"He's always been the tallest kid on the court with the longest arms," Badger sophomore Sam Dekker said. "So he's a good shot blocker. He's going to go after it."
The Badgers may benefit from the fact that they don't employ a traditional post offense, even with 7-footer Frank Kaminsky and Dekker, who stands 6-8. That doesn't mean the Badgers won't try to force him to help by attacking the soft spots created by crisp ball movement.
"If we can get him to pick up a couple of cheap fouls early on in the game, that's always an advantage to us," Kaminksy said. "If you saw in the Oregon game, we were able to get a couple of fouls on (Mike) Moser pretty quick. I kind of took him out of the game after he scored seven of their first nine points or something like that.
"So if we're able to get him on the bench out of the game, I think that's an advantage to us."
It's a big "if" as far as the Badgers are concerned, and it can't be relied upon. All the Badgers can do be patient in the half court and find high percentage shots. Brust and Josh Gasser have to continue to hit 3-pointers, Traevon Jackson can't turn the ball over and Dekker and freshman Nigel Hayes have to continue to be an active rebounder on both ends of the floor.
It sounds simple, because it is.
"Well, there's only so many things you can do with five guys on the court," Ryan said. "So the game's not going to change."
The Badgers hope what they do tonight in the Sweet 16 can get them to their next 40 minutes, a round in the tournament the program has not seen since spring 2005.
"If you keep winning, you're going to get there," Dekker said, simply. "We've just got to focus on winning and taking on Baylor. If all things fall into place and we do the things we do, then we'll get there. So our main focus is getting the win."
For Ryan, that's all he can ask for as he hopes to lead the Badgers back to the Final Four for the first time since 2000 and a final 40 minutes of tournament play for the first time since 1941.
"Right now, what our guys are doing is trying to live in the moment," Ryan said. "They respect the past, but this is their time. So they're trying to get ready for the experience. They're living in the precious present.
"So I'm not going to compare them to any other team or any other – that's not what it's about. It's about their time right now. Let's see what they can do with it. I'm just thankful they're taking me with them. I get to go."
Facebook Comments
Disclaimer: Please note that Facebook comments are posted through Facebook and cannot be approved, edited or declined by OnMilwaukee.com. The opinions expressed in Facebook comments do not necessarily reflect those of OnMilwaukee.com or its staff.