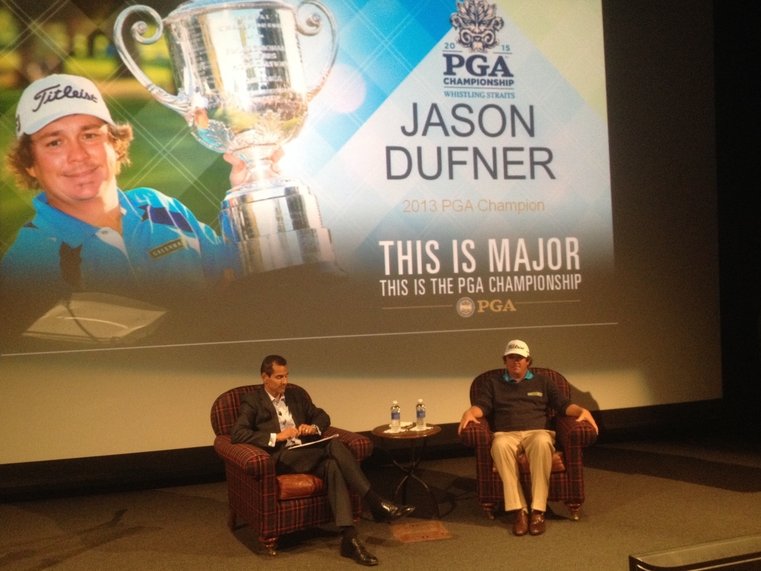 Run up to majors an exciting time for golfers
It's Memorial Day, and after a full week (seven consecutive days!) of sun and warmth, perhaps we can officially open the golf season in Wisconsin. There had been a handful of days through the first four months and three weeks of the year where you could get out there swing 'em in really comfortable weather, but they were few and far between.
What the never-ending winter did, aside from increase a golfer's level of frustration, was build anticipation.
The Masters, which usually signifies the start of the golf season for casual fans and players, came and went. We've watched the professionals play week in and week out in pristine conditions. Perhaps you took a winter trip to play a little bit and whet the appetite, or you had family and friends in other climates text you pictures or scores.
How could you not want to get out there for yourself?
Sometimes – especially in golf – the run-up to it can be just as fun as the act itself. (I mean, after all, you could lose eight balls and putt 40 times in your first round.)
This is especially true when it comes to major golf in Wisconsin.
The PGA of America and Kohler Golf are in full swing promoting the return of the PGA Championship to Whistling Straits in 2015, an effort that was kicked off when defending PGA Champion Jason Dufner made a visit to Milwaukee and Discovery World at the end of April.
Opened in 1998, the Straits course has already hosted two PGA championships and a U.S. Senior Open.
"I think the guys like it," Dufner said of his fellow professionals. "I think it's very visually intimidating. I remember the first couple times I played it I was intimidated visually just from the effects – you see some of the bunkers, the mounding, the water that's out there."
"I think once you get out on the golf course you start to see the room that you have to play and you get a little bit more comfortable. I think it's very challenging. I remember there's lots of long holes, lots of very penal shots out there where you can really make a mess of a hole."
What's great about this run-up to this particular event at The Straits course – and the 2017 U.S. Open at Erin Hills – is that you, Joe Public, can put the peg into the same first tee and putt out on the same 18th green that these tour pros do.
Major championship golf, from a spectator and economic standpoint, is fun and important – but the best part of it here in Wisconsin is we can take advice from a major champion like Dufner and then directly apply it to that venue ourselves.
"There's a bit of room to play out at Whistling Straits," Dufner said. "I think the second shots are probably a little bit more penal than the tee shots. If you miss in certain spots in some holes, you could be there for a while. I remember missing left of (hole) 17, the par 3, down the hill and fortunately I had a decent lie and I'm looking around it was about the only spot that you could get a decent lie. You could be down there for a while. I think the second shots are a lot tougher than the tee balls."
While it's not cheap to play these places – both are "bucket list" type golf destinations – you still can play them. And that fact alone not only increases the anticipation for sunny, summer days ahead, but the tournaments themselves.
Facebook Comments
Disclaimer: Please note that Facebook comments are posted through Facebook and cannot be approved, edited or declined by OnMilwaukee.com. The opinions expressed in Facebook comments do not necessarily reflect those of OnMilwaukee.com or its staff.