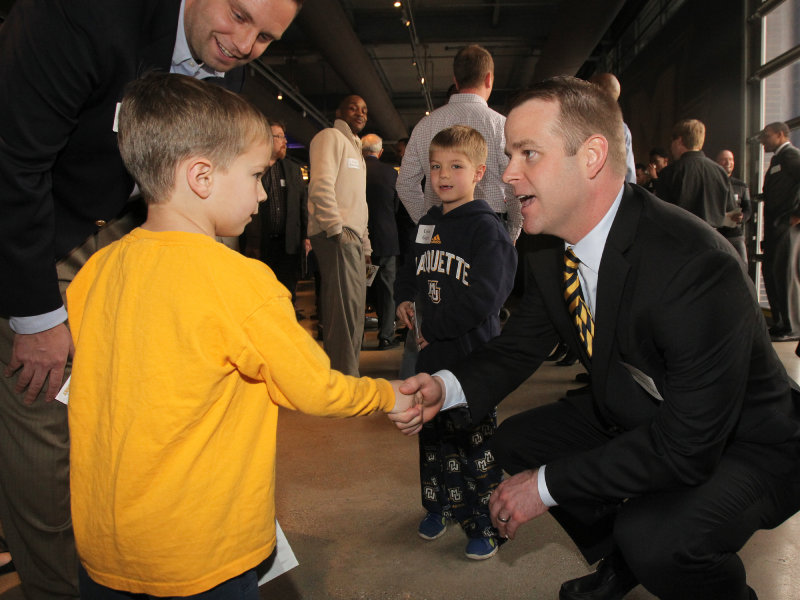 Wojciechowski builds a foundation at Marquette
It was a small gesture, but it set a tone.
In his introductory press conference on April 1, new Marquette University men's basketball coach Steve Wojciechowski turned his back on the gathered media to address the nine players standing behind him – his players.
When he spoke about them, he turned to see them, face to face.
He did the same two weeks later when he spoke at the team's award banquet, turning away from the microphone, rendering parts of his speech nearly inaudible.
The first months of the first-year head coach's tenure at Marquette have been all about those nine players, as well as incoming freshman Sandy Cohen and senior transfer Matt Carlino.
No games have been played.
It's been about the face-to-face action, phone calls and texts.
"That's the best way to get to know a person, regardless if it's a coach or if it's a girl or a friend," senior point guard Derrick Wilson said at the banquet on April 15. "You have to have that time with them to get to know them better, know their tendencies, know their personalities, know what they're thinking and I think that's really good for all of us."
Duane Wilson simply said, "I feel like we all have a great relationship with him."
That was just two weeks in with only assistant coach Chris Carrawell on board to help coach.
Since then Wojciechowski and his completed coaching staff have been able to work with players more often, including the current summer school session in which the focus is on individual improvement.
"In addition to that, though, the additional benefit is you get to really get to know a guy when he's on the floor," Wojciechowski said. "I've always found that the best way to develop a relationship with a player is working with them on the court, being hands on, trying to teach them.
"Again, you never know how you're going to be accepted 'cause you're new when you're on the court, but I think our guys have embraced me and I think they've embraced the staff that I've brought in as coaches, as teachers, as guys who want to mentor them to become who they're capable of becoming."
Cohen and Carlino will join the team in the second summer school session, which will include another four weeks of work.
While NCAA regulations only allow eight weeks of summer contact between coaches and players, it's valuable time for the first-year head coach.
"I think a lot of being a great team is having strong relationships and so while we're working on their individual skills and trying to analyze their game and say this is where you need to get better, this is where we need to get better at, ultimately the time that you spend together is the time where we're getting to know each other better," he said.
"In addition to what we're doing from a basketball standpoint there's constant dialogue of what it's going to take for us to be a really good team."
That dialogue began immediately, and it's been received with open arms.
"Everybody's bought into what he's trying to do with our program and I think everybody's willing to learn and do what he wants us to do because he knows how to win, he's been part of winning programs," Derrick Wilson said. "Duke is one of the most winningest programs in the country, of all time, so he's part of that culture. I think that's a big thing for us. We know that, so we bought in."
Facebook Comments
Disclaimer: Please note that Facebook comments are posted through Facebook and cannot be approved, edited or declined by OnMilwaukee.com. The opinions expressed in Facebook comments do not necessarily reflect those of OnMilwaukee.com or its staff.