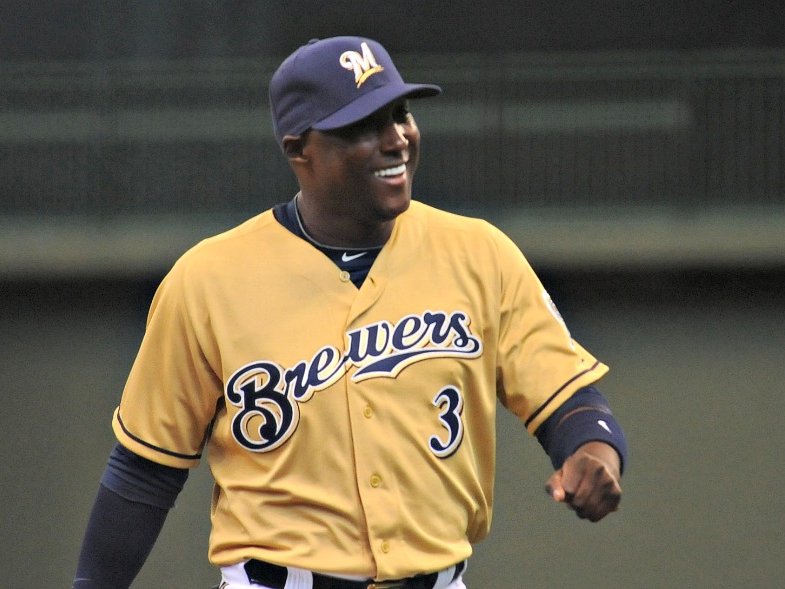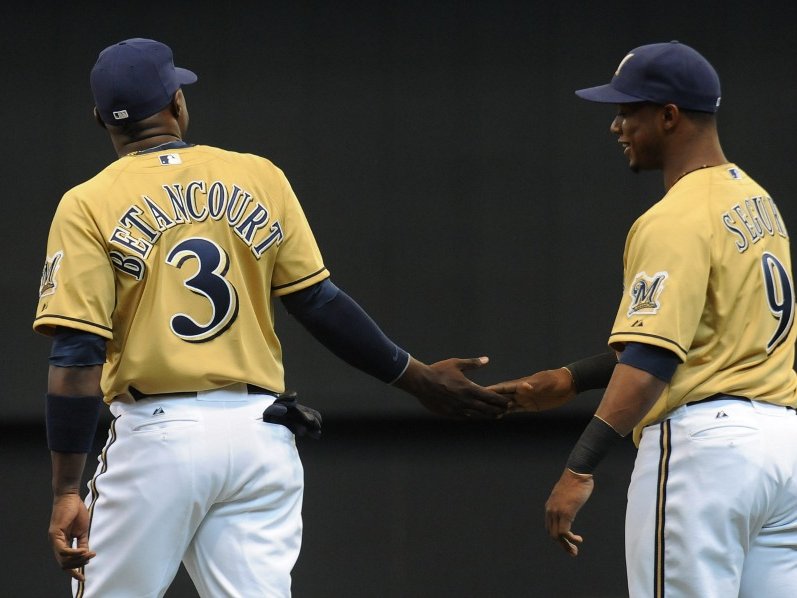 Yuni B exactly what Brewers need
Way back on March 26, Twitter timelines and sports talk radio nearly melted down when it was announced that the Milwaukee Brewers signed one Yuniesky Betancourt. The 31-year-old shortstop had been released by the Philadelphia Phillies two days prior and the Brewers scooped him up just days before Opening Day on April 1.
"He brings some energy to our ball club and he's fun to be around," Brewers general manager Doug Melvin said. "Yuni's got a good relationship with everybody. He just loves to play the game."
To say the signing was met with vitriol is perhaps too strong a way to describe the reaction, I think, because I don't think you can really be mad at a guy like Betancourt. He's round-faced and smiley and seems like he's in a good mood all of the time.
Perhaps it was more of an annoyed bewilderment directed at Melvin.
Whatever it was, it was fascinating to me.
I figured that this guy had to have been one of the worst Brewers players in a long, long time based on what I had heard. He must have been on the team for years, made a lot of money, got hurt a lot, played awful – the usual combination of things that get the fan's goat.
Honestly, I totally forgot he was part of the Zack Greinke trade in December of 2011. I knew about Greinke, of course, as well as the load of prospects the Kansas City Royals received from the Brewers. Betancourt? Totally slipped my consciousness.
So, to trusty baseball-reference.com I go. I see he was the starting shortstop on a team that came within a couple games of the World Series, playing 152 of 162 possible games. I saw that the Brewers only paid $2.3 million of his $4.3 million salary in 2011. That's not too bad.
Statistically, he seemed like a mixed bag. He didn't hit well, or get on base. Yet, he hit 13 homers – three off his career high from the year before – drove in 68 and stroked 43 extra base hits. He had a (barely) positive WAR number and his defensive WAR number was 0.0 – the best of his career.
He even led the National League in sacrifice flies, for whatever that's worth.
Then, I checked the postseason. He hit .310 over 11 playoff games in 2011 with 21 total bases and five extra base hits. That's definitely not too bad. Clutch, even.
For $2 million, it seemed like the Brewers made out.
"You've got to give him a lot of credit," Melvin said. "You don't win 96 games like we did without a good shortstop. I've never seen a good team win without a good shortstop. He played very well for us in 2011."
Then, back to Twitter and the radio, and you would think this guy single-handedly burned down County Stadium with Robin Yount still in the clubhouse.
Look, I get it. He doesn't walk. He swings at nearly everything. But to me, that's kind of charming.
Now, you could say that so far, this Brewers season has been anything but charming. You've had another shaky start to the year by the bullpen, you've had the offense stay in winter hibernation, you've had injury after injury, and an uninspiring 2-8 start to the season.
Then, you have a seven-game winning streak where the hitting comes alive and the pitching looks good.
Right smack in the middle of it is Yuni being Yuni.
He's being counted again due to injuries around the entire infield, having been pressed into action in 16 of 17 games. He's hitting .248 and has a .278 OBP, but he hit a grand slam and drew a key walk(!) in the San Francisco series, the Brewers' first sweep of the year. He's also played a surprisingly solid first base.
So far, nothing but love for good 'ol Yuni B.
"He loves to play the game and do whatever he has to," Melvin said. "I see his bat coming off the bench. He has a first baseman's glove now. He can fill in if we have an injury. He's a veteran guy who can go in and fill in those spots and we don't have to DL a guy when you've got a guy like Yuni. He's still a very good player. We were fortunate to get him here at the end of spring training."
Let's be real. This is about as good as it's going to get with Betancourt in 2013. The team isn't going to win 96 games again with him manning third base, shortstop and first base every day. He's a true utility guy, and he may end up being deemed expendable when Aramis Ramirez, Corey Hart and perhaps Jeff Bianchi are all ready to come back and contribute.
But he's out there now, and frankly, the Brewers kind of need him to be.
Talkbacks
Photodavie | April 22, 2013 at 1:34 p.m. (report)
I think a lot of fans were upset to have Yuni (declining vetran) instead of Alcides Escobar (upcoming speedy younster). Yuni was in essence a throw in with Grienke because we needed a shortstop to replace Alcides. I for one am glad he's back, but only because we have Jean Segura at SS now. Also because once Hart And Rami are back, he will just be a bat on the bench. An expeienced bat, and known as a good guy in the clubhouse. Never a bad thing.
Facebook Comments
Disclaimer: Please note that Facebook comments are posted through Facebook and cannot be approved, edited or declined by OnMilwaukee.com. The opinions expressed in Facebook comments do not necessarily reflect those of OnMilwaukee.com or its staff.