Warm-ish winter temperatures have slightly delayed the creation of the Dells' first Ice Castle Wonderland, but the cold weather seems to be here to stay and the tentative opening date for the icy extravaganza is Jan. 12. Read more...
Editors' Pick
Even though Cedarburg is so close to Milwaukee, when you're in its little downtown, you feel far away. And, while plenty of Milwaukeeans visit the Stagecoach Inn Bed & Breakfast for a staycation, this charming old hotel attracts plenty of people from out of town, too.
See more stories in Travel & Visitors Guide …
Milwaukee Area Event Calendar
More Featured Articles
Christmas came early for Milwaukee, as Vogue Magazine gifted the city a flattering place in its recent "5 Industrial Cities Making America's Rust Belt Shine Again" travel article. See what they had to say!
See more stories in Travel & Visitors Guide …
Despite being surrounded by the unfamiliar, I felt like I was cozily at home during my stay at The Astor Hotel - and that's a pretty impressive achievement for a hotel, especially when a guest's guts are actively staging a violent coup against him.
See more stories in Travel & Visitors Guide …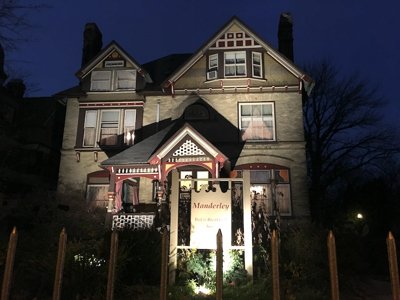 Capturing the romantic spirit of the Victorian Era, Manderley Bed and Breakfast is a jewel in the rough on Wells Street, just west of Downtown Milwaukee. You'd be amiss if you just drove on by.
See more stories in Travel & Visitors Guide …
Sponsored Content
Steinhafels Furniture is excited to partner with OnMilwaukee on unique content every month. This month, we're going to go behind the camera lens for a Steinhafels Decorating Solutions Before and After shoot.
From Our Partners
Jean Becker, his office chief of staff told KHOU that the former president is in stable condition and "doing fine" and expected to go home in a couple of days.
See More Stories From WISN 12 …
SHARP Literacy, Inc. announced details of two new programs: an after school program in partnership with Silver Spring Neighborhood Center that will serve students from Browning School and Thurston Woods Elementary School; and an intergenerational "Read to Me" program in partnership with the Jewish Home and Care Center, Sarah Chudnow Community, and Chai Point Senior Living.
See More Stories From Milwaukee Neighborhood News Service …
It's no secret that here at Radio Milwaukee we love Milwaukee music, but what is 'Milwaukee music?' From polka and folk songs to punk and hip-hop, music has been important to our city from it's inception - leaving us with a rich history that paints the picture, or the sounds, of our past. New exhibit showcases the history of Milwaukee's music scene appeared first on 88Nine Radio Milwaukee.
See More Stories From 88Nine Radio Milwaukee …
5 Songs We Can't Stop Listening to is a collection of our newest favorite songs. And Every week we ask an artist that we love to tell us about the music they love. Listen to the whole thing in the player below. The post 5 Songs We Can't Stop Listening To with guest Whitney appeared first on 88Nine Radio Milwaukee.
See More Stories From 88Nine Radio Milwaukee …
  The day after the 2016 presidential election, Chelsea Miller started looking for flights to Washington D.C. Not for the inauguration, but instead to attend a march of comparable size that was already in the works for the next day. "I felt compelled to do something. I was researching for three days, I was so [...] The post Women's March on Madison Organized by UWM Student appeared first on Media Milwaukee.
See More Stories From Media Milwaukee …
The following is a statement from Milwaukee Public Schools Superintendent Dr. Darienne Driver concerning new proposals for improving student performance: To reach our goals...
See More Stories From SchoolMattersMKE …
Coming Soon On OnMilwaukee.com…
Bye Bye Brett
Rodriguez's perfect pizza