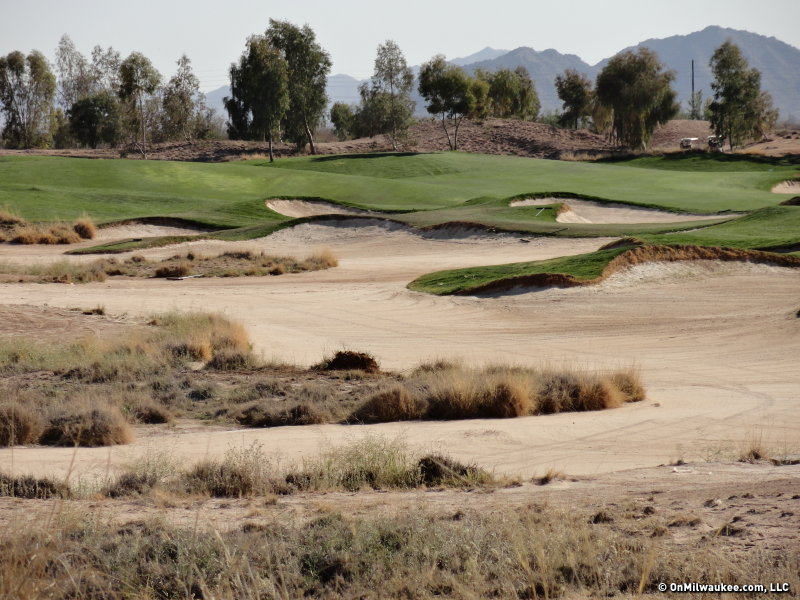 Golfing Arizona's finest courses, 2012
PHOENIX -- Some readers told me that last year's golf reviews were too Scottsdale-centric. So we took heed and made a concerted effort to spread ourselves out into the greater Phoenix area this year. 2012's Arizona swing includes a resort course, a mountainside track under brand new ownership, a desolate desert classic and visit with an old favorite.
The Legacy
6808 S 32nd St.
Phoenix, Ariz.
(888) 828-3673
If you are aching for golf as soon as you deplane, The Legacy is an excellent South Phoenix choice that will cure your winter golf jones. It's mere minutes from the airport to the first tee.
The Legacy Resort opened its gates in 1999 and has been a welcome wagon for those seeking resort quality golf at bargain course prices. It's very affordable by the premium standards of Pleasant Valley greens fees. There are packages for guests of their myriad guest condos and suites, frequent specials on their Website and they are also very active with Golfnow.
The course is a great solution to helping you retrain your atrophied off-season golf muscles. While it's far from a pushover, this Gary Panks design has wide and beautifully maintained fairways provide you with welcoming landing areas for swings that aren't piped down the middle. It measures a respectable 6,900+ yards and the entire par 71 course winds its way through its sprawling developments built on a former farm at the base of South Mountain.
Standout holes include the scenic par-3 seventh. It is an elongated, rising narrow target, surrounded front, back and side with forbidding bunkers. On the day we played it was chilly and raining throughout the morning, but as we approached the tee the sun broke through the overcast and South Mountain glistened in the sun framing the hole with a shimmering silvery backdrop.
Panks plays mind games with you on another par 3. Hole 15 has a tee box that juts out into the water hazard and forces you to carry water to an elevated green guarded by sand. On that rainy day I hated the feeling that I to think "Don't let this club slip out of your hands today or it will end up in a watery grave" countermanding the usual swing thoughts of "What water? There is no water – just hit it straight."
The course includes a number of old farm machines scattered throughout lending it a rustic feel. Old fashioned silos greet you along the right side of the long par-5, 18th making for hard to miss out of bounds markers. Beyond those silos there is still a working farm where horses are still kept at pasture.
The clubhouse is large but they have such a huge stock of clothing and equipment that it feels a little bit constricted. You could spend a half an hour in the place just checking out the inventory.
The Boulders North Course
34831 N. Tom Darlington Dr.
Carefree, Ariz.
(480) 488-9028
The further you travel north from the 101, which loops around the entire city, the more the desert begins to re-establish its desolate, craggy beauty. Local building ordinances try to assure that man-made structures do not ruin the views by restricting the color and height of homes and business developments. I was shocked to see the ubiquitous Target symbol in a very reduced size in an adobe wall no higher than 5 feet high along the main thoroughfare Scottsdale Road. If not for that tiny sign, you couldn't tell it was even there. The residences become more impressive in their scale, design and construction. Angular post-modern palaces of glass and steel side by side with green construction takes on the traditional adobe homes. You begin to peep cars that you have only seen in magazines and movies. By the time you get to Carefree, you know that you are headed for an epic golf destination.
We returned again to review the South Course this year, unfortunately, that course was only available to members that day, so we decided to check back in with the North Course and see what, if anything had changed over the year. Thankfully, nothing much had.
The Boulders course is a gem. Designed by Jay Morrish, the course architect that has made spectacularly taming wild spaces as his calling card, it is my favorite desert golf experience for more reasons than just the golf. It is easily one of the prettiest courses you will ever play, but its beauty belies the fact that it is punitive and will kick your ass if you are slicing or hooking your ball. As you travel around the course, you are constantly in view of Black Mountain and of a boulder pile that looks as though it was created by theme park designers. It looks so alien as to be fake, but it isn't. The lush green grass is bordered on all sides by dozens of varietals of cacti, scrub brush, flowers bushes and trees. As we were about to tee off on the third hole we were confronted by an unholy clamor as four hawks mixed it up in the tree above our heads. Wild life abounds, which is why the starter, with a chuckle, told us that local lees allow for a golfer to play his ball with no penalty if a coyote steals it.
Page 1 of 2 (view all on one page)
Next >>
Facebook Comments
Disclaimer: Please note that Facebook comments are posted through Facebook and cannot be approved, edited or declined by OnMilwaukee.com. The opinions expressed in Facebook comments do not necessarily reflect those of OnMilwaukee.com or its staff.