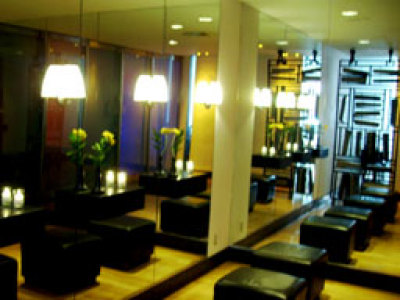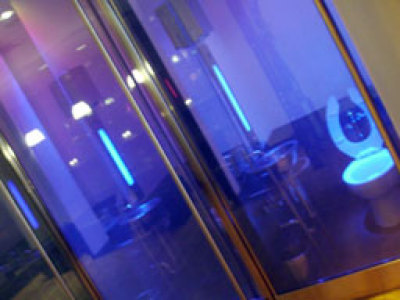 Kopp's Bar 89 is an Elsa's for the SoHo set
NEW YORK -- Milwaukeeans know Kopp's for the custard and the butter burgers and when we think Elsa's we think martinis with a touch of class. But New Yorkers, it seems, know Bar 89 -- Karl Kopp's SoHo bar and restaurant at 89 Mercer Street – for its bathrooms.

That's because the unisex restroom elicits more gasps than the opaque pods at Milwaukee's Tangerine.

Situated in the loft high above the main bar and dining room, along the right wall of a warm, contemporary lounge, a half-dozen individual stalls glow behind transparent glass doors, causing all first comers to pause and consider how best to proceed. Of course, once a stall is occupied, the doors are backlit to provide privacy.

More than one New Yorker I talked to about Bar 89 couldn't quite picture the place, until it hit them. "That's the place with the bathrooms."

But there's no reason why a sleek, friendly SoHo bar and restaurant should be acclaimed solely for its eye-opening WC.

In stark contrast to cobblestone Mercer Street outside, the interior of Bar 89 is monochromatic modern, meaning it fits perfect into SoHo, a once industrial neighborhood that became a haven for artists and is now a glossy upscale shopping neighborhood retrofitted into 100-or-more-year-old warehouses.

On the left, a curved bar sits below a skylight that mimics its arc and on the wall above a trio of circular mirrors makes the space -- which has a super high ceiling -- seem wider than it is.

Hardwood floors warm up a room with bright white walls and black granite tabletops and bar. There are booths along one wall and round tables up the center with padded wooden chairs. In the loft jutting out from the rear walls -- where you'll find those bathrooms -- are another dozen or so tables.

Adding an explosion of color is a mobile of dozens of paintbrushes dipped in purple, red, yellow, blue, green and orange paint.

So, why did Milwaukee's king of custard open a restaurant in glam SoHo?

"It was at one point an artists' community and he's involved in art," says affable Bar 89 manager Christopher Ferrante. "He likes collecting art and he likes showcasing art here. And I think he just enjoyed New York a lot and especially this area. There used to be an empty parking lot here, pretty much (like) most of SoHo. You can't park anywhere now."

Bar 89 has been open for about 11 years now and Ferrante -- who has been manager for just under five of those years -- says Kopp is a hands on boss and visits about three times a month.

"He's got another site in Arizona (AZ88, which OMC visited in 2004), too, so he's always flying," says Ferrante, who, although clearly an East Coast guy, is no stranger to Milwaukee.

"I trained in Milwaukee back in 2003 at Elsa's for about two weeks. I've been to a Kopp's and it was great. I had a chicken sandwich and the vanilla custard. It was really good."

That was good training for Ferrante for the Milwaukeeans who make a point of stopping in at Bar 89, which has a menu almost identical to Elsa's -- just add about $2 to the Elsa's prices. As for Milwaukee beer, MGD is the sole representative, sitting with Coors Light, Bud and Bud Light, alongside micros like Anchor Steam and Sierra Nevada Pale Ale, imports like Heineken, Stella Artois, Red Stripe and Peroni.

"We do get a decent amount (of Milwaukeeans), yeah," says Ferrante. "People who are visiting from Milwaukee will come in, if they aware of it and they're not always aware of it because you know there's no mention of it at Elsa's.

"I think we're working to change that and maybe have some kind of card or something maybe slipped in with the check, so people are just aware, 'if you're ever in New York or in Scottsdale, you can visit these places.' When people who are aware come in, they kind of make themselves known … This is a good place and Karl's kind of a known figure in Milwaukee."

Bar 89 is clearly a place where everyone feels comfortable. During a recent visit, there were small groups of obvious tourists refueling at the curved bar while young couple sat snug in the booths that line the opposite wall.

Mellow, acoustic Brazilian music washes out of the speakers and everyone looks right at home.

Ferrante confirms that Bar 89, in fact, has a diverse clientele.

"It's a mixed crowd. We have a certain amount of tourists because this area has changed over the years. It was, obviously, an industrial area and then an artists' community and then really a lot more nightclubs and bars. Now, that's sort of faded away and it's a shopping district more than anything else.

"I say this to people that I interview here, I can't really say that one type of person comes here. People just looking for an interesting good place to come and have some food and drink."
Talkbacks
Master C | May 21, 2007 at 12:51 p.m. (report)
Just to clarify things, the bathroom doors at Bar 89 aren't backlit...they are actually big liquid crystals (think digital watch screens) that are connected to a motion sensor inside the stall.
Facebook Comments
Disclaimer: Please note that Facebook comments are posted through Facebook and cannot be approved, edited or declined by OnMilwaukee.com. The opinions expressed in Facebook comments do not necessarily reflect those of OnMilwaukee.com or its staff.