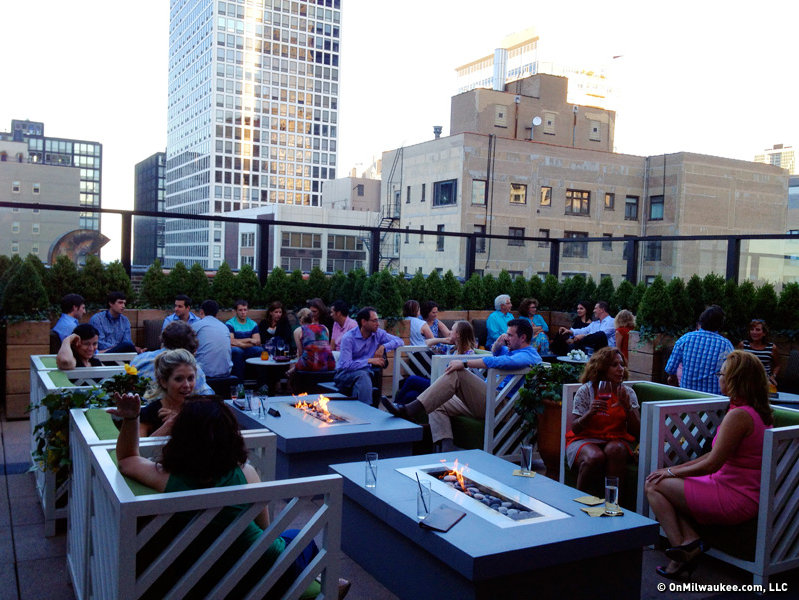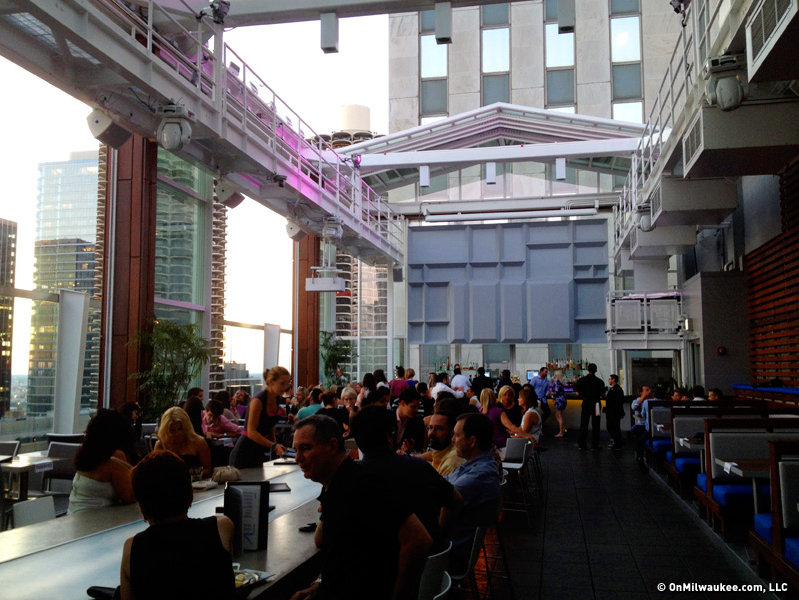 Up on the roof: Chicago nightlife soars to new heights
When this old world starts getting me down
And people are just too much for me to face
I climb way up to the top of the stairs
And all my cares just drift right into space
On the roof, the only place I know
Where you just have to wish to make it so
Let me tell you now
When I come home feelin' tired and beat
I go up where the air is fresh and sweet
At night the stars put on a show for free
And darling, you can share it all with me
I keep a tellin' you
Right smack dab in the middle of town
I've found a paradise that's trouble proof
Up on the roof
When The Drifters took America up on the roof – via Carole King and Gerry Goffin's eponymous tune – they might have been talking about New York circa 1962. But they could have also been predicting Chicago in 2013.
While Milwaukeeans are still partying close to terra firma Downtown, Chicagoans have soared up to the tops of buildings and high-flying terraces that offer stunning views and cooling breezes during hot summer days.
And these aeries are drawing big crowds.
At Kenosha native Tony Mantuano's Terzo Piano, an Italian-influenced restaurant focused on locally sourced ingredients atop the Modern Wing of the Art Institute of Chicago, 500 N. Michigan Ave. (enter on Monroe Street) there's plenty of indoor seating. But the outdoor terrace, with views across to Millennium Park, is the real draw.
Former Milwaukee chef Jason Gorman is executive chef at the museum's dining venues, but Terzo Piano's kitchen is the realm of chef di cucina Megan Neubeck.
"We're getting to that point where it's either choose inside or wait for half and wait. We get a large number of people who are willing to wait," says Neubeck.
"A lot of people still don't know about us. Because it's closed in, if you don't know we're here you'd walk right by. But once you're up here, why wouldn't you stay? The view is pretty spot-on."
The menu hits all the right notes, too, with crispy flatbread pizzas, some quick and tasty tramezzini sandwiches, weightier pasta dishes and a range of small plates that includes incredible fried artichokes, housemade pickles and tangy curry coconut caramel corn.
Like most Chicago rooftops, Terzo Piano wraps things up as autumn swirls in off Lake Michigan, but it has allowed folks quick little moments on the deck during the offseason.
"We did one year allow people to go inside and order hot chocolate and coffee and bring it outside," recalls Neubeck. "You never know, it can be February and it could be 55 degrees."
Terzo Piano is just one of a flock of elevated outdoor experiences that make the Windy City breezier than ever. Here are a few more to suit any mood ...
Hot: ROOF at The Wit, 201 N. State St., has a fabulous menu, written and overseen by executive chef Evan Percoco (who, incidentally, is a huge fan of departed Milwaukee hardcore band The Crusties), laced with seafood, sumptuous cheese and charcuterie platters, pizzas and more – along with some alluring cocktails, too.
But this sprawling rooftop venue also has a retractable roof and one of the most exciting views in downtown Chicago. It's lively and buzzing and as the night progresses, it gets even more so as the ROOF slowly transforms into a nightclub.
Warm: ZED 451, 739 N. Clark St., feels a tad clubby, with music and chatter, but in a much more intimate way. This second-floor rooftop isn't distinguished for its view as much as for its warm vibe, with intimate cabanas, tables bunched close together and a staff that is friendly and welcoming.
ZED 451 also makes one of the best Pimm's Cups in Chicago. It's a tall cocktail that's cool as a cucumber and gussied up with a sprig of rosemary.
Cool: The Southern, 1840 W. North Ave., on the edge of Bucktown and Wicker Park, has an edgier vibe and a rooftop deck that overlooks the tavern's tree-shaded patio.
This is the place to enjoy a microbrew or a small-batch bourbon – or that Manhattan that comes with a stiff strip of bacon as a stir-stick – before heading out to hear live music in one of the most exciting parts of Chicago.
Chill: Drumbar at The Raffaello Hotel, 201 E. Delaware Pl., offers a more laid-back, chill experience if you get there early enough. The outdoor seating surrounds a couple open-flame heaters that give warmth and ambience and offers views straight up the side of the Hancock Center next door.
There's an inventive new cocktail menu being launched right now, that pours concoctions like the Out & About, with bourbon, Punt e Mes, Campari and chocolate bitters; and the Wizard of Oz, with Cynar, manzanilla sherry, lime, orange bitters and a dash or two of nutmeg.
Drumbar is atop the 18-floor Hotel Raffaello, a luxury boutique hotel in an historic downtown building located right in the center of the action, a block off Michigan Avenue and from Water Tower Place shopping center.
In the lobby is Glazed & Infused, a donut shop like no other, with bacon-topped crullers and the kind of chocolate donuts you may have dreamed about as a youngster.
Brunch: Little Goat Bread, 820 W. Randolph St. in the hopping West Loop neighborhood, is "Top Chef" Stephanie Izard's bakery, coffee shop and diner near her wildly popular Girl & The Goat Restaurant.
Here, you can watch bakers make the delicious morning treats – scones, breads, muffins, sandwiches – and perch at the bar to enjoy a latte – or better yet, a bloody mary – with the morning paper.
Upstairs, there's a party room attached to an open kitchen space where guests can see more cooking activity before heading out onto the patio with its spinning cartoon goat sign, a bar, comfy seating and a view east of the loop skyline, including the soaring Willing Tower.
Dinner: III Forks, 180 N. Field Blvd., is a chain of steakhouses with Texas roots but, according to executive sous chef Andrea Williams, each venue gets some leeway with its menu. In Chicago, that means there's a "downstairs" – or traditional steakhouse – menu and an "upstairs" menu of small plates designed specifically for the terrace. However, guests are free to order from either, or both.
The terrace is only on the second floor but don't let that fool you, it still offers one of the most breathtaking views in downtown. Because it overlooks a park, cabana and table patrons get a dose of green along with a wall of the steel and glass that has further transformed Chicago over the past quarter-century.
Sure, III Forks is a steakhouse, but the salmon, scallops and other seafood dishes here are a highlight.
Midnight snack: Terrace at the Trump, 401 N. Wabash – like III Forks – offers further proof that size isn't everything. Though you're only on the 16th floor, there is no view like this anywhere else in town. The relatively small terrace – with its mod color-changing orb lights – looks directly onto its neighbor, the Wrigley Building, and, slightly beyond, the Tribune Building.
The view below traces the Chicago River out to Lake Michigan, where most nights, if you time it correctly, you can have a front-row seat for the summer fireworks.
A number of drinks here, including the old fashioned, arrive in two containers, including a beaker spewing smoke. The mixologists here are fans of liquid nitrogen, which adds a further dose of wow to an already exhilarating experience.
Cap off your evening of wow with small plates here, that range from tuna tartare to sliders to melon salad to grilled red curry shrimp and beyond.
Leave it to the Donald to take a Chicago trend and up the ante.
bqvtqqbacuxazecescscqfu
Facebook Comments
Disclaimer: Please note that Facebook comments are posted through Facebook and cannot be approved, edited or declined by OnMilwaukee.com. The opinions expressed in Facebook comments do not necessarily reflect those of OnMilwaukee.com or its staff.