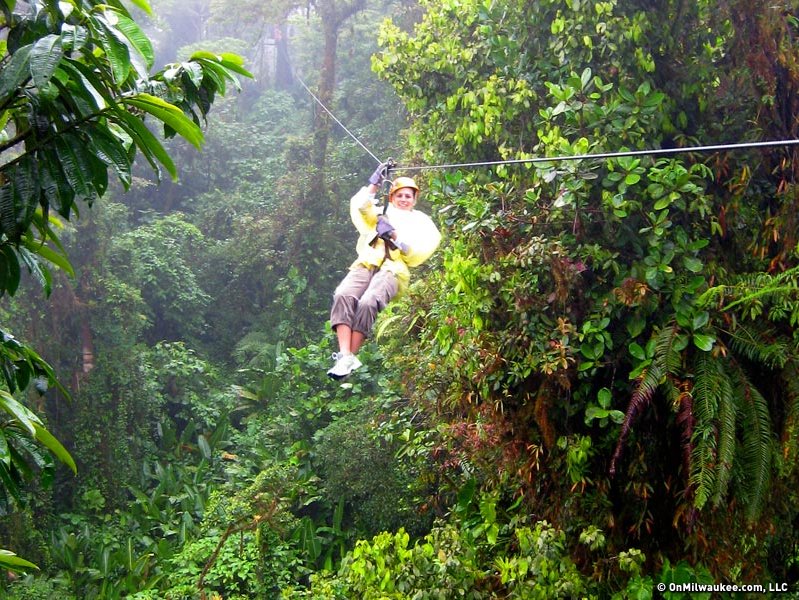 Livin' Costa Rica's pura vida
Pura Vida -- the term synonymous with the Central American country Costa Rica -- tells you all need to know. It's a pure life and it's the only way of life for Costa Ricans; more commonly and affectionately called Ticos or Ticas.
Costa Rica means "rich coast" in Spanish and is known for its coffee and sugar cane exports. The small country, about the size of West Virginia, is divided into seven provinces. It is a popular destination for budget travelers, students and thrill seekers, and from my experience I can see why.
A travel plan for Costa Rica reads like a "Choose Your Own Adventure" book. The diverse terrain allows visitors to satisfy their need for adventure, beach and culture. On a recent vacation down south, I had an ambitious plan to visit the Monteverde cloud forest, the Pacific beaches of Montezuma and the capital city of San Jose. My adventures were more rugged than expected, but more enjoyable than I could have imagined.
Adventure #1: Monteverde -- We rented a car and climbed the mountainside. The Pan-American Highway runs north and south through major Costa Rican cities and is a major supply route through Central American countries. It only takes you so far, though. More than half of the route was bumpy, unpaved roads, but the natural scenery was breathtaking.
To break up the long drive, we stopped at a variety of roadside fruit stands and cafes for coconut water called pipa fria or for ceviche.
Once we arrived in Santa Elena, the town encompassing Monteverde, we immediately noticed a constant cool mist tickling our faces through the warm sunshine. There were overwhelming options for tourist activities including rafting, canopy tours, sugar cane and coffee plantation tours, horseback riding and zip lining.
We decided to take a guided night tour in search of wildlife. On a two-hour educational hike, we saw birds, a tarantula, tree frogs and countless species of flowers and plants.
Early the next morning, we took a zip line tour and flew above the canopies through the clouds. It was the most exhilarating experience of my life, but not for those afraid of heights. I literally felt like a bird soaring on a sublime journey over the treetops. Each afternoon, a rainbow signaled the descent of day.
Adventure #2: Montezuma -- Beach seekers have their choice of the Pacific Ocean or the Caribbean Sea. We chose the Pacific and traveled across the Gulf of Nicoya via ferry to the laid-back beach town Montezuma. The gulf water was warm and a string of beaches allowed for privacy or people watching depending on your mood. Feeling alert one morning we hiked up a steep hill (more like three) to find a secluded waterfall. Diving in the cool, refreshing waterfall rejuvenated us and made the difficult hike so worthwhile.
Friendly dreadlocked natives decorated the streets displaying hand-made crafts and macramé jewelry throughout the evening hours while sounds of live music sung in English and Spanish attracted diverse crows and created a bustling nightlife.
Adventure #3: San Jose -- On a quest for culture, we meandered through the Central Avenue that is the backbone of San Jose. The central market was a maze overflowing with everything from dresses and household items to fresh meat, seafood, fruit and dried herbs. Street vendors sold pirated DVDs, hand-painted artwork, colorful accessories and lottery tickets. Alas, we found the Museum of Pre-Columbian Gold and the National Theatre adjacent to the large, pigeon-filled Plaza de la Cultura. We decided to take a coffee break in the National Theatre's ornate cafe filled with speckled marble and gilded fixtures.
Although Costa Rica is not known for their food, I enjoyed the simple casados at every café commonly referred to as a soda. A casado is like a grab bag; you never know what you are going to get, but you know it will be something good. It always consists of chicken, pork, fish or beef along with rice and beans, vegetables and more.
Although colones are the official currency, most hotels, restaurants and taxis also accept American dollars. Expect to pay between $30 and $60 for suitable lodging each night and about $30 a day will allow you to eat like a king. I hope you like rice and beans.
For more information about Costa Rican travel check out: monteverdeinfo.com, ticotravel.com or lonelyplanet.com/costa-rica. We used the Let's Go Costa Rica guidebook and found it very helpful.
Whichever adventure you choose for your own vacation, Costa Rica promises friendly locals, incredible scenery, activities galore and affordable amenities.
Facebook Comments
Disclaimer: Please note that Facebook comments are posted through Facebook and cannot be approved, edited or declined by OnMilwaukee.com. The opinions expressed in Facebook comments do not necessarily reflect those of OnMilwaukee.com or its staff.