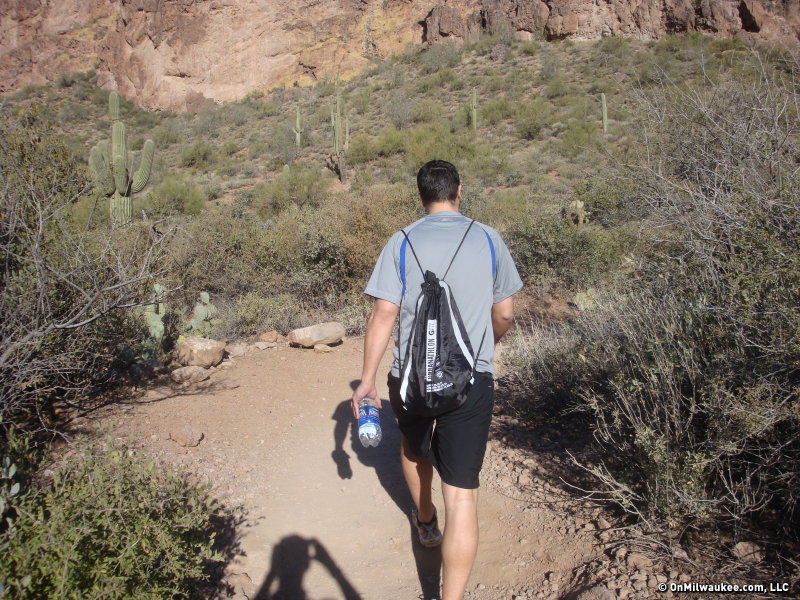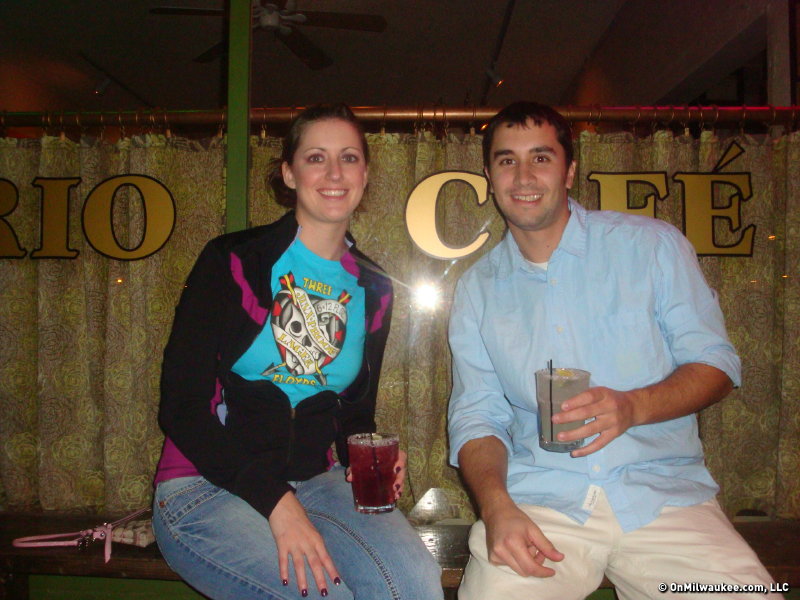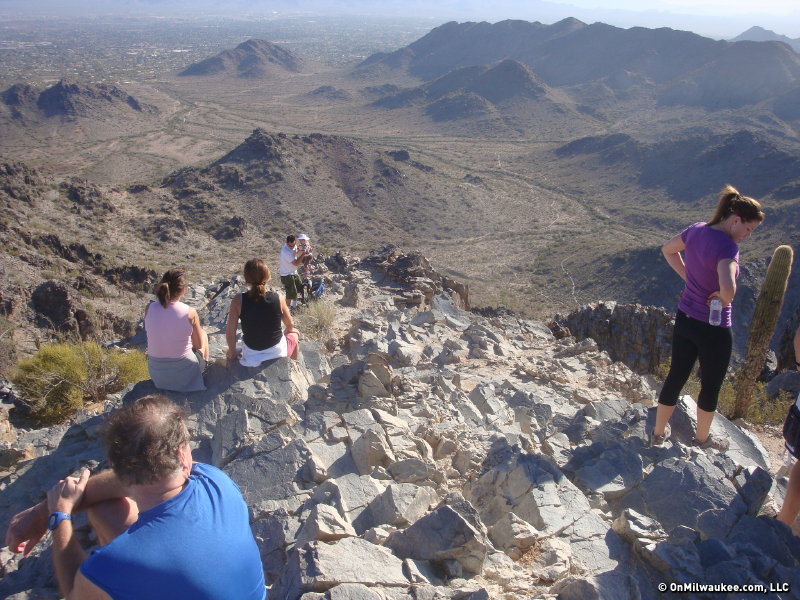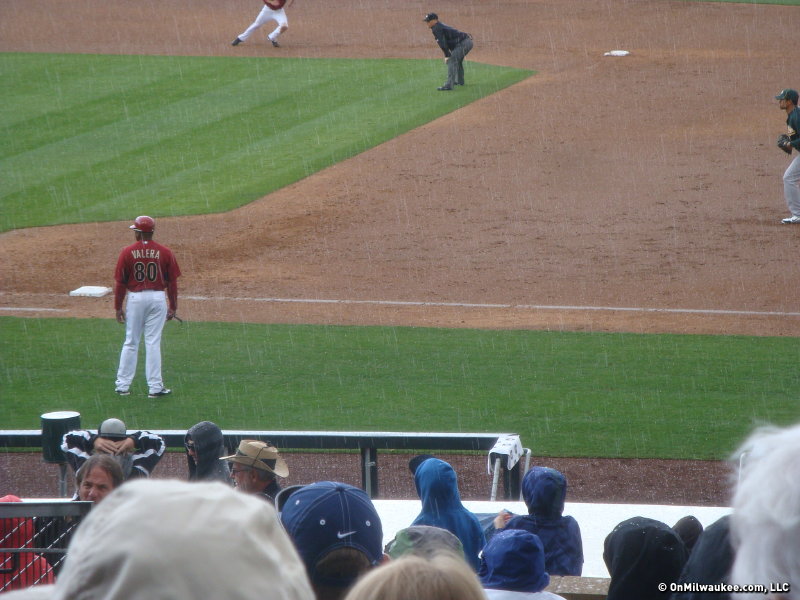 Extreme spring training: an outdoor adventure in Phoenix and beyond
PHOENIX -- Five whole days to spend in the valley of the sun. 120 hours to soak in the Brewers, cacti and the most perfect weather. (Of course, as I write this, Milwaukee is experiencing abundant sunshine and above normal temps). The girlfriend and I will head out together aboard US Airways. And besides the new Pizzeria Piccolo in Concourse C, not much here has changed in ol' General Mitchell International.
Monday, March 14: A flight out of Milwaukee can be improved by indulging in what I like to call "Pre-Flight Fuel," Alterra's Potato Bacon Burrito and a berry blast smoothie. Way too good. Served all day, as well. Do yourself a favor on your next flight out and grab this legendary combo. Unfortunately, I think I just negated last night's workout eating it. I have a feeling I might be canceling out a few previous workouts on this trip.
As someone who has been to Phoenix nine times prior (for work), I'm quite familiar with the landscape. Unfamiliar territory, however, will be hanging out with OnMilwaukee.com's Andy Tarnoff and Bobby Tanzilo, as well as a few other Milwaukee folks in tow. These stand-up gentlemen are Phoenix veterans. They've made this trip 14 times, so I'm excited to participate in whatever annual traditions they might have. As long as they don't involve ghost peppers, test-taking, or back-alley deals with some guy in strangely-clean acid-washed jeans, we're down for whatever.
A turbulent-free evening flight jettisoned us to Sky Harbor. My free beverage of choice on an aircraft is ginger ale. It's a theory of my friend Nate, who says "Ginger ale is best enjoyed at 35,000 feet in the air." One day, this theory will be a proven scientific fact. Flights are always entertaining, because there's one person who stands out. On this flight, there was a young adult male wearing an authentic Kurt Rambis Lakers jersey. Why and how? This fellow couldn't have been more than 18 years old. Definitely not old enough to have seen Rambis play. Awkward indeed.
Our flight touched down at 6:30 and by 7 p.m., we were on our way to the rental car facility. I'll admit, I've never rented a car before. But national "emerald aisle" service, secured by the gf, was the most efficient process I've ever been a party of. You literally grab a car and go. Instructions: Find a car. Choose said car. Exit premises driving car. A simple ID check is all you needed. Highly recommended. (Please note: author is easily entertained).
Our first stop was not the hotel, but the amazing Pizzeria Bianco, where Arizona's finest pizzas bake to perfection in a hearth oven. I've been to this mecca twice before, but this third time was a charm. The Biancoverde (with added salami) was a sweet, salty magnificence. Paired with a Four Peaks brewery Hop Knot IPA, our arrival could not have been better. Well, maybe it could have, but it would have involved taking a friendly stray kitten home (cats meander around ASU's Heritage Square at night). The wait times can be notoriously long here, but we only waited 45 min.
After our delicious pie intake, we finally checked into the Sheraton Crescent hotel, conveniently located within minutes of where the Brew crew plays ball. Before checking out the hotel amenities, we both collapsed into a heap on the bed like a sack of spent grain. Early to rise tomorrow, as we are tackling the Peralta trail in the Superstition Mountains. Maryvale in the afternoon, and my favorite food spot in the eve, Barrio Café.
Thursday, March 15: Really? It must be said here that when my seasonal allergies strike, they assault my ears, nose and throat with a tenacity so vicious that pit bulls would wimper in a corner. The cocktail of nasal spray, Allegra-D and Mucinex is doing an OK job fighting off these demons, though. So on two hours of sleep and with cracking ears, we hit the road at 7 a.m. and drove to the Peralta trailhead outside Gold Canyon. About 45 minutes away in the Superstition Mountains lies one of my favorite nature paths. An old, winding riverbed trail displays giant hoodoos (rock formations, see also: fun word to say) and Century plants. Skinny, leaning shrubs that look like uncoordinated, pubescent teens swaying in the breeze, if that makes any sense. This is an easy hike – no ropes, pulleys or carabiners (another fun word to say) are needed for this jaunt. There was around 50 people on the trail this morning, so navigating was manageable. Flowers are finally starting to bloom in mid-March so that doesn't help my sinuses either. Total time there and back was about two and a half hours. After the hike, we headed back to change into the necessary blue and yellow.
Today is the first time laying in the grass seats at Maryvale. The crew played the San Diego Fathers today. Not one cloud in the sky. The only shadow that was cast was that of the gigantic Seth McClung, who I had the pleasure of meeting mid-way through the game. Seth is currently on assignment at AAA Nashville, and took a few minutes to hang out with us and talk. An extremely nice guy – check out some of his OnMilwaukee.com blogs here. Brewers lost the game, but weather was so beautiful it didn't matter.
At night, my lady and I had my favorite – Barrio Café. Guacamole is made tableside here, and features fresh avocados, tomatoes, onions, a boat-load of cilantro, and pomegranate seeds. A non-intrusive house band plays inside to 20 tables and two (yes, two) bar seats. Day of the Dead paintings are displayed on the walls throughout, and can be yours for a few hundred dollars. Even though our server forgot to put in our order, the final result of fish tacos and slow-simmered pork shoulder were both to die for, as usual. Early to bed again, as we had another early hike on Friday. Sleep is necessary.
Friday, March 16: Yet another sunny, cloudless day in Phoenix. This morning, we do Piestewa Peak, an inner city hike. Challenging but fun, this busy trail brings a ton of old and young, alike. If you're especially fit and agile, you can run up and down the mountain. I call these people crazy. It took us 45 minutes to ascent the summit and overlook the metropolis below. Tiptoeing our way down spent 30 minutes of our time. After breaking an intense a.m. sweat, we finally rested a bit. Until this point, we were sightseeing at a breakneck pace. The rest of the agenda called for sushi and a baseball game in Surprise. I was hesitant to dine on sushi at Fresh Wasabi, as I wasn't sure raw fish was the best pre-game food choice. However, sushi is delicious, and turned out to be a good idea.
Surprise Field in ... Surprise, Ariz. ... is home to the Rangers and Royals, and was my favorite park of the trip by far. Brewers again got slaughtered, but more difficult to watch was Lorenzo Cain have a great game. He's gonna be good – I miss him a lot for some reason. Surprise Field is much bigger than Maryvale, and has a better beer and food selection.
After the game, the whole gang headed to the popular pool area at the Sheraton Crescent. Be wary of the water slide – I careened down the apparatus with great force, and eventually smashed my hip against one of the turns. Brutal! To nurse our injuries, we headed to the hot tub. Why is there always at least a dozen kids in the hot tub? It's very puzzling.
Page 1 of 2 (view all on one page)
Next >>
Facebook Comments
Disclaimer: Please note that Facebook comments are posted through Facebook and cannot be approved, edited or declined by OnMilwaukee.com. The opinions expressed in Facebook comments do not necessarily reflect those of OnMilwaukee.com or its staff.