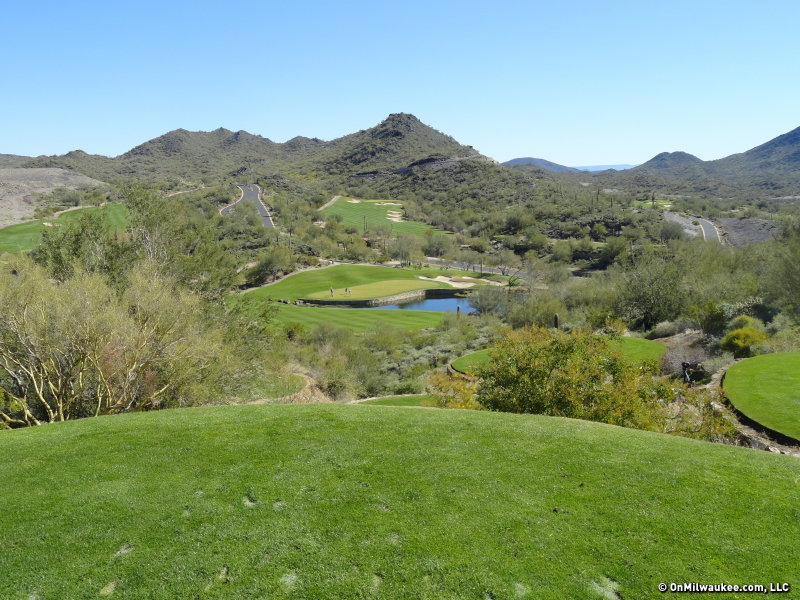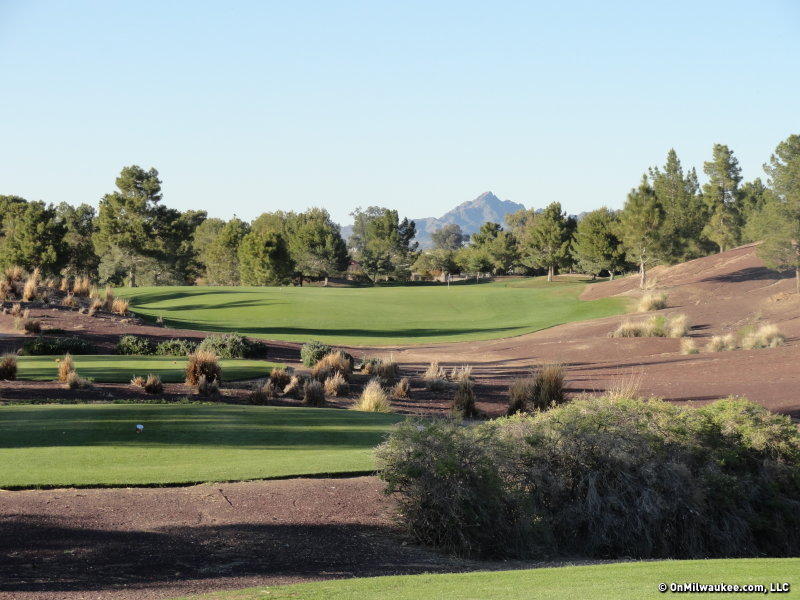 Golfing Arizona's finest courses, 2013
PHOENIX --When the weather gets frigid and inhospitable, my thoughts always turn to memories of warm golf rounds played in short sleeves. And so I find myself looking back fondly to rounds played less than a week ago, when temperatures were close to 60 degrees over our current Milwaukee spring freeze. Phoenix, Tempe or Scottsdale never disappoint, offering perfect weather and more golf courses than you can play ... even if you are lucky enough to live here.
Our 2013 tour allowed us a chance to go back and see how a course that we reviewed a few years ago has held up, and it offered the opportunity to play three courses for the first time. We allowed for different budgets and for different layouts and got a taste of the best the region had to offer.
As a once- maybe twice a year visitor to the Valley of the Sun, the sheer amount of courses in Arizona can be overwhelming. There are an incredible amount to choose from and picking a couple from the many during a short stay can be a challenge in and of itself. If you're like me, and price is a concern, a fantastic website to help you get more bang for your buck is discountteetimes.com. They offer tee times for more than 40 Arizona Golf Courses ( and many more in the Las Vegas market), through a wide spectrum of greens fee prices. And if you have time flexibility, you can go BIG on a thrifty budget. We worked with David Bates who has connections all over Scottsdale and beyond to procure our tee time at Vista Verde. A highly recommended service when planning your next trip.
For those considering a trip out to Arizona to golf, or if you are just adding a couple of rounds on to your Spring Training Brewers tour, I do have some advice: do not trust Google Maps. Always call ahead the day before to get instructions from the clubhouse, or you may be sorry.
We were fortunate to barely make our tee-time on two occasions because we relied too heavily on an application that does not work well in the mountain passes and foothills of the outlying areas surrounding North Phoenix and Scottsdale. Twice the clubhouse attendant chuckled as we rushed to check in, visibly frazzled. "It happens all the time, we've asked all the GPS services to fix it, but they haven't gotten around to it, I guess."
The Raven Golf Club
3636 E. Baseline Rd., Phoenix
A 10-minute cab ride directly south of Sky Harbor Airport took me to the front doors of The Raven on Baseline Rd. in South Phoenix. I played this course a few years back and was surprised by its resemblance to a quasi-woodlands style golf course similar to those in Wisconsin. Of course, the courses in Wisconsin don't sport palm trees and most don't approach the plethora of bunkers at the Raven, but it is still a very familiar feeling course.
The entire club has a nice casual feel from the moment you walk through the pro shop and out onto the massive practice facility. This feeling is carried through the links styled course, which is tight but not incredibly punishing unless you are playing the holes skirting the driving range (1 and 13), where an errant shot becomes a needle in the haystack – assuming you are playing a white ball.
Another distinct feature for a desert golf course is the appearance of water hazards which come in to play on five separate holes. The Raven is built on gently rolling terrain and is fairly forgiving of mis-hits. It measures just over 7,000 yards from the tips with a 72.8 rating and a 130 slope, and from the shortest tees it measures 5,759 71.4/124. We played the second set of tees, and the Raven gave us all we could handle.
This club has always prided itself on service, and at one point in the year 2000 it was named the best golf club in the country in that respect. On the day I arrived that was still apparent.
Attendants dressed in all black and blue whisked away all my bags from the flight and put them in storage for me while I enjoyed my round. The staff in the grill, the range, the pro shop and the cart corral all reflected this commitment to customer care. My only quarrel with the club was that there was no golf marshal in sight the afternoon that we played and the sorely lagging pace had us needlessly finishing in the twilight.
Vista Verde Golf Club
17405 E. Desert Vista Trail, Rio Verde
Way out along Dynamite Road where the sprawling suburban metroplex gives way to the vast desert, past some of Scottsdale's most renowned (and expensive) golf courses is a course billed as Arizona's Best Kept Golfing secret, and this year, we decided to share that secret with you.
This course opened in 2006 at the edge of the Tonto National Forest and planned development never got off the ground when the housing bubble burst, so what Vista Verde is now is a fully functioning course with almost no development on it. If you played Strawberry Creek in Kenosha before it was finished and was taken private, it will feel familiar to you.
The Clubhouse is currently doing business out of a mobile home sized structure. Before a round you are directed there to check in, and from there they send you to the starter down the road.
John Kieber, head pro at Vista Verde informed us that the course has recently been purchased by a new development group, and they expect construction on new clubhouse facilities to be completed permanently some time within the next two years.
As with almost every course you will visit in the Valley of the Sun, there is a Wisconsin tie at Vista Verde. Director of Golf Instruction John Basten is a native of Green Bay and a graduate of the University of Wisconsin. After graduating from Madison he returned home to Green Bay as an assistant teaching pro and helped instruct both Vince Lombardi and Bart Starr. We didn't have time to pester him for stories (thanks Google Maps!) but he did ask me to mention that Bart and Cherry Starr always took the time to write him a note of congratulations for the birth of each of his children. We really enjoyed our brief time with John and John. Very friendly guys and really funny, as well. No stuffed shirts in the Vista Verde Pro Shop.
We were paired with a couple from Omaha that day, Whit and Karen, and we all played from different tee boxes. There are six different sets of tees on each hole and if for some reason those don't feel comfortable with those options, the scorecard also allows you to split your round between a pair of alternating tees for a whopping total of 10 different yardage combinations varying from 7,229 yards 73.8/143 through to 5,033 70/123 on this par 72 18.
For such a pricey neighborhood, Vista Verde is a great bargain. If you don't mind the sun, twilight rates begin at 1:30 and you can get on the course for $50 every day during peak season. Replay rates are also a steal at $45 for those of you that want to make a day out of Vista Verde.
It is a strange and peaceful journey winding through Vista Verde. All the infrastructure is there for bustling subdivisions, perfect new roads with brand new signs at every intersection – but there almost no houses on the course. As it is comprised now, it is almost impossible to spray a shot OB because there aren't really any boundaries, which is fortunate if you are having difficulties knocking the winter rust from your game.
The course is an ambling desert track. There are plenty of risk reward shots to test your game, but study your card before you attack. Punishments await those that get greedy off the tee. If you try and bite too much off holes 3 5, 6 or 16, you will find yourself lying on the sand and scrub that cross the entire fairway, best to layup and hit off the grass.
Almost every single hole is spectacularly framed by the looming mountains of the Four Peaks and the Mazatzal ranges in the distance. It is a relatively flat course and if you can manage your game and stay out of trouble, you will do well here. I mentioned our playing partners earlier, because as a man I hadn't considered an issue facing women at this course. There are outhouses available only on the 5th and 13th holes, so you may want to plan accordingly. Dropping trou in the desert is highly discouraged as there are rattlesnakes littered throughout the region.
This course may be a secret, but it won't be for long thanks to its great views, staff and pleasant environment.
The Boulders South Course
34631 N. Tom Darlington Drive, Carefree
The drive along the Carefree Highway is stunning. Not far from the 101 you will find yourself surrounded by high desert, native art stands and locals selling all manner of sun-baked skulls, wagon wheels and antique signage reclaimed from the past. The cacti and native plants start to become much more abundant and a neat civic program has labelled them for quick identification along the roadside. As you continue your journey north toward Carefree, you begin to see the unique and fascinating topography that make a visit to the Boulders a must for the golf adventurer.
Huge boulder formations erupt from the desert floor and dominate the landscape where Jay Morrish found a way to wind two opulent golf courses over, under and through it. We returned one year after reviewing the North Course on this property in hopes of determining a favorite between the two, but this is a fool's errand. Like choosing between chocolate and vanilla or which Doublemint twin is hotter.
Whatever your standard for world class or destination golf is, The Boulders South exceeds. It is top notch from the practice facility to the grill to the pro shop. As with most courses, the golf carts are provided with four iced down bottles of water and towels.
The first hole sets the tone with a forced carry to a long, narrow sloping fairway. Snap it left and your ball is hopelessly unplayable, hit it too far to the right and have your second shot blocked by a boulder. The green is found at the end of an uphill dogleg to the right. It sits in front of a massive granite formation and is guarded by a lone saguaro cactus. The front nine is provocative visually and a stern test of your game. You will want to bring a camera along when you play, particularly for the seven tee. It measures 187 yards from the blue tees, but even if you are playing from shorter tees during your round, you'll want to make the trek up to the elevated tee box and hit from the shadow of Rosie's Rock. Rosie's Rock is a massive boulder that looks like it is precariously resting atop another elevated formation. It appears that you could almost shove it off the ledge, but it has been lying there for thousands of years.
The fifth hole is called the Boulder pile and is the second longest on the scorecard at 545 yards. Unless you can carry your drive 260 yards, you will want to lay up. There is a 20 yard wide band of desert and rock diagonally cleaving the fairway about 225 yards out. The green is guarded by a massive granite formation, and it is close to the Waldorf /Boulders Spa, so you begin to see much activity of the guests in the near distance. The day we played, resort guests were climbing the face walking and riding bicycles above our heads. A cycler may find this distracting, but I thought it was cool.
The South Course is not a long course, even from the blue tee tips it measures 6,726 yards with a 71.9/140 rating and plays as short as 4684 yards from the red tees 68.4/114, but it is a difficult test. It is target golf and you need to think long and hard about how to attack the course. If you are spraying your ball, it can make for a long day. The course isn't especially punitive or unfair, but there is plenty of desert to lose your ball in.
The greens, by and large, are large and receptive, and on the day we played, rolled an 11 on the Stimpmeter. Boulder has a Coyote Rule, which allows you to drop a ball from the spot where you reasonably believe the coyote grabbed your ball from, (which could make for a fun Al Czervik-esque type ruling during a betting round). The thing is, is that the Boulders is such a beauty, you won't really mind. You'll just be happy to be on the course.
Quintero Golf Club
6752 Carefree Hwy., Peoria
Quintero Golf Club is my favorite among all of the magnificent golf courses I have played in Arizona. It ranks among the most beautiful courses I have ever played. It is a formerly private course that was opened to public play in November, 2011. This course commands top dollar but it is worth every one of the many pennies you will shell out to spend a little time with it.
I had been told by my friend Jerry Rose at Communication Links in Arizona that Quintero was a must play, and though I was not familiar with it, we went ahead and booked a tee time.
As mentioned earlier, DO NOT use Google Maps to find your way out to their Peoria address. At some point, the temporary address being used during the course construction became the address used by the satellite service and it is several miles away from the actual location of the club. The day we played there was also construction on the two-lane Highway which compounded our nightmare. We arrived just in the nick of time, but were unable to take advantage of the excellent practice facilities.
Director of Golf Jerry Wilcox was shrewd enough to pair us up with Howard and Lori, who are married and members of Quintero, to help shepherd us through this Rees "The Open Dr." Jones designed beauty.
The course was in perfect condition the day we played. I chuckled to myself as I lined up my second shot from the first fairway because the grass didn't even seem real. It was so thick, green and lush that it seemed impossible amidst the mountainous terrain. It is a delight winding your way up and down and through and over all the foothills and valleys that Quintero is carved into. There are several breathtaking elevation changes including commanding views from the tee box.
The par three six tee boxes are elevated well a few stories above the target the green and you will want to stop your cart as you crest the mountain from five just to get out and look around. The sets of tee boxes trickle down the face of the foothills all with great sight lines to the bunker protected green.
Another example of Jones' inspired use of this piece of land are the two holes approaching the turn. Hole number eight is the most difficult on the course. It is a burly par five with many different approaches to attack. Standing on the tee box you view massive bunker complexes along the entire left side of the fairway landing area. The split fairway on the other side of a massive gully tempts you in to trying to hit driver, but it is much farther to the short stuff than it looks. You are best served hitting a club about 210 straight and trying to bomb your second up the hill past three more humungous bunkers on the right.
Upwards, in the bosom of two more large foothills lies the large elevated green. The ninth hole is a long downhill par three to a skinny green protected by a water hazard in front and a swelled rise in back. If the water scares you in to taking too much club, you then have to contend with a very dicey downhill chip which is almost impossible to stop on the slope coming back to the pin.
It is hard to break down Quintero hole by hole because it is such a memorable course, and every hole adds something to the experience. There are no clunkers among the 18, none where you say "Uh, that was OK." Every hole is picturesque and memorable. This is another track where you will want to bring a camera to record what you are taking in as you play. At 7,208 74.9/147 at its longest, Quintero is a formidable course to be sure. We played from the middle tees and found that it gave us everything we could handle, in fact, it beat our brains in that day. We didn't care at all though, because it was such a pleasure just to be there.
If you get the opportunity, make your way out Hwy. 74 and play this classic.
Facebook Comments
Disclaimer: Please note that Facebook comments are posted through Facebook and cannot be approved, edited or declined by OnMilwaukee.com. The opinions expressed in Facebook comments do not necessarily reflect those of OnMilwaukee.com or its staff.