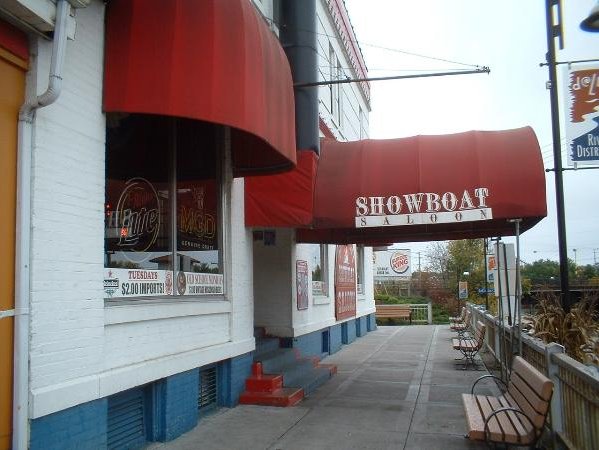 Guys & Dells: a great weekend escape
All aboard! It's Travel Week at OnMilwaukee.com as we bring you stories big and small from destinations near and far. When you post travel-related reader blogs -- from Monday, May 5 through Sunday, May 11 -- you're automatically in the running to win an all-inclusive trip to a Mexican resort courtesy of Apple Vacations. The OnMilwaukee.com editorial staff will pick the best travel blog of the week and the winner will jet off to sunny Mexico! Get writing!
G-Love may have put it best in his 1994 tune "Baby Got Sauce" when he said: "I need some time / some time a lone with my crew / to do the stupid things that we used to do."
Let's face it, every now and then a guy needs some time to bond with his fellow men. It's not, however, always feasible to round up the boys and hop the next flight to Las Vegas, that great utopia of male bonding and recreation. Even a night out at the regular haunts gets old after a while.
Enter Wisconsin Dells. Yes, that tourist-trap Mecca of Water Parks, Illinois tourists and novelty T-shirt shops in the center of the state. What was once just a summer getaway for kids and families is quickly becoming a top destination for a little last minute rest and relaxation, even in the dead of winter or on the verge of warmer temperatures.
The Dells offers all the things guys need for a successful weekend away: food, beer, gambling ... and even, for those looking to settle down and start a family, members of the fairer sex.
Recently, some friends and I felt the need to get out of town and decided a weekend trip was in order. In the spirit of journalism, we documented as much of the weekend as possible as a service to those needing a similar respite from the daily grind.
A good guys' weekend out should be as close to spur-of-the-moment as possible, especially if members of your entourage happen to have significant others.
A place to call home
The most important task is to book a room. Getting a room, even in winter, isn't as easy as it used to be. As indoor water parks continue to grow in popularity, the number of families making a winter weekend getaway is growing, as well.
We chose the Atlantis Hotel & Suites, 1570 Wisconsin Dells Parkway. It's within walking distance of a popular late-night establishment (we'll discuss in length shortly), and is a quick drive to Downtown.
Like many area hotels, the Atlantis offers off-season specials. Check the hotel's Web site a few days in advance and call the hotel directly to make your reservation.
With eight guys along for the ride, we chose a King Neptune Suite, which featured three queen-sized beds in two rooms, along with a sofa sleeper. The room also had a Jacuzzi, fireplace and wet-bar.
While the Atlantis has an indoor water park, of sorts, it's geared toward the youngsters. (In other words, stay off the waterslide) However, there is a whirlpool in the main pool area that has a bar with big-screen televisions. Both of the hotel's pools have basketball hoops, providing a means for exercise.
Once you're checked in and unpacked. It's time for necessities. If you were smart enough to get into town before the 9 p.m. beer sales cutoff, you'll want to pick up some necessary supplies.
Mr. K's Bottle Stop, 21 Wisconsin Dells Parkway, has an extensive supply of beer, liquor and appropriate mixers. There's also a good assortment of morning-after necessities like Gatorade and bottled water ... as well as aspirin.
Out & about
Now, it's finally time to hit the town. A word of wisdom, though: don't advertise the fact that you're from out of town. Really, you won't impress anybody. The good folks of the Wisconsin Dells-Lake Delton area are unimpressed by your big-city skills. Play it cool, buddy.
Drinking options are somewhat limited. But what the Dells lacks in quantity, it makes up for in quality. The Showboat Saloon, 24 Broadway, in Downtown Wisconsin Dells, is a classic, college-esque tavern with loud music and peanut shells on the floor.
A gathering place for the younger crowd in the community, the Showboat is home to a great little sing-along band in summer, Swing Crew, and has karaoke on Friday and Saturday nights in winter.
The bar is big. There's a dance floor, the requisite pool tables and dart boards and shuffle puck if you want to get your game on. At the bar, you can take your pick of high-end premium beers or just sit back with a classic vintage brew like Pabst, Schlitz or Blatz (which are just $1 on Sundays).
Page 1 of 2 (view all on one page)
Next >>
Facebook Comments
Disclaimer: Please note that Facebook comments are posted through Facebook and cannot be approved, edited or declined by OnMilwaukee.com. The opinions expressed in Facebook comments do not necessarily reflect those of OnMilwaukee.com or its staff.