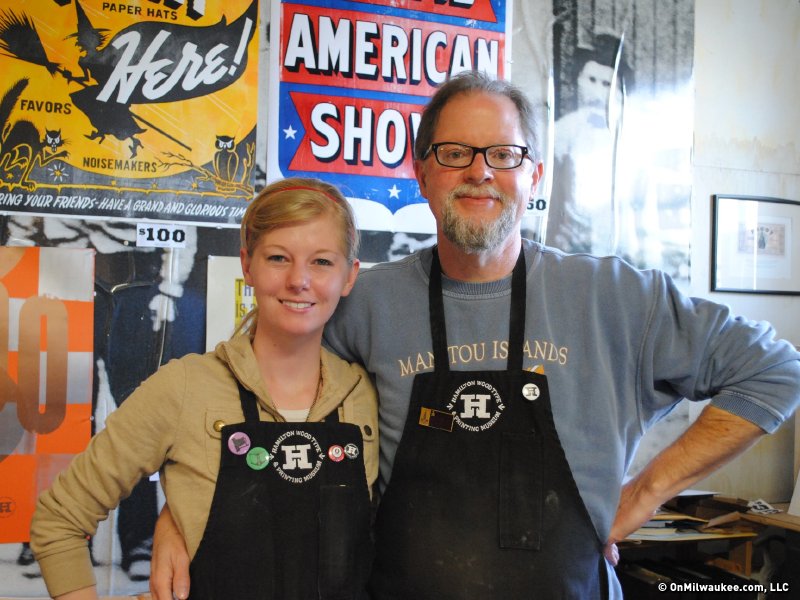 Historic Hamilton Wood Type Museum pressed for time and space
It seems the further technology advances and the more we are able to manipulate images and text via computer, the more some people appreciate the simplicity and aesthetics of old school printing techniques.
In part, this explains the appeal of the Hamilton Wood Type Museum, the only museum dedicated to the preservation, study, production and printing of wood type which was used to create copy and imagery prior to computers.
"When people see wood type they often remember the classic 'Wanted' poster," says Two Rivers Historical Society board member Jim Van Lanen.
"If you discover the other printed items of our nation's graphic history, you'll find wood type in almost every historical society collection. You'll find printed documents and posters that help illustrate how people communicated with each other. Whether it was the sale of horses or land, political rallies, booklets, packaging or circus posters, wood type helped express the message of that day."
Located in Two Rivers, the Hamilton Museum houses 1.5 million pieces of wood type and more than 1,000 styles and sizes of patterns, making it one of the largest wood type collections in the world.
The museum, which opened in 2000, attracts people locally, nationally and internationally, including artists, designers, academics, machinists, writers, bookmakers, advertising executives, history buffs and more. It has been in the same building since 1927, however, the Hamilton is being forced to move by next spring.
Until now, the museum had been leasing the massive space, which once served as the Hamilton factory, for $1 a year from the building's owner, Thermo Fisher. However, earlier this year, Thermo Fisher announced it was moving its operations out of Wisconsin and gave the museum notice that it would have to leave.
"We have little or no money to do this and no place to move to. We are attempting to raise $250,000 in short order to get 30,000 square feet of printing history packed up and ready for a new home, wherever that may be," says museum director Jim Moran.
Because it's the only museum of its kind, it's difficult to speculate exactly how much the move will cost, but $250,000 – which does not include the cost of the building – is a conservative estimate according to Moran, who speculates it will take 4,000 hours of packing time and would ideally like to invest in more-expensive archival boxes for the fragile pieces.
Even though Moran has received many invitations to move the museum to various locations including New York, Chicago, Los Angeles, Dubuque, Little Rock and Seattle, he believes it's important to stay in Two Rivers and is currently looking at a few different spaces in town.
"I hate to leave the building despite its inconsistent heat and its leaks and the fact I'm the electrician and the plumber. There aren't many museums in the space where its items were originally made," he says.
So far, the Hamilton has raised more than $120,000, but still needs to raise more than twice that by April 1, 2013. Donations can be made via the website or by purchasing Hamilton items online or at the museum.
In 1880, J. Edward Hamilton founded the original Hamilton factory, called J.E. Hamilton Holly Wood Type Company, and within 20 years it became the largest manufacturer of wood type in the United States.
The company grew and expanded its product line to include type cabinets, press room furniture, dental and medical furniture, drafting tables and the first gas-powered clothes dryer.
Today, the museum is run by Moran, along with assistant director Stephanie Carpenter. Moran's brother, Bill, is the artistic director based in Saint Paul, Minn.
The Morans grew up in their family's print shop, called Moran's Quality Printshop, in Green Bay. Moran started setting type at the age of 10 and by 16, he was working in the shop after school.
There are numerous volunteers who help out at the museum, many of whom worked in the factory making wood type or as an upholsterer.
Currently, the Hamilton offers workshops for first-time printers and residencies for experienced artists and designers. Moran says he hopes to expand the offerings in the new space.
AJ Lorrigan, a local graphic designer and volunteer, was printing his Christmas cards on one of the presses during a recent visit.
"I like that it's not just sitting at a computer all day. I get to manipulate objects with my hands and use all of the principles of design at the same time. It's more challenging and interesting," says Lorrigan.
The inconsistent, textured final product of screen printing has become increasingly popular over the years. Bands like Coldplay and Arcade Fire have hired Hatch Show Print, one of the oldest working letterpress print shops in America, to create posters. Hatch, which is located in Nashville, uses Hamilton wood type.
Last year, Target released a fall line of clothing and accessories in 1,755 stores called "Cool Never Fades" which featured Hamilton imagery and information on the tags.
Most of the wood type in the museum came from the private collection of 92-year-old Irving Silverman. In the '40s, Silverman happened to be at a printer to check a proof and he saw an employee dumping drawer after drawer of wood type because it was considered obsolete.
Silverman asked if he could have the type, saying he collected it even though he had just decided at that very minute to do so. He went on to collect type from all over the world and built sheds on his property in New York to store it for years before he donated it to the Hamilton.
"The way we use images and type is critical to how a message is received. We use type the same way we always have and the way we communicate is as critical as it ever was," says Moran. "New fonts are great, but they tend to be based on old fonts. I think of it as a musical instrument. It's like picking up an old guitar and playing a new song."
Talkbacks
Kstohl1 | Dec. 17, 2012 at 10:07 a.m. (report)
Why not consider moving the museum to the old Eisner Museum space? It would be a benefit for the design students of Milwaukee and garner more tourism traffic = $$ for the museum.
Facebook Comments
Disclaimer: Please note that Facebook comments are posted through Facebook and cannot be approved, edited or declined by OnMilwaukee.com. The opinions expressed in Facebook comments do not necessarily reflect those of OnMilwaukee.com or its staff.