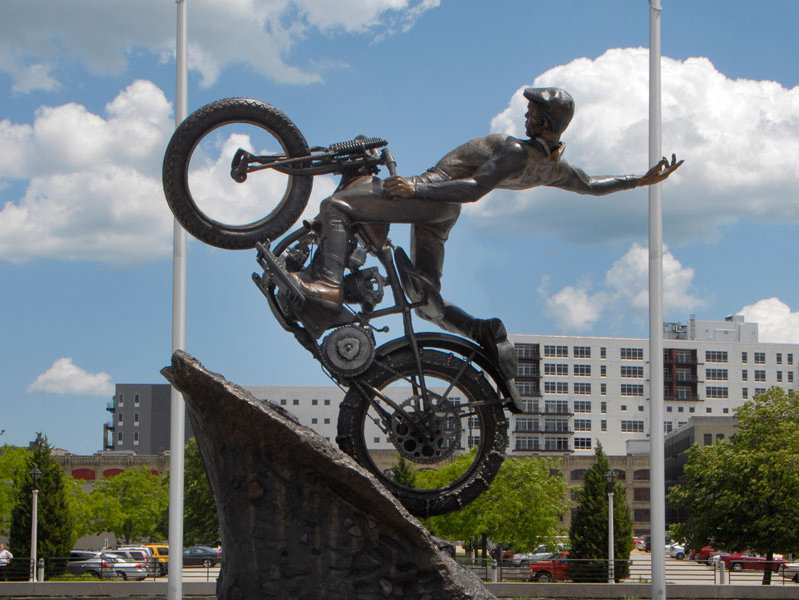 Harley-Davison Museum is a slice of Hog heaven
William S. Harley and Arthur Davidson had simple goals when they began working together in a 10-foot by 15-foot shed in 1903: they wanted to make a quality motorcycles and a decent living.
They ended up making history.
That history, 105 years worth, was on display recently when the Harley-Davidson Museum staged its grand opening at 6th and Canal Streets in the Menomonee Valley.
The museum, a gleaming structure housed on a 20-acre campus adjacent to the Milwaukee River, took two years to construct at a cost of $75 million.
Two OnMilwaukee.com reporters recently experienced a "sneak preview" tour of the exhibits, which includes a staggering display of motorcycles, engine parts, photographs, videos and advertising materials that trace the roots of a company that celebrates its history like few others.
The industrial architecture of the 35,000-sq. ft. display area features exposed brick, steel beams and a glass wall that allows for a lot of natural light.
"When you think about it, these bikes are designed to be rolling works of art that are viewed outside," said Harley-Davidson spokesperson Amanda Lee, who led the preview tour.
Among the motorcycles on display is a circa 1903 bike with serial No. 1. It's believed to be the oldest Harley-Davidson bike in existence, but company historians aren't certain whether some of the parts came from 1905.
The first floor features famous bikes from pop culture, such as replicas of the "Easy Rider" bikes, Elvis Presley's first motorcycle (complete with paperwork on which Presley's job is noted as "self-employed vocalist") and customized bikes such as "King Kong," a 13-ft. monstrosity that brings a smile to everyone who drifts past it.
Other highlights include interactive exhibits, video and a gallery dedicated to racing and hill-climbing bikes, complete with a portion of a dramatically banked velodrome.
"Racing was such a bit part of the company's history," Lee said. "It's really where the whole enthusiast movement started."
The signature statue outside the museum captures the spirit of that movement. Commissioned by Willie G. Davidson, the grandson of co-founder Arthur Davidson, and constructed by Jeff Decker, the 16-ft., 5,000-lb. statue depicts a hill racer doing a wheelie -- and about to lose control.
"The Harley-Davidson museum means so much to me and my family that we wanted to leave something permanent here as a gift," Davidson, senior vice president and chief styling officer at Harley-Davidson, said in dedicating the statue.
Hundreds of Harley enthusiasts also capitalized on the opportunity to leave a permanent gift. The "Living the Legend" walls and plazas contain rivets with personalized messages that range from marriage proposals to "No, officer, I wasn't speeding." The individual rivets cost $250; the larger ones, geared toward dealers and chapters, cost $1,500.
Lee said the park-like plaza around the museum would be open to the public, free of charge, 24 hours a day. "It's a great resource," she said. "It's a beautifully landscaped park."
The complex also includes a retail store, restaurants and an archive that houses motorcycles and other material for future exhibits.
Harley officials expect 350,000 people to visit the museum each year, with each guest lingering for between 90 minutes to two hours.
"You don't have to be a rider to find things that are interesting," Lee said.
Tickets to the museum are $16 for adults (18-64), $10 for children (5-17, under 5 free) and $12 for students and seniors.
Talkbacks
sas_tarr | Sept. 18, 2008 at 12:30 p.m. (report)
it is indeed a very interesting museum, interesting not only to the bikers, but to anyone who is interested in american culture and history.
alba | July 11, 2008 at 12:35 p.m. (report)
A velodrome is an arena for track cycling. Modern velodromes feature steeply banked oval tracks, consisting of two 180-degree circular bends connected by two straights. The straights transition to the circular turn through a moderate easement curve. Thanks Wikipedia!
Facebook Comments
Disclaimer: Please note that Facebook comments are posted through Facebook and cannot be approved, edited or declined by OnMilwaukee.com. The opinions expressed in Facebook comments do not necessarily reflect those of OnMilwaukee.com or its staff.