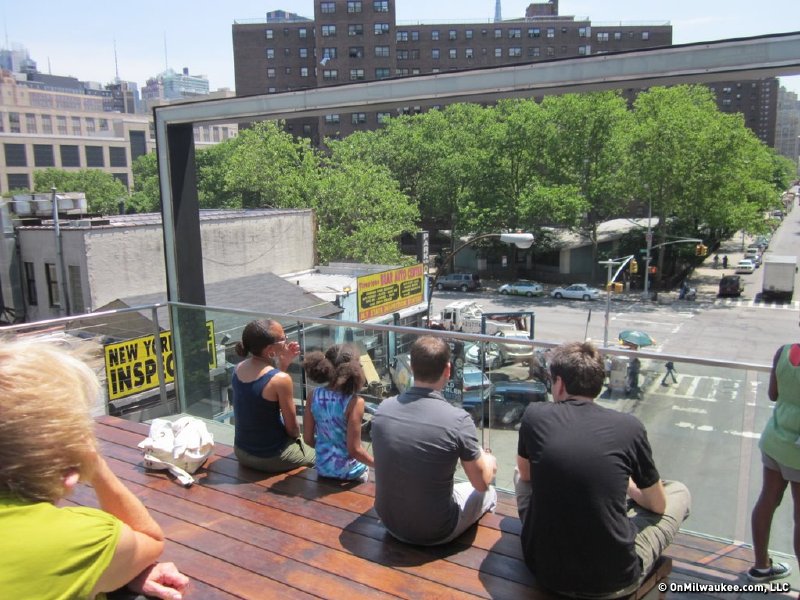 Tourists get a new high in New York
NEW YORK – Writers have invoked Jack and the Beanstalk and called it New York's levitating park. Imagine a peaceful ribbon of green with a walkway 30 feet in the air, snaking through a gritty section of a dense city. That is the High Line, an unusual and exhilarating urban park that is opening in sections on Manhattan's lower West Side.
It's as essential a New York experience for visitors as a Circle Line cruise and a trip to the top of the Empire State Building. Consider it Manhattan's version of a zip line through a part of the city's most interesting landscape.
First, some background. Street level railroad tracks were laid in 1847 to service industrial neighborhoods in lower Manhattan, but the train traffic through such a congested area of the city led to continuous accidents.
After decades of discussion, 13 miles of elevated rail tracks were constructed and put into operation in 1934. Their route cut through blocks rather than simply rise above streets, and the line even tunneled through the Western Electric building.
The post-World War II decline of railroads as freight movers negatively affected volume on the elevated tracks, and a section of the line was razed in the 1960s. The final train, containing frozen turkeys, rolled in 1980. After that, the tracks in the sky became a weedy eyesore.
Political maneuvering over the future of the rail line followed, with some New Yorkers seeking to have it demolished and others viewing it as an opportunity to develop an intriguing public space. Paris' Promenade Plantee, a green belt that follows an abandoned railroad line, was often cited as an example.
The preservationists won, and the city of New York has spent $115 million on transforming the decaying relic of its past into a space where anyone can take a tree top stroll. The first segment of the High Line opened two years ago, and the second debuted in June, making the park a mile long. Crime has not been an issue on the High Line, according to a report in The New York Times.
No date has been set for the final four-block piece of elevated track to be added to the park. Tiffany's is offering a $5 million challenge grant to jump start a $50 million capital fund raising campaign for High Line completion.
The city's financial investment in the High Line has already paid off, with $2 billion in private money being spent on developments around the stretch of public space. Several superstar architects, including Frank Gehry, have designed new buildings that are rising along the park. The Whitney Museum is expanding with a new structure to be constructed at the southern terminus of the High Line by 2015.
The High Line, which is open daily from 7 a.m. to 11 p.m., is accessible by nine stairwells and three elevators. I suggest entering the park at its present northern terminus on West 30th Street between 10th and 11th Avenues. It's an easy walk from Times Square.
A temporary public plaza that hosts food trucks, family activities, a rollerskating rink and an outdoor bar is beneath the High Line at that spot.
Head south along the path. The park can be used as an express lane for pedestrians who want to move quickly through the city, unencumbered by traffic and stop lights, but that misses the High Line's point. Stroll, sit on the many benches, take a book, perch on seating at locations designed to give you a bird's eye view of city life below.
People watching is particularly rewarding, as everyone from heavily tatted hipsters to eccentric oldsters walk, wander and sit. The scenic vistas are jaw dropping, and the visual perspectives are sometimes jolting, as the path squeezes between century-old tenements and new skyscrapers.
Keep your eyes open for unusual events designed specifically for the High Line. A dance company recently performed on a building rooftop for persons in the park.
Descend from the High Line at its southern end into the old meatpacking district, an intriguing corner of Manhattan previously unnoticed by tourists. Inviting cafes and bistros as well as boutiques and shops are now sprouting in the neighborhood. The area is not completely gentrified yet and has an unvarnished urban feel to it.
Have a late lunch or a glass of wine. You earned it. You walked the High Line.
Talkbacks
sijan_heights | July 28, 2011 at 11:45 a.m. (report)
Rails to trails is a welcome concept. It repurposes obsolescent architecture into awesome green spaces. How about some of that action for the rails from Bay View to Downtown? I now that funding is an issue, but it is minimal investment for maximum enjoyment.
Facebook Comments
Disclaimer: Please note that Facebook comments are posted through Facebook and cannot be approved, edited or declined by OnMilwaukee.com. The opinions expressed in Facebook comments do not necessarily reflect those of OnMilwaukee.com or its staff.