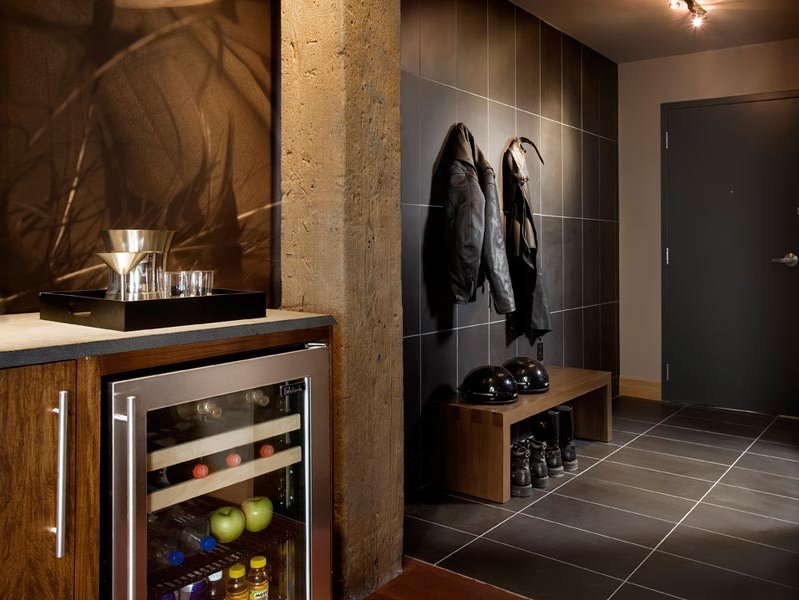 The Iron Horse Hotel rears up in Walker's Point
A new horse is set to rear up at the northern tip of Walker's Point and it will be a real one of a kind.
The Iron Horse Hotel, 500 W. Florida St., is within sight of the new Harley-Davidson Museum, but many of the 100 rooms in the boutique hotel -- the first Desires Hotel in the city -- offer stunning views of Downtown, the Hoan Bridge, the Lakefront and west toward Miller Park.
And while the hotel will be a mix of chic and chrome and will cater to upscale business travelers and the leather-clad biker set -- often that's the same customer, says owner Tim Dixon -- don't call this a biker hotel.
"That's what I want to make sure people realize," says Dixon during a tour of the six-story hotel, still under construction in the turn of the century cream city brick building.
"The only way a boutique hotel works is if it's both a business and a leisure hotel. Period. Everyone wants to call it a biker hotel. It's not; it's a boutique hotel. It's not even a theme. There are no references to bikes in here. It is accommodations for bikers, so they come."
Dixon is quick to point out that the average business traveler is 40, married and affluent. The average biker these days?
"Identical," says Dixon. "It's the same guy or the same woman just a different day of the week, a different time of year. They're looking for the same thing."
And thanks to a series of focus groups and a lot of research in hotels in New York and elsewhere, Dixon has a good sense of what those folks are looking for.
"One of the first things that came out of the focus group was an outspoken woman said, 'if you're really serious about being a business hotel and accommodating motorcycle enthusiasts, you'd better make sure that I'm comfortable in my high heels or my dirty bucket boots. That's exactly what we want to do."
The results are obvious everywhere, from the reclaimed hardwood floor of the lobby, to the classy but casual "Smyth" restaurant, to the marble entry areas with heavy duty coat hooks in all the rooms to the bike storage in the lower level.
The rooms at the pet-friendly Iron Horse -- which will occupy a building that was once a furniture factory and most recently a document storage facility -- are sleek and bright and airy, but with solid hardwood built-in dressers, exposed brick walls and ceiling beams.
With showers exposed to the rooms via a frosted glass wall, giant artwork created by local artist Chuck, featuring local women and Kohler and Kallista One plumbing fixtures, the rooms succeed at finding the delicate balance between toughness and warmth.
And the views, especially to the north and east and from the upper floors are fabulous.
Two levels below the lobby, there is a unique feature. It's possible that the Iron Horse will be the world's only hotel with motorcycle storage and a bike wash station in its sub-basement. A grand staircase leads down from the lobby affording bikers access, but also allowing visitors to see a virtual indoor rally.
Dixon hopes to rent storage space to local bikers, but also to allow guests to ship their bikes to the hotel in advance. The secure space with a new bike lift can accommodate up to about 100 motorcycles.
"If you're a Harley rider and you're shipping your bike here to Milwaukee to spend time in Wisconsin, a Harley-Davidson dealership will take your bike and hold it for you until you get there," Dixon points out. "Well, if you're a Ducati rider or a BMW rider, they're not going do that and where are you going to send the, So, we'll take your bikes."
An old boiler room is being retooled as a huge hot tub area that will have its own bar. That's due to open in 2009. Outside, there's a 4,600-sq. ft. dining space called "The Yard," with space for a built-in stage and party space, too. Upstairs there's a 24-hour fitness center.
The lobby features wrought iron chandeliers, a casual bar called Branded and a 63-seat lounge area in front of the glass staircase leading down to the conference rooms and the bike storage.
"The furniture in this space is reclaimed," says hotel spokesperson Brigette Breitenbach. "We've gathered antiques from around the world. We have chairs coming in from Toledo, we've got antique carts coming from L.A., we bought a whole bevy of oversized leather furniture from London that's been shipped in. Everything on this floor will feel like it's been gathered over time. It won't feel like a new hotel, it will feel like it's been here a long, long time."
Dixon -- who has a growing list of projects in Brewer's Hill, Walker's Point and other areas to his credit -- is confident he's strike a good mix with The Iron Horse and it's been his chance to live a dream.
"This is the industry I've been wanting to get into," he says. "I really love it. I was naïve but I knew that. My opening line every day was 'I don't even know what I don't know.' My operators have been unbelievable in educating me. It's been great."
So, can we expect more hotel projects from Dixon?
"Oh, absolutely," he says with a grin.
Facebook Comments
Disclaimer: Please note that Facebook comments are posted through Facebook and cannot be approved, edited or declined by OnMilwaukee.com. The opinions expressed in Facebook comments do not necessarily reflect those of OnMilwaukee.com or its staff.