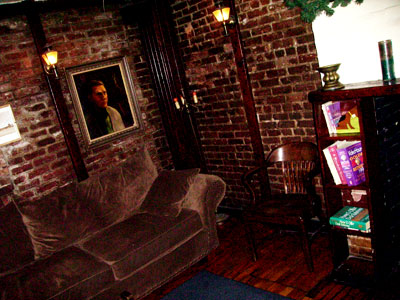 Kettle of Fish keeps New York's Wis. sports fans connected
NEW YORK -- Like they say, you can take the boy out of Milwaukee, but you can't take the Packers and Brewers out of the boy. Patrick Daley, who owns the legendary Kettle of Fish tavern in New York's Greenwich Village, is living proof of that.

Daley vacationed in New York in 1980 and never left.

Eight years later, he bought the Kettle – which in its two previous locations on MacDougal and 3rd Streets were popular beat poet and folk hangouts – and moved it to its current location at 59 Christopher St., a few doors down from the famed Stonewall.

"I bartended at all three locations," Daley says. "We moved to 3rd Street, around the corner, to the old Folk City in '86 – my boss did, and then at the end of '88 that lease was up and my boss was retiring, (so) I bought the name and moved it here."

Now, Kettle of Fish – once home to the likes of Kerouac and Dylan (and in a location that as The Lion's Head was a favorite of generations of writers and journalists) – is a haven and a watering hole for locals, as well as for transplanted and visiting Wisconsinites.

The Kettle is the place to watch Packers games in the winter and to talk Brewers in the summer. And on a recent visit, without even trying, we met a woman who, as a child, visited her grandmother in Whitefish Bay, a fellow who studied at UWM and a life-long Milwaukeean currently working in New York City. And that was without even getting up off the bar stool!

Even better? It was a couple days after the annual Kettle of Fish Brewers tailgate party at Shea Stadium and there were some Usinger's brats leftover, which Daley cooked up and offered to patrons.

"We do just Packers," says Daley, who returns to Milwaukee a couple of times a year to visit family and his dentist. "There wasn't any place (in New York) that did it solely. We do Packers games are on five TVs. We have CDs galore with Packers songs.

"The round table in the back room? That's reserved for the original guys. The first season we had the Packers, I would sit there and slice them cheese and summer sausage and hand it to them on the knife. Now it's far too busy for me to do that. But we do hand out free aged cheddar from outside of Wausau, and an excellent summer sausage from Oshkosh. Then I sell the Usinger's brats."

And Kettle's walls are adorned with signed Packers photos, pics of Brett Favre … the usual. In fact, the subterranean tavern, which has two rooms – a main space with the bar and a side room with dartboards and a comfy lounge with sofas – feels a lot like a Milwaukee bar. Strings of holiday lights hang from the ceiling.

It's warm, a little dark and folks are chatty. Ducking in out of the rain at 4 p.m. on a Wednesday, the Kettle filled quickly with what appeared to be regulars. Most were on a first-name basis not only with the bartender but with each other, too.

Among New Yorkers, however, the Kettle is still more famous for its past connections than for its current owner's sports preferences. It remains a piece of Greenwich Village history.

"Oh absolutely," says Daley. "Kerouac, Dylan. We're in Dylan's autobiography. In fact, there's a gal who's doing a PBS Documentary, following up the last documentary on Dylan, and she is going to do some interviews in here over a couple of weeks."

Still, for visiting Wisconsinites, there's more interest in Davis than Dylan. Willie Davis, that is …

"Yeah (there's a signed picture on the wall) of Willie Davis," Daley enthuses. "He's my all-time favorite Packer. He didn't come in here, but a gal that works in one of his radio stations did. So she got him to sign this for me and sent it back. Willie Wood's my second.

"We got LeRoy Butler (to) sign for us. When there are Packers games, we dress up the place. We had John Brockington watch the game here … the Vikings game a few years back around the holidays when he was visiting his step-daughter who watched games here."

And she's not alone when she's watching, says Daley, not by a long shot. In fact, the small bar is packed (sorry) to the gills when Green Bay is on the screens.

"It's huge," says Daley, "enough people know (about the Kettle). We get a minimum of 100, sometimes a lot more. A few games, certainly Bears games and stuff, unfortunately we have to turn people away. (We) have a blast for Packers games. We do Badgers games and Brewers games. I haven't had a real call for the Bucks, but I got the package last year, but we didn't have a lot of people for that."

And now, at last, Kettle patrons can enjoy Sprecher beers, too, says Daley, offering a sample of a dark and potent new Sprecher Dopplebock.

"Sprecher has just come to town very recently," says Daley, obviously pleased. "If you're going to do beers here, you have to go through a distributor. Legally, you can't bring beer from Wisconsin and put it in your car. So I'll be getting the Sprecher and maybe this Dopplebock."

We arrived at the Kettle a couple days after the annual Brewers tailgate at Shea Stadium, which helps keep the bar's badgers – hey, it is underground – busy in summer.

"We do it every year, this was our fourth annual," says Daley. "When the Brewers come to town, one of the days we get a bus (for) 55 people, I buy a block of tickets, and we barbeque and tailgate, and it's great. We got five quarter barrels from the Six Point Brewery."

This year, the Brewers came through, beating the Mets, 12-3.

"The Brewers won last year, too. It was the only game they won out of the three-game series. The highlight of this game was J.J. Hardy's grand slam. That rocked."
ubsdeetfywawefvfuewwyucccczbf
ubsdeetfywawefvfuewwyucccczbf
Facebook Comments
Disclaimer: Please note that Facebook comments are posted through Facebook and cannot be approved, edited or declined by OnMilwaukee.com. The opinions expressed in Facebook comments do not necessarily reflect those of OnMilwaukee.com or its staff.