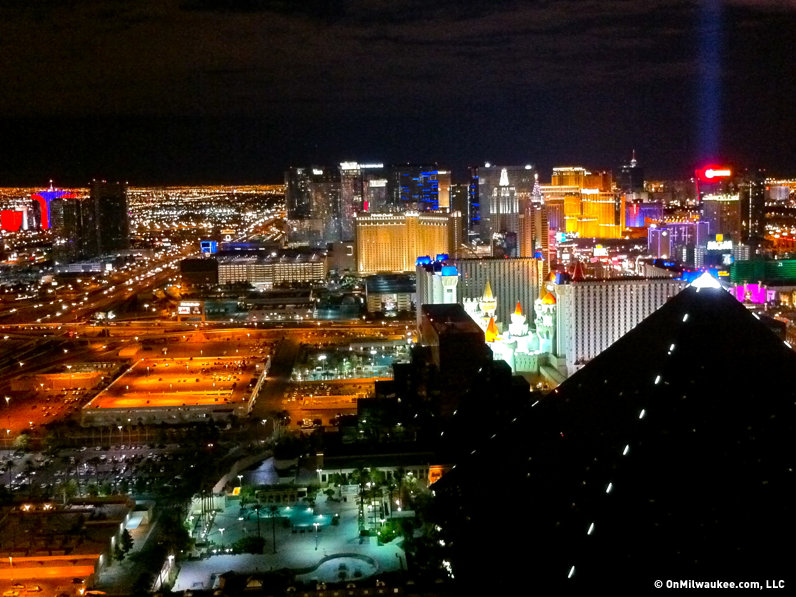 Las Vegas, new and renewed
LAS VEGAS -- I've visited Sin City enough times now that I can safely skip the pirate shows and the roller coasters and the over-sized hurricane glasses you see the rookies sipping from as they stumble around the Strip.
On your first trip, it's "Vegas!" On your eighth, it's "Vegas."
Which isn't to say that four days with an old buddy from college wasn't just as amusing (and exhausting) as the first time. Because, as Paul and I were reminded at every turn last weekend, Las Vegas just keeps on reinventing itself.
Every visit brings the opportunity for something new.
Over the years, I've experienced Las Vegas at its lower-end, staying in places like Imperial Palace and the old Barbary Coast, and at its highest end, with a visit to the stunning Vdara in 2009. Because I'm in the fortunate position to mix business with pleasure -- taking a vacation but writing about it for the pages of OnMilwaukee.com -- several Vegas properties have been extremely generous in making these trips great for me -- and 2010 was no exception.
But what I liked about this year is that the trip straddled the line between approachable and high-roller (pun intended), and it was almost all new to me. We made our home base the Tropicana, and before you snicker, you should be aware that it's nothing like you remembered it.
Built in 1957, the Trop is one of the oldest hotels and casinos on the Strip, so it's easy to see how the property has lost some luster in the shadows of its closest neighbors like MGM, Luxor and Mandalay Bay. But the Tropicana is an independent hotel and is in the middle of an ambitious, $165 million renovation. In an era in which old casinos are usually imploded and replaced, this is significant. The new Trop, which will be finished in 2011, is fresh and exciting -- and its location is absolutely prime.
We stayed in a two-bedroom suite, which was bigger and more well-appointed than most apartments I've called home in my younger days. Even though we got a taste of the new Tropicana, the best is clearly yet to come, as new enhancements like the "Mob Experience" exhibit and "Nikki Beach Club" are opening very soon. Even the basic rooms are quite nice and totally renovated, and there are some serious bargains to be had at this hotel. I've stayed all over the Strip over the years, and for many reasons, not the least of which being the convenience factor, the Trop is a solid choice for travelers on a budget.
It's a Marathon, Not a Sprint
If I've learned anything about visiting Las Vegas, it's that it's a marathon and not a sprint. It's easy to make a rookie mistake and go nuts on your first day, then find yourself running on fumes too soon.
So, we took Thursday to explore the property, beginning with a dinner at the brand new Cafe Nikki. The restaurant has a South Beach feel to it, with light woods and clean lines. In terms of pricing, it's on par with Milwaukee's nicer restaurants, and we enjoyed our seafood-inspired meals before heading upstairs to Brad Garrett's Comedy Club. Unfortunately, Garrett wasn't actually performing Thursday, but three decent comedians were, with Kivi Rodgers headlining. It was a nice way to set the table for a busy weekend, and after lots of laughs, we left the Trop to explore Mandalay Bay.
For all the talk about all the free drinks at the casinos, Vegas veterans know that it's a myth. Sure, you can order a cocktail while sitting at a slot machine, but if you have the kind of gambling luck that I have, you'll admit this city serves the most expensive free drinks in the world.
And speaking of gambling luck, mine was non-existent this weekend. I lost money everywhere I went -- but at least I had a good time doing it. So, after a fruitless few minutes on the casino floor at Mandalay, we ascended to its rooftop bar, Mix, for a $15 drink, but mostly for the view.
I won't lie to you, Las Vegas was sleepy this weekend, and many folks in the hospitality business told us that we visited during the slowest weekend of the year. And in fact, Mix was nearly empty -- which was fine, because we had plenty of space to admire the view of the Strip and start to zone out after a long day of travel, good food and lots of catching up.
All New and Getting Local
It's well documented that I'm a creature of habit, but at the beginning of this trip, Paul and I declared that we wanted to take as much of a repetition-free vacation as possible. Fortunately, Las Vegas makes that easy, because each year, so much changes. From the outside looking in, it's hard to imagine that it can all be sustained, actually, and based on the several projects that have recently stalled or evaporated completely, Vegas may be approaching -- or exceeding -- its logical capacity.
Two illustrations of this gamble (again, pun intended) are neighbors CityCenter and The Cosmopolitan, and Friday, we visited them both. CityCenter was a massive undertaking, not quite finished when we visited last year. It is now, however, and its Aria may be my favorite new casino in the city. The Cosmopolitan literally opened the day before we arrived, and it's a complicated story of a German bank-owned development that switched from condos to hotel-casino midstream. Similarly luxurious as CityCenter, it will remain to be seen if the two neighbors thrive or flounder -- but even on this slow weekend, both were the liveliest, most bustling properties we encountered.
For lunch on Friday, we visited Skybox at Aria, which looks like a nice sports bar -- but that description doesn't do it justice. In fact, it's a casual bar with surprisingly great food (and amazing desserts), and its chef loaded us up on calamari, seared ahi tuna and one sampler that I'll be talking about for a long time: the Firecracker Burger, made with India's Bhut Jolokia chili pepper, rated the hottest in the world.
While I appreciated the gesture, actually eating the burger is a terrible idea. I like spicy food, but one bite did me in. Fortunately, the Firecracker Burger came near the end of the meal, because I couldn't taste anything else for at least 20 minutes. If you order this burger, you are either extremely brave or you are a raving lunatic. Consider yourself warned.
Page 1 of 2 (view all on one page)
Next >>
Facebook Comments
Disclaimer: Please note that Facebook comments are posted through Facebook and cannot be approved, edited or declined by OnMilwaukee.com. The opinions expressed in Facebook comments do not necessarily reflect those of OnMilwaukee.com or its staff.