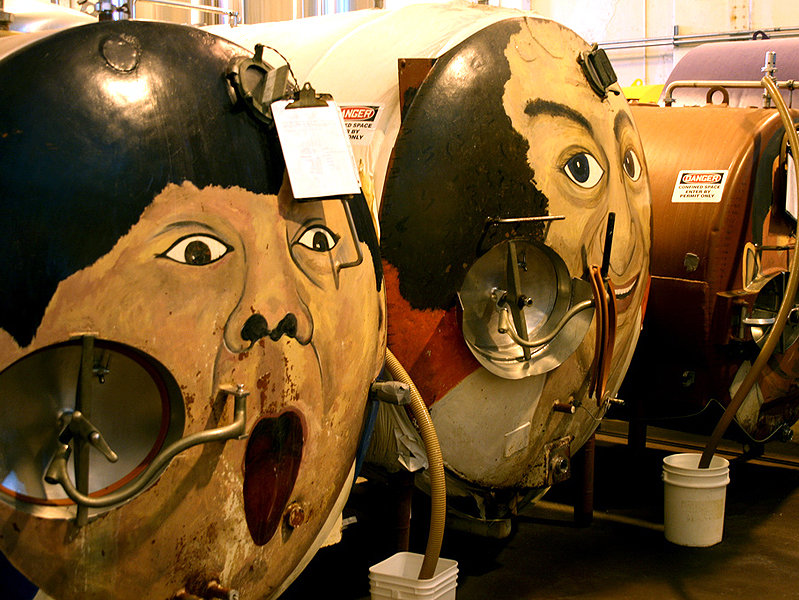 Local brewery tours are a highlight of Brew City
Note: The contents of this guide were checked for accuracy when this article was updated on Aug. 30, 2008 at 5:18 a.m. We continually update the thousands of articles on OnMilwaukee.com, but it's possible some details, specials and offers may have changed. As always, we recommend you call first if you have specific questions for the businesses mentioned in the guide.
Beer. It's what we do here in Milwaukee. Lucky for us, we've got three local breweries -- Lakefront, MillerCoors and Sprecher -- in relatively close proximity that offer fun-filled tours that are either free or dirt cheap. And at about an hour each, it is not unheard of to embark on the adventure that is hitting up all three tours in one day -- although with the possibility of sampling up to 12 beers total, arranging for a designated driver is recommended.

The tours are a year-round attraction for Milwaukee. While the warmer months allow for sipping the suds with your feet dangling over the river at the Lakefront Brewery or an hour in MilleCoorsr's beer garden, the holidays are when all the tasty seasonal and crafty beers are in stock for sampling.

Maybe you've never been, maybe it's been years or maybe it's just time for a free beer or two. Remember, brewery tours aren't just for out-of-towners -- go be a tourist in your own town and get a taste of Milwaukee's cash crop history!

Lakefront Brewery
1872 N. Commerce St.
(414) 372-8800
lakefrontbrewery.com

Tour days/times: Fridays at 3 p.m. and 6 and 7 p.m. for fish fry customers only; Saturdays at 1, 2 and 3 p.m.
Age requirement: Must be 21 or accompanied by a legal guardian
Length of tour: 15 to 60 mins.
Cost: $5; $3 for root beer drinkers
Number of free beers: Four with an extra ticket good for a beer at The Nomad, Wolski's, Dino's and soon Bar Louie
Reservations: Not accepted
Maximum capacity: Approximately 50 people

Lakefront Brewery has given tours for almost 20 years, originally at its Chambers Street location and more recently in the spectacular Commerce Street facility. "Back in the day, anyone who showed up could just walk around and tap their own beers," says Orlando Segura, Lakefront's national accounts manager.

Today, due to large turnouts, the tours are a bit more formal, and they last anywhere from 15 minutes to one hour, depending on the crowd and the tour giver. Regardless of the length of the tour, people are encouraged to fill up before, during and after the tour. The crowd is diverse, with a fair share of young and lively people.

"We like drinkers, but not drunks," says Segura.

Lakefront generally has seven or eight beers to choose from during the tour, including their gluten-free New Grist. At the end of the tour, attendees trade in their plastic cup for a logo pint glass or to get $5 off of other Lakefront merchandise.

Overall, the Lakefront tour is friendly and fun, although is can be difficult to hear the tour guide because of the massive brewing rooms.


MillerCoors
4251 W. State St.
(414) 931- 2337
millerbrewing.com

Tour days/times: Monday through Saturday, 10:30 a.m. - 3:30 p.m. Tour times change daily, so call the day of for tour schedule.
Age requirement: No
Length of tour: Approx. 1 hour, plus sampling time
Cost: Free
Number of free beers: Three
Reservations: Recommended for groups of 15 or more with 24-hour notice
Maximum capacity: 105 people

MillerCoors has been offering its brewery tour since 1956, and as the country's oldest commercial brewer of beer, the tour is the most extensive of all local breweries. The indoor/outdoor walking tour starts in the visitor's center with a ten-minute video, then leads you in and out of the various departments of the massive brewery in Miller Valley, including the brewhouse, packaging center and historic underground caves.

"Miller and Milwaukee have grown up together," says Julie Kubasa, MillerCoor's communications manager. "We accomodate more than 100,000 visitors annually and are truly proud to share Milwaukee's history."

Unlike at other breweries, the production lines are running and people are working during the tour (except Saturdays), giving guests -- most of who are out-of-town tourists -- a real glimpse at how quickly and efficiently the macro-brewery works.

After a peak into the brewery's caves -- which acted as the original refrigerator of sorts for the beer a over a century ago -- the hour-long tour concludes in the Miller Inn or beer garden (depending on the weather) where guests choose three beers to sample and nosh on complimentary pretzels.


Sprecher Brewing Co.
701 W. Glendale Ave.
(414) 964-2739
sprecherbrewery.com

Tour days/times: Fridays at 4 p.m.; Saturdays at 1 and 2 p.m. Tours vary in summertime; always call first
Age requirement: No
Length of tour: 25 to 60 mins.
Cost: $3; $2 for seniors; $1 anyone under 21 (goes to children's charities)
Number of free beers: Four
Soda: Unlimited consumption
Reservations: Yes
Maximum capacity: 70 people

The Sprecher Brewery tour unofficially starts in the Rathskellar Museum, where a wide assortment of Sprecher memorabilia is for sale. The actual tour lasts about 25 minutes (tour time varies depending on the interest of the touring group), and goes from the brew house, to the aging cellar, to the bottling line and, finally, the warm and festive beer garden where approximately 12 beers and seven different sodas are on tap. However, unlike the Lakefront tour, drinking during the tour is not permitted.

Sprecher hosted tours since opening in 1985. Because it brews gourmet soda, the tour is appropriate for families interested in the beer- and soda-making process. Special "soda only" tours can be scheduled as well.

Sprecher administrative manager Tom Strelka says the soda aspect of the business not only attracts more families, but a wider demographic in general. Also, he says people on the tour are rarely there for a cheap buzz, but out of a true interest in brewing.

"People return to our tour again and again because it's very educational and there's a lot of variety," says Strelka. "Occasionally, there might be a few people here for other reasons."

There are a few other, smaller mirco-breweries in Milwaukee that don't offer formal walking tours. Riverwalk Boat Tours offers weekend brewery tours during the summer months that hit up Lakefront, the Milwaukee Ale House and Rock Bottom Brewery, but other than that, the best way to sample from these brew pubs is to belly up the bar and order one.

Milwaukee Ale House, 233 N. Water St.
Rock Bottom Brewery, 740 N. Plankinton Ave.
Stonefly Brewing Co., 735 E. Center St.
Water Street Brewery, 1101 N. Water St.
cvbubqeduretycddsedsqaabufxtszwsyfv
Talkbacks
rharaf | March 3, 2009 at 11:39 a.m. (report)
Does anyone know of a bus company or some sort of transportation company that hits all 3 breweries in one day? Or are taxis an option? public transportation?
Jim_Dandy2u | Oct. 18, 2008 at 4:46 p.m. (report)
Our group did a special tour at Bubweiser plant in St. Louis this past summer. It only allowed 10 persons per group and was not part of the free tours offered. Ther was a cost but was well worth the money. We were taken behind the scenes and had our own personal tour guide. Our group would love to tour your facility/operations and make a great memory of our riding trips (we all ride Harley's and travel to different sites) We look forward to visiting Milwaukee summer of 2009.
mkegirl | Aug. 30, 2008 at 3:16 p.m. (report)
they are actually taking reservations at lakefront now for tours, and as i found out recently, you can't get in for a tour on the weekend anymore without one!
cvbubqeduretycddsedsqaabufxtszwsyfv
Facebook Comments
Disclaimer: Please note that Facebook comments are posted through Facebook and cannot be approved, edited or declined by OnMilwaukee.com. The opinions expressed in Facebook comments do not necessarily reflect those of OnMilwaukee.com or its staff.