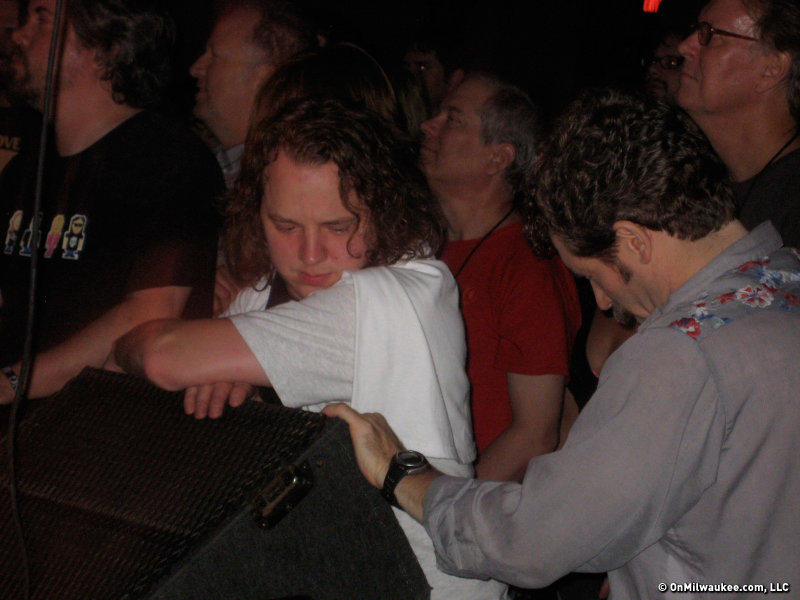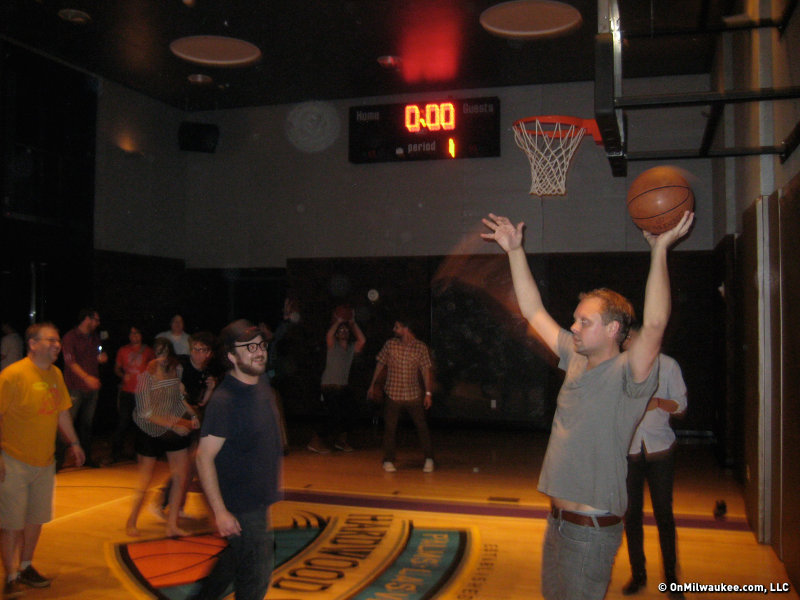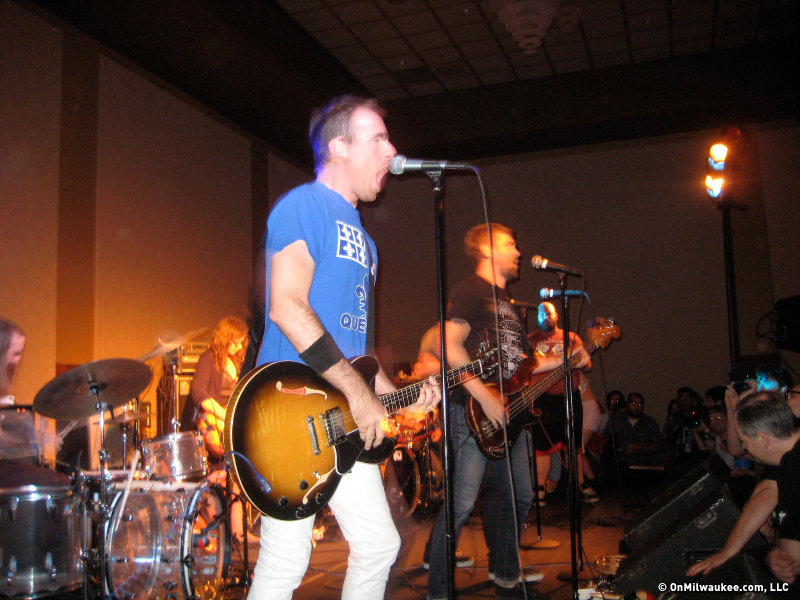 Matador birthday bash proves memorable, exhausting
With all of my belongings safely stashed in a storage locker in southern Arizona and a suddenly uncertain life-path, I had spent the longest stretch of my life this summer without a daily gig, getting by freelance writing and working odd jobs.
To be more accurate I was homeless and unemployed with a laptop.
While freelancing will not afford you many luxuries (like a night of sleep uninterrupted by anxiety attacks over fear that the head of the Insane Clown Posse's wrestling federation won't call you back in time for you to sell a story about him in time to keep your phone on), the sheer fact that you don't really have to be anywhere at any given time opens you up to all sorts of adventure (pretending to be in the Black Keys to get backstage at Lollapalooza, bathing in a moon-drenched lake in the Black Hills of South Dakota).
So, when I got a call from Michael Coomers, an old high school buddy from Tucson, Ariz., who plays in the excellent Austin rock band Harlem, asking if I wanted to come to Las Vegas for the Matador Records Lost Weekend -- the label's 21st birthday celebration -- I quickly agreed. Images of cruising all you can eat buffets with pockets lined with plastic wrap danced through my head.
Without the friend-hookup there was no way I could have swung the pricey tickets to the three-day party at the Palms Hotel and Casino that featured indie rock heavyweights like Sonic Youth, Guided By Voices and Pavement, to name a few. But thanks to Coomers I was now drinking for free, getting put up in a slick hotel room and getting the all access treatment. Thanks buddy!
I set off Wednesday from my parents house in Tucson, where I had been selling off stuff in anticipation of returning to Milwaukee. After a five-hour drive, I decided to spend the night camped out in Flagstaff, a college town tucked into the pines of northern Arizona off a stretch of Historic Route 66.
As the temperatures dipped into the 30s I realized that my plan of sleeping in the back of my truck with just a flannel shirt to keep warm was not going to work. On the bright side, I was just an hour from the Grand Canyon.
After narrowly avoiding smashing into an elk on the freeway, I pulled into the empty parking lot of a lookout spot along the south rim in total darkness and whacked out of my mind on truck-stop coffee.
I sat in absolute solitude as the sun peaked over the colorful mesas of the eastern canyon. It was an overwhelming and profound moment that I hoped my creditors would understand next time I had to explain why they would not be getting paid this month.
That night my friend Natasha, an English professor in Tucson and frequent Harlem roadie, met me back in Flagstaff where we crashed at a really cool hostel after hanging out with Bobby, a guy who used to put punk shows on at his house there and who gave me my first fake ID. A trio of scruffy dogs roamed around begging for table scraps at the bar while we caught up. We passed out anxious for the party that awaited us in Las Vegas.
Day: 1
We rolled into Las Vegas Friday afternoon and waited in the lobby of the Palms Hotel for Jose, Harlem's bassist to meet us with keys to the room. A few seconds later Thurston Moore and Kim Gordon from the legendary Sonic Youth sat down a few feet away from me and I went into a full-on on music nerd spasm. Jose arrived just in time to bail me out from my stuttering introduction and we shot up to the 53rd floor to get settled into our room, a giant marble-floored thing that was a definite upgrade from the dirty floors I was used to crashing on with Coomers' bands in our younger days.
Soon Coomers and Curtis, another old friend and Harlem-member, arrived and the hazy booze-and-tunes-marathon got underway.
Harlem, who signed to Matador in late 2009, got the rookie treatment and the undesirable 2:30 a.m. late night party slot. Concerns that the band would be too drunk to play were soon overshadowed by the copious drinking we partook in at the VIP lounge. We rubbed shoulders with Harlem's band-buds Girls and Kurt Vile while we waited for the show to start and I embarrassingly mistook one of the guys from Yo La Tengo for Judah Friedlander from "30 Rock."
Due to the high cost of tickets at the festival the crowd was comprised of mostly older, male music geeks sporting dark-rimmed glasses and band shirts stretched over beer guts. Visions of wild romantic flings were soon replaced with the reality of fighting over a Guitar Wolf record with a dude old enough to be my dad.
The first night was a blast, with sets from the aforementioned Japanese punks Guitar Wolf, the legendary Sonic Youth and '90s math-rockers Chavez being the early highlights.
The stage, The Pearl, was right in the middle of the Casino floor. Short on cash, I made a habit of winning $10-a-night playing video poker and then cashing out. Coomers, however, put $5 down on some weird wheel-of-fortune type game not really understanding how it worked and won $200. At that very second a song off their excellent Matador debut "Hippies" happened to come on over the casino speakers. Coomers pointed at the speakers excitedly, "Do you hear that?"
It was a surreal moment for sure and one filled with pride for my friend and who has basically dreamed of making a living in a band since I met him as a teenager skateboarding downtown with a Cars record tucked under his arm
By the time Harlem took the stage everyone was pretty tipsy. Natasha and the rest of the girls with us got on stage and danced and the band sounded pretty good from what I can recall.
Afterward, we went to an amazing after-party in the Hardwood Suite. This place is apparently a room you can rent out that has a half-court basketball floor inside. There is nothing like watching a bunch of wasted music dorks try and dunk as the DJ blasts Prince at the adjoined dance party.
We all changed into our swim suits hoping to sneak into the pool, but ended up hanging out a ridiculous after-party instead. No one noticed because it was now 4:30 a.m. and everyone was beyond drunk. We settled for a group foot bath in the jacuzzi tub in lieu of the pool, and took in a view of the strip from the hotel balcony as the sun came up. Page 1 of 2 (view all on one page)
Next >>
Talkbacks
sandstorm | Nov. 10, 2010 at 9:05 a.m. (report)
Malkmus had his back to the band? would you prefer his back to the audience?
Facebook Comments
Disclaimer: Please note that Facebook comments are posted through Facebook and cannot be approved, edited or declined by OnMilwaukee.com. The opinions expressed in Facebook comments do not necessarily reflect those of OnMilwaukee.com or its staff.