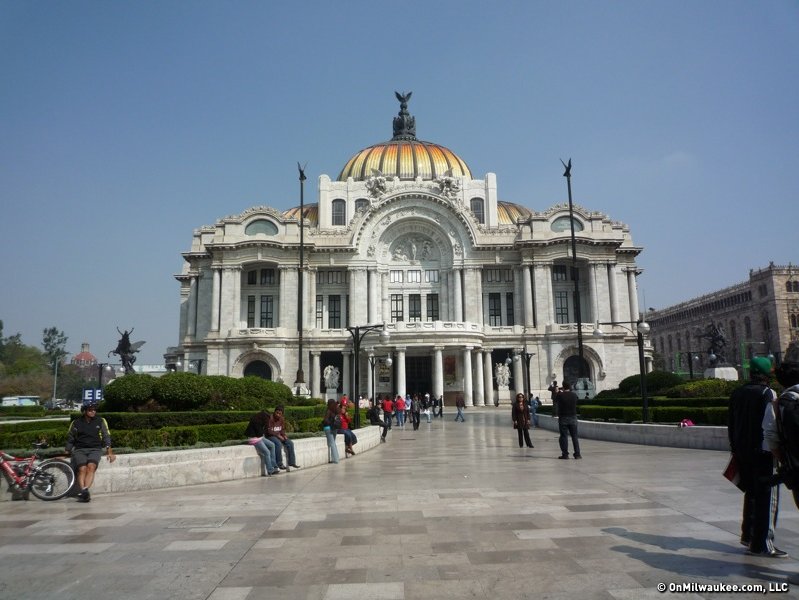 Vibrant Mexico City bustles with life, strains under controlled chaos
MEXICO CITY -- Getting invited to a destination wedding is a bit of a mixed blessing. On the plus side, you're forced to take a vacation, potentially to somewhere you've never been. However, these trips are usually expensive -- and you might not pick that spot if you were planning your own vacation.
Almost two years ago, I attended a destination wedding in Jackson, Miss., and I had a great time. This month, I traveled to Mexico City for the wedding of a college friend. While I never expected to take a vacation there -- and I have no short-term plans to return -- I'm so glad I went. In terms of destination weddings, I'm batting two for two.
Over the years, I've lost track of how many trips I've made to Mexico, but it's surely approaching the double digits. Always, however, some beach time is factored in, whether it's a trip to the Riviera Maya or Puerto Penasco. I've never traveled this far into central Mexico, and obviously, never been to a Mexican city of this size. The closest I've come was a few days in Merida, in the middle of the Yucatan Peninsula, in 2002. And in almost every way, none of these other trips can compare in any way to Mexico City.
With somewhere around 19 million people living in and around Mexico City, the country's capital is arguably the largest city in the world. It felt that way, too. Landing at Benito Juárez International Airport was overwhelming, in fact, as our plane descended through the visible smog, and the recessed bowl that is "Ciudad de México" came into view.
Volcanoes and mountains in the distance, we really noticed the densely packed houses and buildings sprawling for miles and miles, climbing up steep hillsides and into any space they could be wedged.
I found the entry into the country to be significantly less chaotic than what I've experienced in my other trips to Latin America, and indeed, the parts of downtown we visited felt less like the Mexico I had experienced previously, and more like a slightly dingy version of Madrid.
A City Atop a City
We stayed just off the Zocalo, the main square and home to the Cathedral, the National Palace and the Federal District buildings. Like the entire city, the Zocalo was literally built upon the ruins of the Aztec capital of Tenochtitlan. While historians have been aware of this, amazingly, they discovered intact ruins of the Templo Mayor while doing electrical work in the Zocalo in 1978.
The square itself is immense and among the largest in Latin America. Our Holiday Inn Zocalo was just two blocks away, clean and reasonably priced, and a perfect jumping off spot for exploration.
The bride and the groom live in Chicago, but their jobs brought them down to Mexico City for a few years. Fortunately, they served as excellent guides to the group of about 60. So, on our first day in the D.F. (Districto Federal), we followed them to La Opera Bar for drinks and then to the Cantina Salon Corona for dinner.
Downtown Mexico City bustles with energy, loud noises and that odor I've come to expect on every visit to the country. But unlike rural or coastal Mexico, its streets are clean and devoid of stray dogs. Beautiful old buildings, 7-Elevens, Italian suit and shoe stores seem to line every corner, and if it wasn't for the omnipresent street food vendors, you could easily forget you were in a Third World country.
In fact, La Opera Bar was first-world elegant. Frommer's accurately describes it as the city's most opulent cantina, covered in dark woods and gilded baroque ceilings. Like everywhere else, very few people seemed to speak much English -- and really, we saw very few Americans during our stay -- but the bartender could communicate well enough to bring the group lots of high-end tequila for sipping, not shooting (with tomato juice chasers, for some reason).
We had our dinner of tacos, of course, at Salon Corona. Cheap and delicious, these cantinas are also loud and brightly lit with fluorescent bulbs. But they're also meeting and melding places, at this one the patrons cheered loudly for a local soccer team, while others watched "The Simpsons" dubbed into Spanish.
Friday morning, my wife and I began our day with breakfast at one of the city's most classic restaurants, Café de Tacuba, a former convent that started serving food in 1912. Waitresses are dressed like nuns or perhaps nurses (but not in a silly way), and I ate chicken tacos from the breakfast menu. Seriously, tacos are everywhere, and people eat them all the time. Even for breakfast.
Next, we took some time to explore, walking west to the stunning art deco Palacio de Bellas Artes, the theater and museum that's home to several massive Diego Rivera murals. We strolled across the street to the city's version of Central Park, Alameda Central, navigating our way through vendors selling soda, DVDs and belt buckles.
Sprawl and Sounds of the Biggest of Cities
Next, we took the elevator to the top of the Torre Latinoamericana, Mexico City's first major skyscraper, completed in 1956. As tall buildings go, it's a little run down, but from the observation deck on the 44th floor, the city's size and density truly comes into focus. It's jaw-dropping how sprawling Mexico City is, with its long, wide boulevards stretching as far as the eye can see. And -- even towering above the city -- we could still hear the omnipresent noises: honking cars, blaring music and more.
In fact, the noise pollution really got to me after a few days. Organ grinders, clad in official-looking tan uniforms, crank their out-of-tune melodies all day, everywhere, waving their caps in the direction of passers-by, looking for tips. Every car is honking, all the time, and at night, cars alarms sound incessantly. After a few days, I really needed some peace and quiet.
Fortunately, we found relative quiet at lunch, across the street from the skycraper, at Sanborns, a department store chain with a location in yet another classic, beautiful building. Eating there reminded me of the old Gimbels Tasty Town -- but in this restaurant, all of the kitchen workers and bussers wore surgical masks; the city remains gripped with H1N1 fear.
And here was where I placed my order for the meal that nearly did me in. Even though I didn't drink a drip of tap water or eat a single ice cube on our trip, I did eat a tasty Caesar salad (invented in Mexico!) at this clean and classy cafeteria. It was a big mistake, one that nearly destroyed my trip 48 hours afterwards. But more on my food poisoning later ...
After lunch, our group boarded a bus for the long, slow, 17-mile trip to Xochimilco that took almost two hours to complete. There, we boarded trajineras, wooden gondolas that traverse the canals of the ancient Lake Xochimilco. For about three hours, our two boats, tied together, took us up and down the canals, while souvenir vendors and mariachi bands, alike, rowed up alongside to hawk their wares and entertain us with music. It was one of my favorite parts of the trip.
Not surprisingly, the night ended with more tacos from Aguas Fresca -- a 24-hour joint that became a staple for the entire group.
Page 1 of 2 (view all on one page)
Next >>
Talkbacks
Mil_WI | Nov. 18, 2009 at 9:54 a.m. (report)
This was a very enjoyable article. It nicely captured both the romantic and realistic nature of the county, the city, and its people, while alerting the readers to the risks. Thanks, Andy.
breiteji | Nov. 17, 2009 at 3:34 p.m. (report)
Great article Andy! Never been to Mexico City, so I appreciate the details of your trip.
Facebook Comments
Disclaimer: Please note that Facebook comments are posted through Facebook and cannot be approved, edited or declined by OnMilwaukee.com. The opinions expressed in Facebook comments do not necessarily reflect those of OnMilwaukee.com or its staff.