You won't believe these 7 Milwaukee "imposters"
As we Milwaukeeans travel these great United States, we sometimes stumble upon something that looks very, very familiar, but at the same time, not quite the way we're used to seeing it.
Kinda like that cast George and Jerry hired for their TV show about themselves on "Seinfeld."
Of course, most of the places included here are not actually copying Milwaukee – some, including the first one, predate the similar thing here – so, it's surely better to think of these things, instead, as commonalities we share with other great American places.
1. The Climatron, Missouri Botanical Gardens, St. Louis
(Photo: Missouri Botanical Garden/Flickr)
The Climatron geodesic dome, which opened in 1960, was the first such structure to be used as a conservatory, according to the website of the stellar Missouri Botanical Garden. That's cool, but where are the other two? (Although construction began on Milwaukee's Domes in 1959, the first one didn't open until 1964.)
2. "Iroquois" by Mark Di Suvero, Philadelphia
(Photo: T. Scheid for GPTMC)
I wonder if sculptor Mark di Suvero's "Iroquois" inspires as much angst in Philadelphia – where it sits on Ben Franklin Parkway, the city's excellent "museum row" – as "The Calling" does here.
3. World Trade Center Transportation Hub, New York City
(Photo: Santiago Calatrava)
While Santiago Calatrava's Milwaukee Art Museum addition has given the city a unique building around which we all rally round, New York's response to Calatrava's transit center pavilion has been considerably more controversial. While folks often still ooh and aah whenever they see MAM's brise soleil opening or closing, some in New York have already dubbed Calatrava's over-budget, over-due and (gasp!) rusty contribution to the World Trade Center site a "kitsch stegosaurus."
4. Chase Field, Phoenix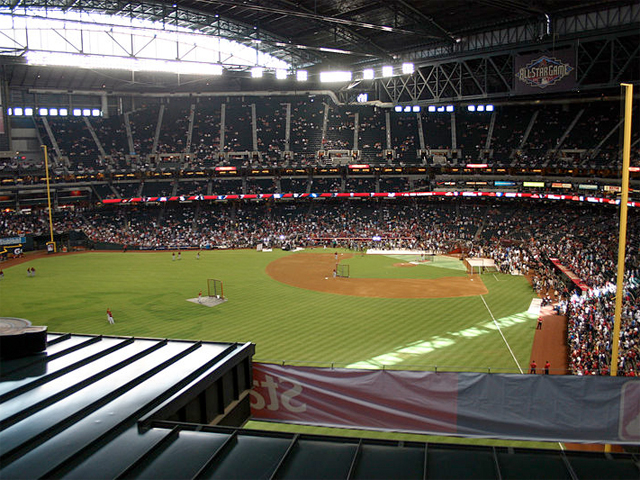 (Photo: Cygnusloop99/Flickr)
I hope Diamondbacks fans aren't stuck inside with the roof closed on nice days, too.
5. Leo Frigo Bridge, Green Bay
(Photo: Chris Rand/Creative Commons)
Remember when that chunk of the Hoan broke? The Frigo sagged.
6. Bronze Lucille Ball, Celoron, N.Y.

(Photo: 1001portails US)
Eek?! Where's the Bronze Fonz when you need him?
7. Zilwaukee, Michigan
(Photo: Phil Dokas/Flickr)
Founded by Solomon Johnson, who according to Wikipedia – which references a now-removed ZilwaukeeMichigan.gov page – "gave the name Zilwaukee to the town purposely to cause people to confuse it with the city of Milwaukee, Wisconsin, in hopes of luring settlers there to work."
Talkbacks
buck | June 12, 2015 at 10:04 a.m. (report)
So is "Solomon Johnson" the Hans Sprungfeld to Solomon Juneau's Jebediah Springfield, or is he more of a Shelbyville Manhattan?
Facebook Comments
Disclaimer: Please note that Facebook comments are posted through Facebook and cannot be approved, edited or declined by OnMilwaukee.com. The opinions expressed in Facebook comments do not necessarily reflect those of OnMilwaukee.com or its staff.