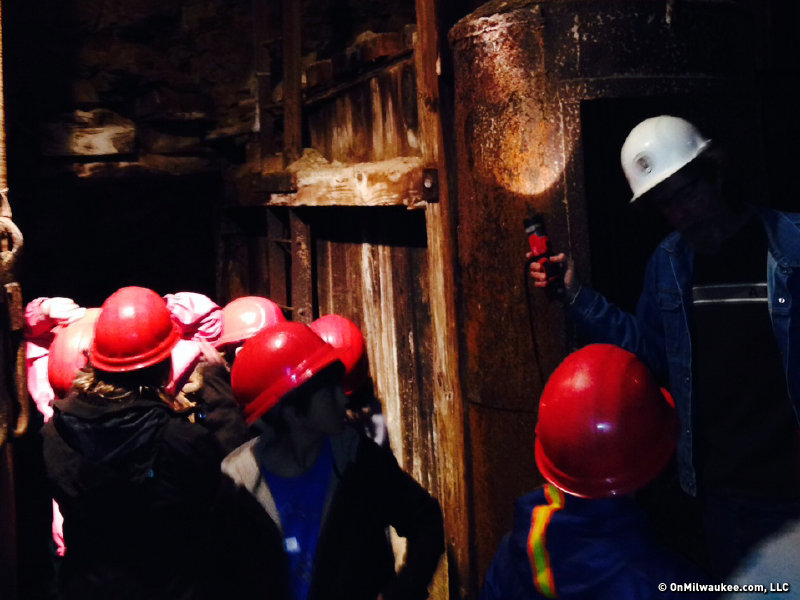 Must-see stops on a Southwestern Wisconsin summer family road trip
It's kids and family week here at OnMilwaukee.com and, more than ever, we'll feature articles and blogs about children's health, education, travel, fun and more. Kids and family week is brought to you by Aurora Health Care.
I looked with envy at my girlfriend's Facebook post from Nantucket: "This place is great, the most beautiful place on Earth. I love it here!" She was at the Nantucket Wine Tasting Festival. She, glamorous, I, back in Wisconsin, in comfortable shoes, was about to embark on the Wisconsin Trip with 80 fourth graders from my children's school. I confess – her trip sounded better.
I recently chaperoned the annual fourth grade pilgrimage to the State Capitol. But, this trip includes seven other nearby destinations in Southwest Wisconsin all really worth doing this summer with your kids. Our excursion included an overnight with my triplet girls. I was assigned all three of my own children as my charges. "Great," you say, that should be easy. Yes, I do know their habits, but since when do kids save their good behavior for their parents?
Waking children at 5 a.m. for anything always entails surprises. Despite setting the cereal bowls out on the counter, there are always diversions in my calculus. Pulling out at 5:45 a.m., the first eruption ensues over my attempts to separate the conjoined skateboards blocking the garage door. "Who left them like this? I say in frustration." I spill coffee all over myself. The girls feel sorry for me, and drop their blame game. The hurried shouting gives way to pity, and someone gets me a towel. We are finally on our way. I am starting to feel outnumbered and I haven't even joined with the 77 other children.
The trip begins with the Capitol in Madison, moves to the Wisconsin Historical Museum, Wisconsin Veteran's Museum, and Aldo Leopold Nature Center, and finishes at the end of the first day at Pendarvis, an historic community about an hour from Madison. The second day we head to Bevan's Mine, Rollo Jamison Museum, and Cave of the Mounds. Like the limestone rock formations we see, each destination revealed new layers that make up the heritage of our great state.
We pledged to give up our technology: no phones, and no TV later at the hotel room. Lush green pastures and big red technicolor barns begin to melt away my fears and fast pace. I picked up my daughter's Wisconsin Passport while on the bus. It's a mock up of the real ones and a gift from the teachers. Did you know the American Water Spaniel is the state dog? Why? Although a rare breed, they were developed here as hunting companions during the 19th century. I began to immerse myself in all things Wisconsin. The Civil War, glaciers, drumlins, lead mining and cave formation are my focus over the next 24 hours, and seeing it through the eyes of my children becomes a wonderful unexpected surprise.
We pulled up to the Capitol, the kids, not sensing the cold as we adults do, skipped steps on the way up, and bounded to the top. Our Madison Capitol is called one of the most "magnificent in the country" by our guide. It cost $7.5 million to build in 1917. Today it would be a $2 billion job to rebuild this spectacular building. As my foot stepped over the 100 million year old starfish fossil inlaid into the stairs on the way up to the Governor's office, I was struck by the feeling that museums are intended to inspire – our lives are short, but our legacy is long.
The kids were allowed to stop and touch the starfish. While doing so, we learned that Wisconsin was at one time eons ago, a sea, about 400 million years ago.
I often wonder as the winter wind is whipping around my house and the temperatures sink by the tens, below zero, how the first people survived here. Trappers, traders and wigwams are the focus at the Wisconsin Historical Museum, with an emphasis on the immigrants that founded our state in the late 1850s. We step into a replica of a Woodland Indians house constructed 1,000 years ago. Just one small room would be filled by 10-15 people and kept warm.
We are also treated to a "tour" of a mine. The Cornish, the men from Cornwall, England, that worked the lead mines in the Southwest part of the state brought thousands of years of technology with them from the Phoenicians. They'd worked the mines for hundreds of years in England, and set up shop in Pendarvis to work the strikes of lead mines in the 1840s. What remains at Pendarvis is an idyllic haven at the bottom of a verdant valley. Set in between shale and limestone formations, the remaining homes built in the early 1800s are small, peaceful, and utilitarian. There are regular tours at Pendarvis, conducted by informative guides--ours was a geologist and an architect. Pendarvis allows children to see how life was at the time Wisconsin became a state and through the first part of the 20th century.
Page 1 of 2 (view all on one page)
Next >>
Talkbacks
susanmik | June 11, 2014 at 3:52 p.m. (report)
Terrific article! Wonderful ideas for summer fun and tenderly written.
Facebook Comments
Disclaimer: Please note that Facebook comments are posted through Facebook and cannot be approved, edited or declined by OnMilwaukee.com. The opinions expressed in Facebook comments do not necessarily reflect those of OnMilwaukee.com or its staff.