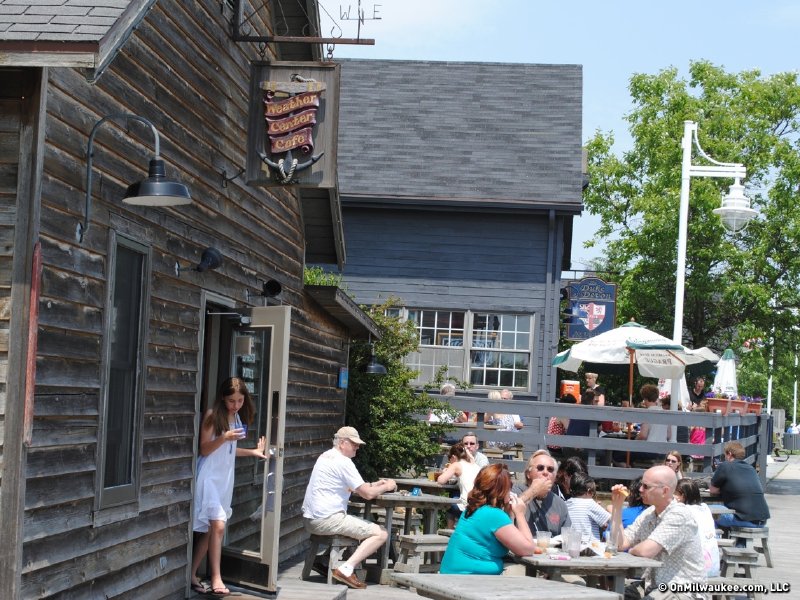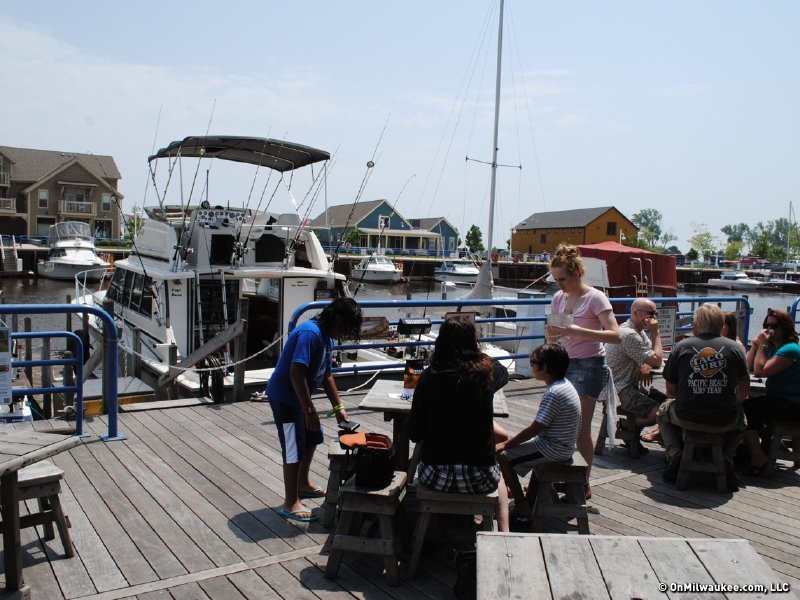 Wavy with a chance of Greek: Sheboygan's Weather Center Cafe
During a recent visit to Sheboygan, numerous friends suggested we visit the Weather Center Cafe, located on the boardwalk in the Riverfront Plaza overlooking the Sheboygan River.
Teek Pippin and his former wife, Trish, started the business as a health food store, Nature's Best, with a small adjoining cafe. The couple expanded the cafe and opened Weather Center Cafe in 1994 in the same Riverfront section as the grocery store, which Trish still runs today.
Weather Center Cafe serves an array of meat and vegetarian / vegan items. Coffee drinks are made with Alterra beans. Everything is made fresh, including the quiches, muffins (the Granny Smith apple muffin is now a classic), scones, bagels, cookies and spanakopita. "These vary like the weather," reads the menu.
Many of the other menu items are water-themed, including Mexican food dishes "The Hurricane" and "The El Nino." There are also sandwiches – "The Twister" and "The Tempest" – along with soups, salads and coffee drinks.
"I love weather," says Pippin.
During our visit, we had the daily lentil soup, "The Sandstorm," "The Hurricane," and "The Neptuna."
The Hurricane, served with lemon tortilla chips was, as the menu copy promised, "monstrous." Stuffed with pinto and black beans, it also had fresh veggies and a healthy layer of cheese. The best part was how perfectly toasted it was.
The Sandstorm was also stand-out, with incredibly creamy homemade hummus. The large sandwich was also topped with red onion, tomato, cucumber, red pepper, sprouts, greens and Kalamata olives.
The menu has numerous Greek items thanks to veteran bakery manager, Maria Lee, who started working at the cafe 17 years ago.
"Being Greek, I was always baking Greek dishes with my mother and grandmother," says Lee.
Lee grew up in the restaurant business. Her family owned Poulous Pizza, which was originally on 11th and National Avenue.
"I was born into it," says Lee.
Pippin started working at Fuel Cafe, 818 E. Center St., when it opened in 1993. He was friends with the co-owner, Scott Johnson, and met the Alterra owners, Lincoln and Ward Fowler and Paul Miller, during this time, too.
"I couldn't have done this myself. (Johnson and the Fowlers) were very encouraging," he says. "I worked very, very hard – I honed it – but I probably wouldn't have stepped into this if my ex-wife didn't have the courage to start this."
Ironically, Pippin, a year-round surfer, thought owning his own business would free up more time to spend on the water.
"Of course, I found that running a business is just the opposite," says Pippin.
Pippin started surfing in 1988. There is a strong surfing community in Sheboygan with members who surf throughout the year as long as Lake Michigan is not too icy.
"Lake Michigan is great for surfing. Large waves and no sharks," he says.
Pippin, who also travels to California to surf, recently started stand-up paddle boarding on the lake.
"It completely changed my life. Even if there are no waves, I can be on the water, I can paddle," he says. "It makes me less anxious."
Pippin encourages Milwaukeeans to visit Sheboygan for a day or weekend trip.
"Sheboygan has the charm of a smaller town. It's slower paced. And it has the same lakefront, with easier access to the beaches," he says. "It's calming. People just love being on the boardwalk, by the water, watching the boats go by."
The interior of the cafe is attractive and comfortable, with local art on the walls and attentive service. Our entire experience at Weather Center Cafe was a positive one – we found the place to be a treasure.
A pirate treasure, of course.
Facebook Comments
Disclaimer: Please note that Facebook comments are posted through Facebook and cannot be approved, edited or declined by OnMilwaukee.com. The opinions expressed in Facebook comments do not necessarily reflect those of OnMilwaukee.com or its staff.