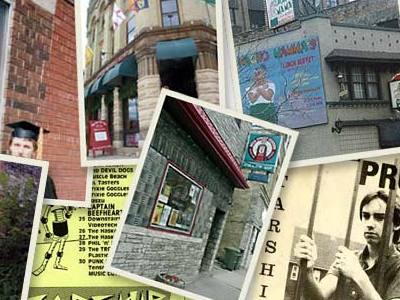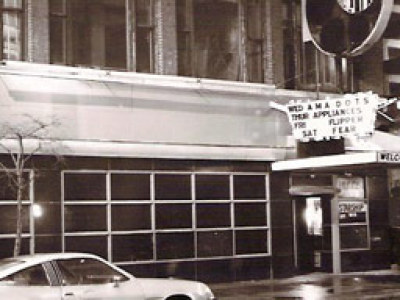 Milwaukee's best bars of yesteryear
You kids think you have it so great. Back in the day, there were no new-fangled Jaeger bombs or beers infused with berries. Old-school Milwaukeeans drank Schlitz or Pabst (and we weren't doing it because it was retro). And we went out to bars that are now long-gone.
Here are some of the best. And before you say, "OMC, you forgot ..." -- remember, we can't include every bar that's closed in Milwaukee in just one article. So make sure to add your favorites using the Talkback feature below.
The Avalanche Super Bar
15th and Wells Streets
For more than 60 years, The 'Lanche was more than a staple to the Marquette community -- it was home; the final bar stop; the place where students met the locals and all drank cheap "blues." When it closed on April 24, 1997, news reports said The Avalanche closed because of problems with rowdy patrons and vandalism, but we know that MU wanted the space for university use. And even though many a professor (and countless former students) will admit to doing a naked beer slide or two in his or her days, The 'Lanche was just one of those old-school, beer drinking, dingy bars that didn't fit on the newly spiffed up campus. As the saying goes: "Get your degree at Marquette, but get your education at The 'Lanche."
Bogey's
733 N. Van Buren St.
About all we can really say about Bogey's is that it was a cool (among a certain crowd) downtown club where fake IDs always worked. Imagine dressing up in ties to look older and hitting the former club that is now Gus' International Deli on Van Buren Street. It had a few dance floors, big bouncers and a nice table that one of our editors threw up all over before falling down the entry stairs on his way out to the street. Nights at Bogey's were always a blur.
Café Melange
720 N. Old World 3rd St.
Tucked into the Hotel Wisconsin, Café Melange was a quietly cool lounge, discreetly serving up jazz and other live music. Back in the day, you could enjoy a concert by La Chazz, John Schneider, Victor DeLorenzo, Mrs. Fun or even Art Kumbalek. Sheila Spargur hosted the popular "Poet's Sunday," and radio show "Hotel Milwaukee" was recorded live in the space. Meanwhile, throughout the '80s reggae and alternative bands played downstairs in The C Club, where Paul Finger also had a popular ska/reggae/soul record spin each week. The bar closed in October 1997.
Café Voltaire/Odd Rock Café
2010 S. Kinnickinnic Ave.
While Irene J's was rocking, Café Voltaire, which later became the Odd Rock Café when Jack Koshick bought it, was the scene for tons of local gigs, by everyone from Couch Flambeau to Wild Kingdom. As the freight trains rumbled outside the north wall, the KK Avenue club was the spot of GG Allin's on-stage poop, early shows by Soundgarden, Social Distortion, The Pixies, Goo Goo Dolls and many more. It closed in the early '90s and the building has since been razed.
Century Hall
North Farwell Avenue
The East Side's favorite gathering place, Century Hall -- on Farwell Avenue, where Blockbuster and its mini-mall now stand -- was more than a club. It was a no frills place for East Siders of all stripes to meet, have a beer, eat some food and catch a wide range of music. Bands included everyone from the R&B Cadets, Kojo and Semi Twang to Husker Du, The Cramps, Fishbone, The Fall, Johnny Thunders, Dead Milkmen and reggae gigs with the likes of Freddie McGregor and Michigan & Smiley. When it burned to the ground on April 24, 1988 it seemed that all of the East Side was gathered outside looking on in tearful horror. A similar scene played out shortly afterward when the original Beans and Barley caught fire.
City Club
Broadway and Wells Street
The City Club, which lived into the early '90s, was one hoppin' place. Perhaps strangely, we also remember the City Club for its lunch and salad buffet. Before Downtown's rebirth, there were not as many lunch options and even a dance club like the City Club could make a few extra bucks by doing lunch. But make no mistake, City Club was a club. A big dance floor made this a great place for 20-40 somethings on the prowl. It briefly became "The Country Club" during the mid-'90s country bar craze, but now it's just a bank across from that Leinie's billboard that you see as you drive east down Wells.
Club Marilyn
788 N. Jackson St.
For a generation of Gen Xers, "Club" meant downtown's only viable under-21 dance night (there was also Bailey's on Hwy. 100). Each Wednesday, you could expect to hear Jesus Jones, EMF, Nitzer Ebb and a whole bunch of other then-modern rock dance tunes. Eventually, Club Marilyn became Metropolis and later Park Bar before it closed for good.
Gas Light East
775 N. Jackson St.
One of the last dank taverns east of the river, the old Gas Light looked more like an old French brothel than a downtown hotspot. It wasn't all that notable, except that its presence was symbolic of a Milwaukee that was fading away. It was replaced, briefly, by Nacho Mama's (an early Johnny V venture) which featured midget Steve Vento (who later opened Ripple's, also out of business) as a guy wearing a sombrero filled with salsa that customers could dip chips in. Wonder why that idea didn't catch on. Eventually the building was torn down completely, and currently, Yanni's sits in most of the space that was once the Gas Light.
The Globe East
2020 E. North Ave.
Mention The Globe to any Milwaukee music fan over the age of 20 and you will probably get yourself a response combining the phrases "best show ever" and "for five bucks!" Whether they were booking biggies like Jimmy Eat World, packing them in for The Promise Ring or even opening up mid-afternoon for an all-ages show, The Globe was a music scene staple that can never be replaced. It took over the Boardwalk, which also hosted live music. Ask anyone over 40 about that one.
Irene J's
South 2nd Street
Irene J's on 2nd Street, south of Mitchell -- now home to a biker gang -- was dark and loud and had mostly local bands. It was also the site of the annual Trashfest.
The Jazz Gallery
932 E. Center St.
Jazz fans and punks will recall Riverwest's Jazz Gallery as the scene of many early Violent Femmes gigs (they did a residency there). It was also the club that saw Bill Cosby -- who was in town performing at State Fair in the mid-'70s -- sit in on drums with organist Jimmy Smith. Avant jazz saxophonist Fred Anderson recorded his "The Milwaukee Tapes" disc in 1980 there. Other greats like Sam Rivers also played in the small corner bar.
LA Freeway
1806 E. North Ave.
Long before Cush, and right before Matisse, the LA Freeway was a neon-lit, plastic palm tree adorned lounge where boys in pink oxfords, rockers and random East Siders drank beers in bags for $1. At the time, it was rumored to have one of Milwaukee's best jukeboxes, featuring tunes by Golden Palominos, XTC, Talking Heads and more, thanks to bar manager and local musician Mike Benign (Blue In The Face, Umbrella Man, Arms & Legs & Feet). They also featured live bands.
London Bridge Pub
1247 N. Water St.
For a few years at the turn of the century, London Bridge Pub was the coolest bar on Water Street, and nothing at all like its neighbors -- which is probably why it didn't last. British publican Pete served up authentic beer and food that you'd be hard-pressed to find anywhere else downtown, and the jukebox was all U.K. all the time. Then Pete allegedly found himself in a series of shady events, eventually reportedly leaving the country. Before it was London Bridge, it was the original location of McGillicudy's. Now you may recognize the building as The Corner.
The Mars Hotel
905 E. Center St.
This place on Center Street in Riverwest was almost always full of things that shouldn't have gotten past the glow of the floor-to-ceiling psychedelic mushroom. Whether it was dogs, underage kids or an ample supply of illegal substances, it's no wonder this little hippie hideout went under. But what do you expect from a place named after a Grateful Dead album?
The Palms
2600 W. State St.
The cavernous Palms (later a strip club) had no shortage of great gigs in the late '70s and early '80s, including U2, The Police, Bauhaus, Nick Lowe, Magazine, Wall of Voodoo, Gang of Four, David Johansen, The Pretenders, Talking Heads, The Ramones, 999, Squeeze, The (English) Beat, The Stranglers and Siouxsie and the Banshees. Alas, we can only remember seeing Milwaukee trio Kafka on the toweringly-high stage. The club was in the national news on Jan. 19, 1981 when The Plasmatics played there and singer Wendy O' Williams was arrested on an obscenity charge. Williams claimed MPD beat and sexually assaulted her.
Reed Street Station
402 S. 2nd St.
Back when the Fifth Ward was still Walker's Point, the hipster scene comprised The Social and its music venue neighbor, the Reed Street Station. As their slogan stated, they hosted everything from polka to heavy metal, either on their outdoor stage or the one inside. And, sadly, their summer bonfires have yet to be revived by another establishment. And, hey, whatever happened to that old gas station they moved from down the street and crammed into the small vacant lot next to the bar? What a shame.
Shooters Nightclub
1905 E. North Ave.
Before it became Goth Central, the walk-down space below Beans & Barley was home to Shooters Nightclub. Remember the neon sign with the shooting star? Although predominantly a dance club, which meant plenty of white lines in the loo, Shooters also hosted tons of live bands. The crowd was an interesting mix of New Wavers, generation "Me" people and guys with gold chains and hairy chests still hanging on to the '70s. Later, the club became Esoteria, then Eso, and now Mantra.
The Starship
634 N. 5th St.
The only one of us old enough to remember Kenny Baldwin's Starship arrived in Milwaukee too late to catch the flurry of ground-breaking bands that performed at what was arguably the birthplace of the punk scene in Milwaukee. Bands included REM, Captain Beefheart, Black Flag, Flipper, A Certain Ratio, Bush Tetras, James Chance, Lydia Lunch, D.O.A., The Members, Circle Jerks, X, The Minutemen, The Blasters, The Damned, The Gun Club and The Teardrop Explodes. The Starship was Milwaukee's seminal punk club.
Top Of the Hills
9th & Mitchell
On the South Side, Top of the Hills hosted the only hardcore-era Beastie Boys show in Milwaukee (were you among the reportedly five people on hand to see it?) and had gigs by Dead Kennedys, Bad Brains and others during its short life.
The Underground
Broadway, between Clybourn and Michigan
Like a lot of clubs, Tony Selig's The Underground existed in more than one Broadway location, both on the west side of the street. But nothing could beat the tiny, original subterranean location.
With a low ceiling and bathrooms that required patrons to elbow past the band "on stage," the dark club (now razed) had a real rock and roll vibe. When he moved the venue to a bigger space next door (in what had previously been Papagaio) he traded up in size but not in vibe.
The new space did mean he could book national and international acts, however, and England's Jazz Butcher, Scotland's Del Amitri, Henry Rollins and Milwaukee's own Die Kreuzen graced the stage there. It later became Club New York and was ultimately razed due to damage caused by the construction of the deep tunnel project.
The Unicorn
300 W. Juneau Ave.
Remember the dingy cave in the basement of the Sidney-HiH building? The Unicorn opened in 1984 and became Milwaukee's premiere underground venue as the '90s dawned. The dank club -- with numerous rooms -- offered incredible underground shows, including Nirvana and Smashing Pumpkins.
Zak's
Humboldt and North
Zak's, run by Damian Zak, was on Humboldt and North. They hosted the Buzzcocks, Dead Boys, Devo, Television's Tom Verlaine, The Professionals (the post-Sex Pistols band of Steve Jones and Paul Cook), The Dream Syndicate and former New York Doll Johnny Thunders before becoming the Spruce Goose in the '80s (that's when 10,000 Maniacs and Translator played there; Screamin' Jay Hawkins never showed for one of his gigs there, leaving Milwaukee jazzman George Pritchett to carry the night).
Thanks to Ron Faiola for the Starship posters used in the collage.
Facebook Comments
Disclaimer: Please note that Facebook comments are posted through Facebook and cannot be approved, edited or declined by OnMilwaukee.com. The opinions expressed in Facebook comments do not necessarily reflect those of OnMilwaukee.com or its staff.