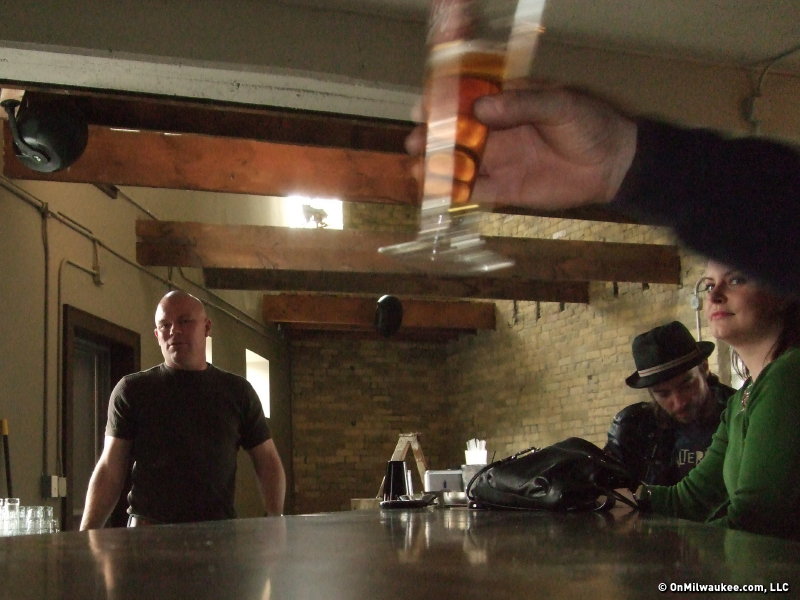 Jonas' Tonic Tavern raises bar on KK pub scene
Paul Jonas, the owner of the new Tonic Tavern, originally set his sights on opening his bar on April 1. It was an ambitious plan, given the amount of work he had in front of him when OnMilwaukee.com first previewed the new space in January.
That deadline came and went, as did a revised opening two weeks ago, due to a few final permits that needed approval. But, according to Jonas, it was worth the wait when Tonic swung open its doors last Friday, revealing a beautiful new addition to the Bay View nightlife scene.
"It's come a long way, even in the last two weeks," says Jonas. "It's been pretty crazy. We still don't have rags to wipe down the bar yet, so you can imagine what it was like last week."
Even if you live in Bay View, there's a good chance you're not familiar with the building, 2335 S. Kinnickinnic Ave. Set back from the street, the converted horse stable is made up of a garage and back building. Together, they now form an "L" shaped space that opens into a corner for live music or area with bench seating. Cool, simple lines and a retro paint scheme are highlighted by reclaimed wood tables and trim cut from the original loft.
Transparent bar stools, a new fireplace and a uniquely shaped bar are set off with interesting lighting effects that make the tavern feel simultaneously old and new. Half of the bar will be smoke free -- that is, until the law mandates that every bar is non-smoking next summer.
And, once Jonas can free up the time, he'll build an extensive patio that will allow tons of seating both to the side and front of the bar. By the time he's done, it's a good bet that the Tonic will look nothing like any bar in the neighborhood, and perhaps anywhere in Milwaukee.
Jonas credits his designer with picking the color and the furniture, though he had a vision of how he wanted the bar to look all along -- and he's not done yet, still tweaking fixtures and deciding on artwork for the walls.
"Like a lot of places," he says, "that comes after a while. You just sort of get a feel for it."
On top of the aesthetics, Jonas, a long-time bartender, took great pains to staff his new tavern with quality employees. Paul "PK" Kennedy, who OnMilwaukee.com profiled last summer, will help get the place on its feet.
"Talk about someone who's known city-wide," Jonas says of Kennedy. "He can handle just about any situation, and we have other veterans, too."
Add in live music -- Jonas is one of the 5-Card Studs and has extensive local music contacts -- and the Tonic Tavern is a recipe for success. And if it took a little extra time to open the doors, he's hoping customers will appreciate the attention to details in making the new bar part of this up-and-coming neighborhood.
Says Jonas, "A lot of people have asked me about live music, but I've just got to let the place fly a little bit. Live music will come later."
And given the hectic place Jonas has worked to transform this long-ignored building, he's just fine with treating this next month as his "soft opening."
"The holiday and Summerfest are coming up. So I'll probably build myself a deck before I throw a grand opening party."
Tonic Tavern opens at "4 or 5 p.m. every night," says Jonas. "Just in time for cocktail hour."
Facebook Comments
Disclaimer: Please note that Facebook comments are posted through Facebook and cannot be approved, edited or declined by OnMilwaukee.com. The opinions expressed in Facebook comments do not necessarily reflect those of OnMilwaukee.com or its staff.