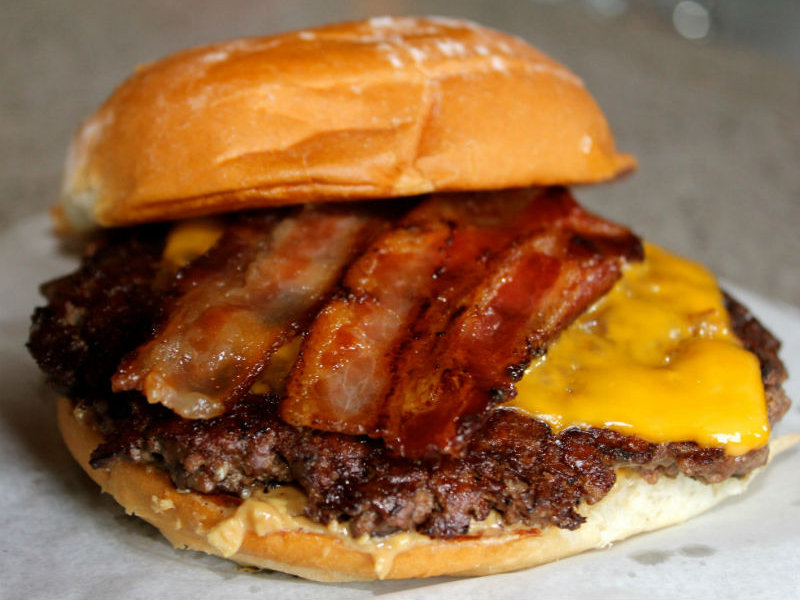 A guide to Water Street bars
Note: The contents of this guide were checked for accuracy when this article was updated on Sept. 16, 2013 at 10:10 a.m. We continually update the thousands of articles on OnMilwaukee.com, but it's possible some details, specials and offers may have changed. As always, we recommend you call first if you have specific questions for the businesses mentioned in the guide.
You could say that Milwaukee was built on Water Street. Two centuries ago the city's first European settler, Henry Vieau, built his cabin where the 100 East Wisconsin building now stands. These days it's a vibrant intersection of theater, entertainment, dining and culture.
In recent years a lot of great restaurants have sprung up in the area, but Water Street is still one of the best places to go after work or play to - excuse the pun - wet your whistle.
Here's a look at Milwaukee's premier bar corridor.
A.J. Bombers
1247 N. Water St.
(414) 224-8281
ajbombers.com
facebook.com/AJBombersMKE
Burgers served with an avalanche of peanuts ... a little out of the ordinary, sure, but it's one of the things that makes a trip to Bombers a great alternative to the usual ritual of late-night debauchery. Order food all day and into the night. Enjoy a pretty big selection of mainstream and microbrews ... or the "Bloody Bomber" if you subscribe to the "hair of the dog" theory.
Bar Louie
1114 N. Water St.
(414) 847-1492
barlouieamerica.com
facebook.com/BarLouieWaterStreet
It's a hopping bar/restaurant with a kitchen open late - what more could you ask for in a Downtown watering hole? There's often live music and sports fans will love the flatscreens that line the walls. Bar Louie offers a plethora of beers on tap, dozens of different wines and specialty cocktails. Stop in on Tuesday and enjoy $2 burger night.
Bar None
1139 N. Water St.
(414) 226-6969
barnonemilwaukee.com
facebook.com/barnonemilwaukee
The smallest space on the street, Bar None shows that size really doesn't matter. A hole-in-the-wall in the very best sense of the word, this comfortable, no-frills atmosphere is the perfect place to get your buzz on. They've got their finger on the pulse of the college community, dishing out a happy hour and nightly deals you can't afford to miss.
Brothers Bar & Grill
1213 N. Water St.
(414) 224-1690
brothersbar.com
facebook.com/brothersbarandgrillmilwaukee
Not just for Minneapolis, Madison or La Crosse anymore, Milwaukee has had its own Brothers for several years now. A very popular hangout for UWM and Marquette students, Brothers is packed on the weekends, and passersby can witness enviously the party rocking on the second-story balcony overlooking the street. A lively atmosphere, cheap drinks and plenty of pool tables and dartboards keep people coming back for more.
Coyote Ugly
1131 N. Water St.
(414) 271-UGLY
coyoteuglysaloon.com/milwaukee
Coyote Ugly has some beautiful deals - weekly specials that will make your Water Street night. And don't forget about the bartenders. Just like in the movie, they sing, dance, hop up on the bar, you name it - all while pouring your drink.
Duke's on Water
152 E. Juneau Ave.
(414) 221-0621
facebook.com/pages/Dukes-On-Water
Connected to Scooter's Pub, Duke's on Water has long been the Holy Grail of cheap drinks and loud music in Milwaukee. $1 PBR's every day, pool tables, darts, a giant TV - Duke's is "dive bar" at its very best. No wonder it was voted the city's No. 1 Happy Hour in 2011 by OnMilwaukee.com readers.
Fire on Water
581 N. Water St.
(414) 291-4411
fireonwaterstreet.com
Come get lit at Fire on Water – both a bar and a music venue. This dual-level lounge in Milwaukee's Fashion District features over 50 beers, HD televisions, free pool, trivia on Wednesdays and live music every weekend. Bring in your ticket stub from a Pabst or Rave show the same night for a 2-for-1 special.
Fitzgibbons Pub
1127 N. Water St.
(414) 278-8847
www.fitzgibbonspub.com
Fitzgibbon's is where Milwaukee meets the Emerald Isle. A classic, no-nonsense Wisconsin tavern with classic, no-nonsense Irish flair, this pub is located in a turn-of-the-century historic building that has housed butcher shops, restaurants and -of course - bars. Enjoy a wide variety of beers on tap and other healing waters.
The Harp
113 E. Juneau Ave.
(414) 289-0700
theharpirishpub.com
The Harp has been in its present location overlooking the Milwaukee River since 1965, and the building has housed pubs and taverns since a hundred years before that. Its riverside patio is where many locals have spent the summer portion of their youth. Inside, the two somewhat seperated bar areas allow you to enjoy the classic pub setting or gather around a table with friends.
McGillycuddy's
1135 N. Water St.
(414) 278-8888
mcgillycuddysmilwaukee.com
facebook.com/McGillycuddys
A great place to get your whiskey fix, McGillycuddy's also offers excellent Irish beers on tap. When the weather turns nice, go to the Beer Garden and kiss the Gilly Stone, which is said to bring good fortune to those in need of it. Join the Whiskey Club (yes, there is such a thing) and get 50 percent off on Wednesdays.
Red Rock Saloon
1227 N. Water St., (414) 431-0467
redrockmilwaukee.com
Yeehaw! Red Rock is downtown's only country music venue, and you're sure to catch one of Milwaukee's favorite bands of that genre playing on a Friday night. After you've had a few, hop on the mechanical bull. They also offer weekly specials, a happy hour and amazing(ly huge) burgers.
Rosie's on Water
1111 N. Water St.
(414) 274-7213
rosieswaterworks.com
facebook.com/pages/Rosies-on-Water
A Milwaukee institution, Rosie's serves up great grill food made with local products (every burger name has a story) and boasts a friendly staff and clientele. Stop in for any reason at all, but make it a point to go on your birthday - free drinks for you and deals for your friends!
The Rumpus Room
1030 N. Water St., (414) 292-0100
rumpusroommke.com
Head to the tenth tallest building in Milwaukee, 1000 N. Water St., to see what all the Rumpus is with this Bartolotta restaurant. OnMilwaukee.com had a fabulous retreat luncheon there in 2012, but the Rumpus Room's bar is nothing to sneeze at either. Their beer selection is impressive, with craft beer on draft, beer flights and more, and their craft cocktails and liqeur choices are just as extensive.
Scooter's Pub
154 E. Juneau Ave.
(414) 274-7204
facebook.com/pages/Scooters-Pub
Opened in 2006, Scooter's Pub and Duke's on Water collaboratively took over the space that used to be Mel's on Water. Scooter's attracts bikers and college students alike with a $1 happy hour, free popcorn and good conversation.
Trinity Three Irish Pubs
125 E. Juneau Ave.
(414) 278-7033
trinitythreeirishpubs.com
facebook.com/trinity.milwaukee
Just west of the intersection of Water and Juneau, this "trio of Irish authenticity" is actually three interconnected bars owned and operated by the same folks that bring you Water Street Brewery. Trinity cooks up a full Irish lunch and dinner while pouring tappers of your favorite Irish brews. Stop in on the weekends for live entertainment.
Water Street Brewery
1101 N. Water St.
(414) 272-1195
waterstreetbrewery.com
One of the first brewpubs in Milwaukee, Water Street Brewery features brewing on premises and a variety of seasonal and specialty beers, including seasonal fresh berry beers. Serving appetizers, sandwiches and nightly entrees, there's something here for everyone. Brewery tours, merchandise and carry-out freshly brewed products are also available.
Zenden
139 E. Kilbourn Ave., (414) 978-2161
zendenlounge.com
You may not think "bar-hopping" and "Water Street" when you think Zen Den, the upscale lounge in the InterContinental Hotel. This sleek, contemporary space is perfect for an experience that is, shall we say, a little more grown-up, offering edible cocktails, thumping beats and unique glowing tables.
Talkbacks
eh | March 9, 2010 at 2:18 p.m. (report)
@devidia I think it's the building Sullivans is in.
devidia | March 9, 2010 at 12:42 p.m. (report)
Which of these bars used to be Luke's Sports Spectacular? Or am I thinking of somewhere else?
Facebook Comments
Disclaimer: Please note that Facebook comments are posted through Facebook and cannot be approved, edited or declined by OnMilwaukee.com. The opinions expressed in Facebook comments do not necessarily reflect those of OnMilwaukee.com or its staff.