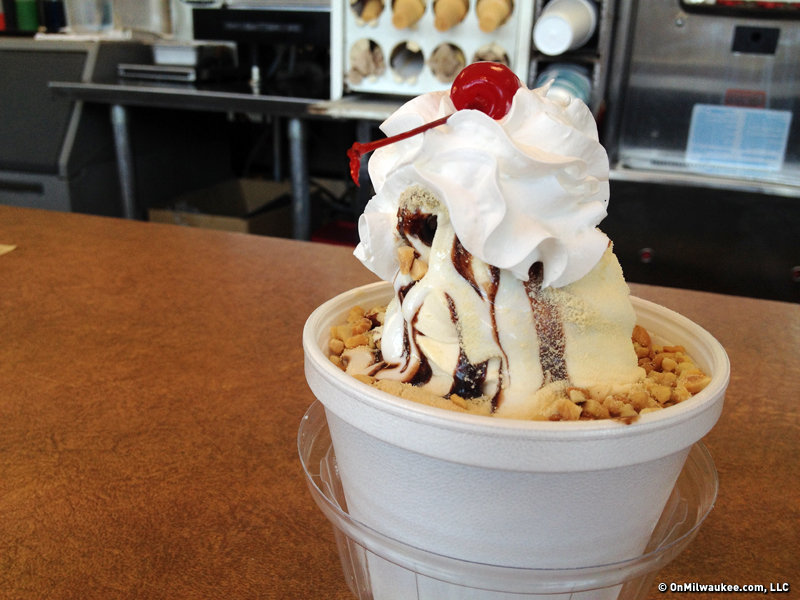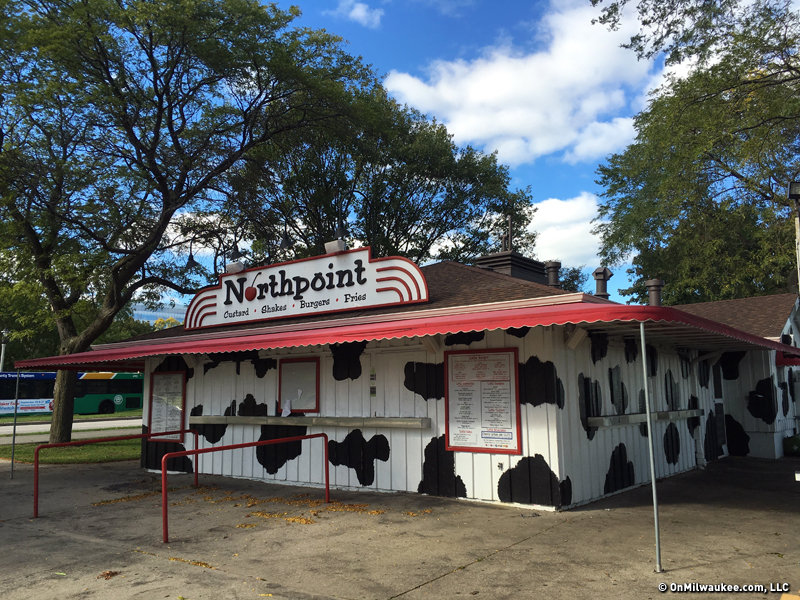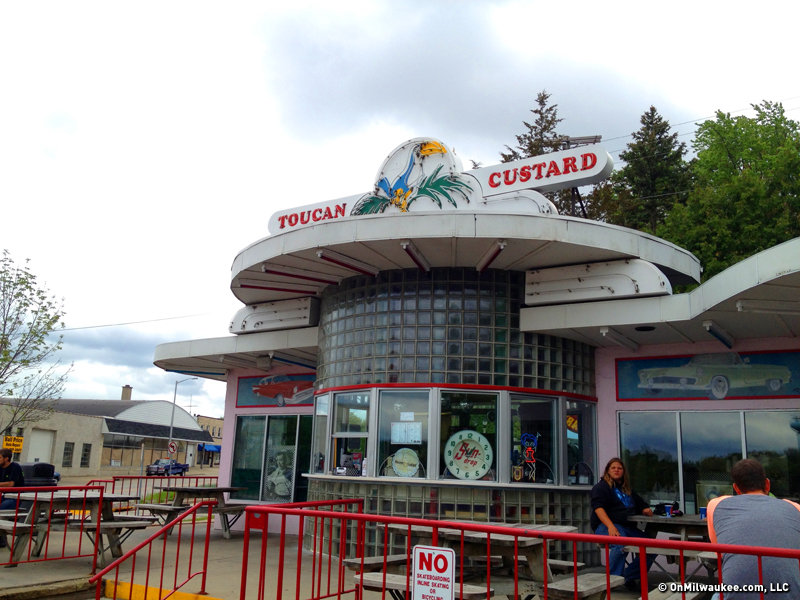 Frozen custard guide
Note: The contents of this guide were checked for accuracy when this article was updated on June 17, 2015 at 11:38 a.m. We continually update the thousands of articles on OnMilwaukee.com, but it's possible some details, specials and offers may have changed. As always, we recommend you call first if you have specific questions for the businesses mentioned in the guide.
It may be Brew City, but custard is no small matter in Milwaukee, where everyone has his or her own favorite custard stand. This, of course, may go a long way toward explaining our waistlines. But, hey, what's the point of livin' if you can't go a-lickin' custard every now and again.
Although it looks a lot like ice cream to an outsider, custard is made from cream and egg yolks and has considerably less air added than ice cream, which makes more dense. And because it gets to your mouth before being refrozen, unlike ice cream, custard is creamier and softer than its more famous cousin.
We're not going to tell you which custard stand is the best because -- as previously mentioned -- it is clearly a matter of taste. But here is a list of some of the city's best-loved custard shops, in case you've missed a few on your quest for the cold, creamy comfort in a cone.
Adrian's Frozen Custard
572 Bridge St, Burlington (262) 763-8562
facebook.com/Adrians-Frozen-Custard
This custard stop, located in historic downtown Burlington serves up fresh custard in a variety of flavors daily.
Bubba's Frozen Custard, Jumbo Burgers & Red Hots
1276 Capitol Dr., Pewaukee, (262) 695-8189
bubbasfrozencustard.com
Order your favorite smooth and creamy custard then enjoy it outside during the summer.
Ferch's Malt Shoppe and Grille
5636 Broad St., Greendale, (414)423-1414
ferchsmaltshoppeandgrille.com
Ferch's offers sandwiches, burgers and a daily fish fry in addition to their well known custard, which is mixed to order on a chilled marble board.
Fred's Frozen Custard & Grill
4726 W Vliet St. (414) 771-6270
fredsfrozencusta.homestead.com
For over 40 years, folks have been frequenting this small neighborhood grill for great made-to-order carryout and delicious frozen custard. The shop also features jumbo burgers, Chicago style hotdogs and Italian beef sandwiches.

Georgie Porgie's Sandwich Shop/Frozen Custard
9555 S. Howell Ave., Oak Creek, (414) 571-9889
georgieporgies.com
A place that offers tasty food, from classic burgers to super sundaes and kabobs, Georgie Porgie's has some of the best custard around.
Gilles Frozen Custard
7515 W. Bluemound Road, (414) 453-4875
gillesfrozencustard.com
So very little about Gilles has changed since Mr. Paul Gilles opened the custard stand in 1938, including just two ownership changes. It's old school to the bone, and it's still a regular stop for now Major League Baseball Commissioner Bud Selig. Custard is king, of course, but we also love "Those Things," which are exclusive Gilles treats made with vanilla custard on top of a homemade peanut cookie and then dipped in chocolate. Yea, baby. Good stuff.
Golden Gyros Frozen Custard
7233 W. Lincoln Ave., West Allis, (414) 541-7580
custardlist.com/stands/GoldenGyros.html
Try the flavor of the day, which is sure to be a mouth-watering creation like Caramel Chocolate Truffle or Cherry Amaretto. Yum!
Gus's Drive-In
3131 Main St., East Troy, (262) 642-2929
gussdrivein.com
Have the carhops bring you burgers, sodas, malts and of course, custard!
Hefner's Custard & Jumbo Hamburgers
N71 W5184 Columbia Road, Cedarburg, (262) 376-1020
custardlist.com/stands/Hefners.html
Daily flavor specialties and a good place to feed your custard yen when hanging on the North Shore.
Jumbo's Frozen Custard
1014 S Main St, West Bend (262) 334-5400
This spot along the main drag in West Bend offers up soft creamy custard and serves a fish fry daily. And, as would be expected, the burgers are jumbo.
Junior's Frozen Custard
6005 W. Appleton Ave., (414) 444-4230 Flavor hotline: (414) 444-4199
gotcustard.com
This custard stand, located in one of the original Kopp's locations, serves up a variety of freshly churned custard daily, along with burgers, hotdogs and other sandwiches.
Kitts Frozen Custard Drive-In
7000 W. Capitol Dr., (414) 461-1400
Famous for its custard, food and our own "MonicaGate," in which Milwaukee Police Department Deputy Chief Monica Ray got into a scuffle with an employee.
Kopp's
5373 N. Port Washington Road, Glendale, (414) 961-3288 Flavor hotline: (414) 961-2006
7631 W. Layton Ave., Greenfield, (414) 282-4312 Flavor hotline: (414) 282-4080
18880 W. Bluemound Road, Brookfield, (262) 789-9490 Flavor hotline: (262) 789-1393
kopps.com
Kopp's has three locations that are always teeming with custard-hungry crowds and their butter burgers are legendary. The folks to beat in the custard game.
Kraverz Frozen Custard
15325 Main St, Menomonee Falls (262) 255-5728
kraverzcustard.com
Custard, hot dogs and specialty sandwiches are the name of the game at this Menomonee Falls joint. Unlike most stands, Kraverz features a drive-through for busy customers.
Leduc's Frozen Custard
240 W Summit Ave, Wales (262) 968-2894
leducscustard.com
Leduc's Frozen Custard opened for business in 1980 and quickly became Waukesha's favorite place to stop for frozen custard, charbroiled burgers and specialty sandwiches.

Leon's Frozen Custard
3131 S. 27th St., (414) 383-1784
leonsfrozencustard.us
Leon's is THE Milwaukee custard stand and was one of the inspirations behind Arnold's on Happy Days. There's no service at your car window anymore, but for more than half a century, Leon's has served up smiles along with custard and standard food fare.
Page 1 of 2 (view all on one page)
Next >>
Facebook Comments
Disclaimer: Please note that Facebook comments are posted through Facebook and cannot be approved, edited or declined by OnMilwaukee.com. The opinions expressed in Facebook comments do not necessarily reflect those of OnMilwaukee.com or its staff.