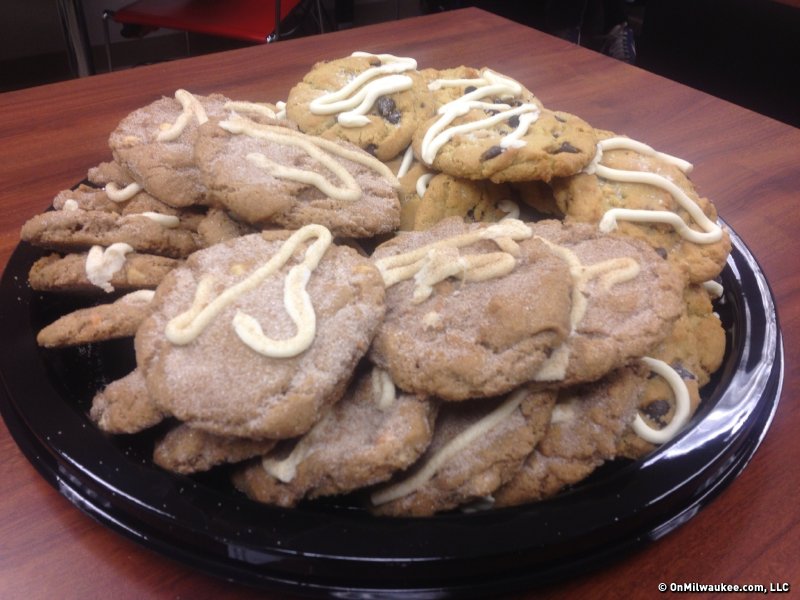 Lai Lida Cookies sweeten the local bakery scene
Laron Taylor grew up cooking and baking with his mother in their kitchen, first on 12th and Capitol and later in Glendale where Taylor attended Nicolet High School.
"I originally had interest in baking cakes and cobblers, but as I grew older, sports took precedence," says Taylor. "My baking interests were rejuvenated in high school when we were forced to take home economics. Who would've thought that I would discover a true passion for baking desserts?"
Taylor attended Cardinal Stritch University and received a degree in sports management. He currently works part-time in media relations for the Milwaukee Bucks, but says he has worked in many different industries throughout his adult life.
"I've held every job from bartender, bouncer, server, shoe salesman and gas station attendant," he says.
In 2005, Taylor started taking baking seriously and made treats for family and friends who encouraged him to take his tasty creations to the next level. By the fall of 2010, he started a small bakery business called Lai Lida Cookies.
Taylor says he was initially surprised by the success of his cookies.
"Surprisingly my cookies were a smashing success, and were being requested on a weekly basis by numerous parties," he says.
The company name comes from Taylor's first semester Chinese teacher at the University of Wisconsin-Milwaukee who taught him the expression.
"It means 'strong traveler' – which I am not – but I choose to use it because of the way it sounds and my interest in opening a small coffee shop in Taiwan," says Taylor.
Originally, Taylor says he took Chinese language classes to fulfill his foreign language requirements, but later realized the relevancy of knowing a language from a country where 2 billion people live. Four years ago, Taylor visited Taiwan for three weeks and fell in love with the culture.
"I loved it so much, I spent the summer there studying the language four hours a day, five days a week," he says. "Last year I spent St. Patricks's Day in Taipei. Wow, was that different."
Lai Lida Cookies are available in all of the Balistreri family-owned Sendik's, Sendik's on Downer, Scardina Specialties in Riverwest and the Metro Market in Mequon.
Taylor created many of the recipes himself, but a few are his mom's, including the popular red velvet cookies that had been a family favorite since 1953. Taylor's mom didn't give up the recipe at first, but finally offered it up in 2008.
Taylor's parents grew up in Jackson, Miss., and the surrounding area in the 1930s and '40s.
"During this difficult time both of my parents were taught baking and cooking techniques unique to the black culture," says Taylor. "Input from friends and family have and will help me work on past, present and future cookies."
Today, Lai Lida's offerings include red velvet tiger bites, combination of the red velvet cake with peanut butter chips and drizzled with cream cheese frosting. The almondini is an almond butter chocolate chip cookie with cream cheese frosting and a sea salt sprinkle. The sea turtle is a milk chocolate cookie with dark chocolate chips, caramel chips, crushed pecans, cream cheese frosting and a sprinkle of sea salt.
All of the cookies are very rich, chewy and a complementary mix of salty and sweet.
Currently, Taylor is working on expanding to more locations and perfecting his cheesecake recipes.
"There's currently interest in using my cookies as an ingredient for a special frozen custard. I'm really excited for that," he says.
Lai Lida Cookies also offer catering services. Taylor will deliver cookie trays and / or gift bags free of charge to local businesses or private parties. Orders can be quickly turned around a day in advance, as long as the order is received before 1 p.m.
Taylor says his love and passion for sweets make him very happy and that baking and selling his goods is a dream come true.
"I love being able for bring original products that can't be found elsewhere. It's what makes Lai Lida Cookies special," says Taylor. "Throughout my life I have used baking as a tool to relieve stress, cure my sweet tooth and bring joy and happiness to others."
Talkbacks
Back2Nature | March 9, 2013 at 9:59 a.m. (report)
I have to say the cookies are delicious. I was very disappointed when I read the list of ingredients. There are artificial flavors in most of their products. This really seems so unnecessary, and limits the appeal of the products. People read labels these days.
Facebook Comments
Disclaimer: Please note that Facebook comments are posted through Facebook and cannot be approved, edited or declined by OnMilwaukee.com. The opinions expressed in Facebook comments do not necessarily reflect those of OnMilwaukee.com or its staff.