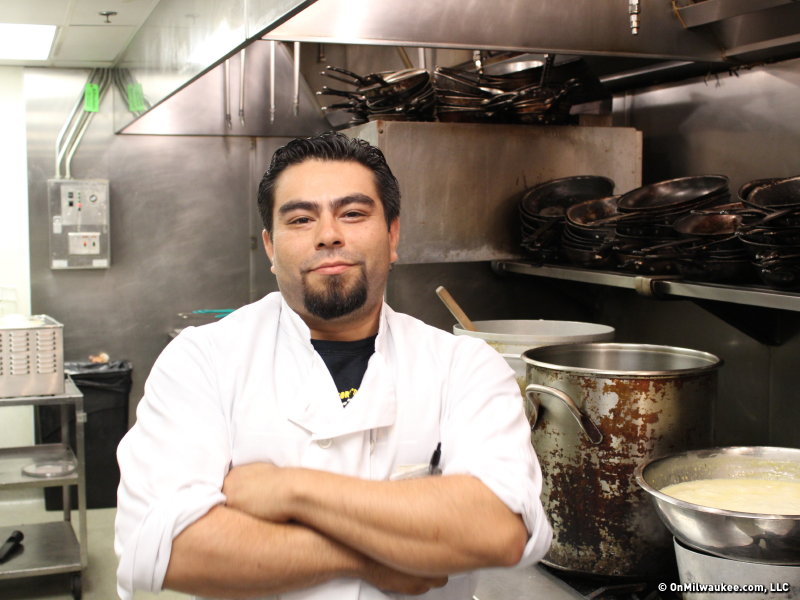 Sous Me: A chat with Miguel Ramirez of Maxie's
For the seventh straight year, October is Dining Month on OnMilwaukee.com, presented by the restaurants of Potawatomi. All month, we're stuffed with restaurant reviews, delectable features, chef profiles and unique articles on everything food, as well as the winners of our "Best of Dining 2013."
Miguel Ramirez was born in Chicago, but raised by his mother in Mexico City, where they moved when he was just 4 years old.
By the time he was 15, he made the decision to move back to the Chicago area, where he took a job washing cars by hand. When he turned 16, he took a job at Old Country Buffet.
"That's where my culinary career began," he tells me. "I started as a dishwasher and then moved up to become the kitchen manager."
For years, he worked in chain restaurants like Applebees and Red Lobster. Then, he met his now ex-wife and they decided to move to Milwaukee, where Ramirez pursued his culinary degree at MATC.
By the time he was 21, Ramirez took over caring for his three sisters and his mother. He brought them to Milwaukee and provided for them through his work in the service industry.
"I was hired as the head chef at Riptide, just before they closed," he says. "I tried to do everything right … I brought up sales and kept food costs down. But, I found out that there were already plans in the works to close the restaurant before I was even hired."
It was then that he made the move to Maxie's.
"One of my friends worked here as a cook and he told about the opening. I started as a training chef, learned all the stations, and then worked up to where I am now."
Ramirez is no longer the green kitchen staffer he was when he arrived in our beautiful city. In fact, he's been in the industry now for 20 years. So, I was eager to talk with him about what inspired him to start working in restaurants, what he likes most about his job, and where he sees himself headed in the next five or ten years.
OnMilwaukee.com: What made you choose food as your career?
Miguel Ramirez: I started liking what I was doing. I never thought about it. I was 16. But, I kept going and learning from the chefs, writing down what I saw, working with recipes and making something different. It was challenging – finding new ways to present the plate and make it beautiful. I want people to see the food and think it's so beautiful you don't even want to eat it.
I love it when people give me compliments on my food, my specials. It's about wow-ing the customer from beginning to end. There's something about it that I love. I like that people go home happy … with a great experience.
OMC: What do you wish you had known when you took your first sous chef position?
MR: There really weren't any surprises. I knew what was coming. I was actually looking forward to it. I definitely saw the difference, but I wasn't surprised about it. I knew there would be more stress, more responsibility. I was always struggling to be in a leadership position. It's natural to me.
It was a huge change to move here. People care about you here; they're family oriented. Every morning I get up and I'm excited to go to work.
OMC: From your point of view, what's the most important role a sous chef plays?
MR: The most important one is making sure that product is fresh. It's what you're serving to the customers. You need to make sure it's top notch. That's my first priority – the customers. Without them, I wouldn't be here.
OMC: What's the most challenging part of your job?
MR: At the beginning I had trouble with the expo. It's the center of the restaurant, and I think it's a challenging position.
OMC: What's the best part?
MR: Everything. Working with my crew, with my chefs. Everyone here is the best. The way we're organized in the kitchen … the fact that we have a small kitchen and we serve so many people. The record right now is 712 in one night during every day service. It's impressive how much food we can make out of that small kitchen.
Our food … I can tell you, it's so fresh. We don't keep inventory of things like fish. We get a new order every day.
OMC: What have you learned most about yourself while working in the kitchen?
MR: I'm good with people. I've found that I'm a good teacher; I've trained so many people through my life.
OMC: Of the chefs you've worked for, from whom did you learn the most? Why?
MR: Joe Muench. Definitely. And Jacob Schick, executive chef. I've never learned so much about southern food. New Orleans, Memphis, Cajun style… I'm really getting into Cajun food. And spicy food, that's my thing. It's in me; I'm Mexican. We use a lot of smoked products here, things I've never seen. We smoke a lot of our meats here. Pork, brisket, wings, you name it. I knew some things about smoking, but the sheer quantities here … it's amazing.
OMC: How would you describe your cooking style?
MR: I was going to open a restaurant, maybe four or five years ago. I even had an investor. It was going to be international… I've spent my life at so many different restaurants. Chinese, Italian, Mexican and now Cajun.
OMC: How does your Mexican heritage play into what you do at the restaurant?
MR: It's very interesting. You know that New Orleans is influenced by the Spanish, the French, Africa. Working here has helped me to get to know my people… the Spanish influence in this food is like the Spanish food in Mexico. The spiciness. The beans… we use beans. The way we prepare the meat here, low heat, long braising. It brings me back.
OMC: What's your favorite dish to cook here?

MR: The pecan trout. It's just the delicacy… it cooks so fast, you can't let it sit too much. It takes maybe two or three minutes. It melts in your mouth. There's sweet potatoes and onions. Getting just the right golden brown on the potatoes… putting the sauce on top. Oh, so good.
OMC: What's always in your fridge?
MR: I need my heavy cream, butter, milk…. Dairy products. Fruits and vegetables. Chicken breasts.
OMC: What's the one thing you wish people knew about sous chefs?
MR: It's challenging, but very rewarding.
OMC: Where do you envision yourself five, ten years from now?
MR: Opening a restaurant for Maxie's… if they open one. I would love to stay here, with them. I would love to run the kitchen. Things are so great here, I can't really imagine… we're a team, and I really love that.
OMC: What do you do when you're not in the kitchen?
MR: I cook for my girlfriend, take the dog to the dog park. I spend a lot of time with my son, who's 15. I got very lucky; he didn't turn out to be the teenager that you hear about; he's a good kid.
Facebook Comments
Disclaimer: Please note that Facebook comments are posted through Facebook and cannot be approved, edited or declined by OnMilwaukee.com. The opinions expressed in Facebook comments do not necessarily reflect those of OnMilwaukee.com or its staff.