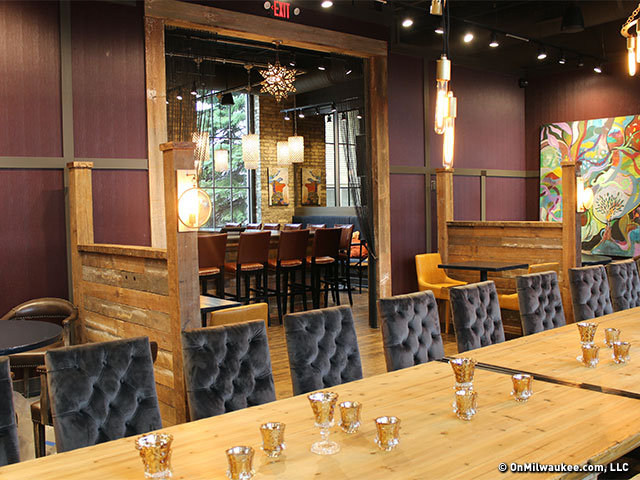 Romantic dining guide
Note: The contents of this guide were checked for accuracy when this article was updated on Aug. 15, 2013 at 5:03 p.m. We continually update the thousands of articles on OnMilwaukee.com, but it's possible some details, specials and offers may have changed. As always, we recommend you call first if you have specific questions for the businesses mentioned in the guide.
For a city of its size, Milwaukee can more than hold its own when it comes to outstanding cuisine. From elegant restaurants to little holes in the wall, you'd be hard-pressed to run out of dining options in Brew City. But for the most romantic dining escapes, check out these Milwaukee-area gems.
Andrew's
The Delafield Hotel
415 Genesee St., Delafield, (262) 646-1620
thedelafieldhotel.com
This elegant and sophisticated restaurant, which opened in March 2006, is a fine dining destination. The dining room's themed booths and the veranda offer romantic dining possibilities, and every Valentine's Day features a special menu, too.
Bacchus
925 E. Wells St., (414) 765-1166
bacchusmke.com
A Bartolotta restaurant, Bacchus is a sleek and stylish space inside the historic Cudahy Tower. Fine dining at its most exquisite with an emphasis on seafood, handmade pastas and meats, add an amazing wine list and pitching the woo is easy here.
Balzac
1716 N. Arlington Pl., (414) 755-0099
balzacwinebar.com
This Brady Street restaurant specializes in tapas and an impressive selection of wine in a dimly lit, comfortable and intimate environment. The mood here is mellow, and the staff is friendly and extremely helpful should you or your date have any questions about the five-page wine list.
Braise
1101 S. 2nd St., (414) 212-8843
braiselocalfood.com
Newly opened in 2012, Braise is the restaurant extension of the Braise Local Food collaboration, which includes an RSA and culinary school. Appropriately, the restaurant serves an ever-rotating menu of fresh and local items. Bring your sweetie for dinner and savor a truly passionate meal.
Buckley's
801 N. Cass St., (414) 277-1111
buckleysmilwaukee.com
Buckley's, on the Lower East Side, is one of the most intimate restaurants around Downtown. The food is better than ever and the neighborhood is perfect for an after-dinner stroll, if the weather cooperates.
Cafe Centro
808 E. Center St., (414) 455-3751
centrocaferiverwest.com
This small, intimate Italian restaurant, located in the heart of Riverwest, is perfect for couples looking for a romantic dinner.
Café Corazon
3129 N. Bremen St., (414) 810-3941
corazonmilwaukee.com
Follow your heart to Riverwest's own heart, Cafe Corazon. The restaurant specializes in caliente Latin cuisine and uses fresh, local ingredients to enhance their already delicious lunch, dinner and dessert fare. It's vegetarian-friendly, too.
Casablanca on Brady
728 E. Brady St., (414) 271-6000
casablancaonbrady.com
Casablanca on Brady offers fine Middle Eastern cuisine, a full bar that is as stunning as it is delicious, mood lighting and - get this - belly dancing on Friday nights. What's more romantic than that?
Chez Jacques
1022 S. 1st St., (414) 672-1040
chezjacques.com
Sometimes breakfast for two can be the most romantic meal of the day. This quaint and casual café offers simple but delicious French breakfast, lunch and dinner options from 10 a.m. to 10 p.m. daily (except Mondays). It's authentic, extremely charming and somewhat off the beaten restaurant path.
Coquette Café
316 N. Milwaukee St., (414) 291-2655
coquettecafe.com
This warm and casual bistro located inside the Landmark Building in the Third Ward tempts the refined palate with items such as caramelized onion goat cheese ravioli with butternut squash, walnut and fresh sage. It's also a great place to indulge in a decadent dessert, such as crème brulee, warm chocolate cake or chocolate mousse.
Crazy Water
839 S. 2nd St., (414) 645-2606
crazywatermilwaukee.com
You'd never expect such grand things to come out of such a small kitchen. This Walker's Point restaurant may have the tiniest kitchen in town, but it's cooking up some big things. A small restaurant with close knit tables, soft lighting and excellent service, try Crazy Water for some incredible seafood with your special someone.
Dream Dance Steak
1721 W. Canal St., (414) 847-7883
paysbig.com/dining/dreamdance.htm
Located in Potawatomi Bingo Casino, Dream Dance Steak delivers contemporary romantic dining with inventive appetizers, top quality steaks and seafood options and luscious desserts. Always rated among the city's top restaurants, its recent refreshed look and menu makes it worthy of another special night out.
Eddie Martini's
8612 W. Watertown Plank Rd., (414) 771-6680
eddiemartinis.com
A 1940s-style steakhouse with a modern flair has worked like a charm at one of the city's most popular restaurants. Great food, wine and the sounds of Sinatra are a winning combination.
Firefly
7754 Harwood Ave., Wauwatosa, (414) 431-1444
firefly-grill.com
Located in the heart of Tosa Village, Firefly has a warm, low-lit dining room at the front that serves upscale comfort food and a dark bar in back that's perfect for a quiet interlude.
Harbor House
550 N. Harbor Dr., (414) 395-4900
harborhousemke.com
Seafood is an aphrodisiac and the clean lines, attentive service and perhaps the most stunning view in Milwaukee only enhance the effect.
Heaven City
S91 W27850 National Ave., Mukwonago, (262) 363-5191
heavencity.com
Heaven City is a bit of a drive, but it's well worth it. Known as the restaurant with the live tree in the center, booths are private and cozy in this registered Wisconsin Historical Site restaurant. The menu ranges from fine dining to tapas to a high-end Friday fish fry.
Hinterland
222 E. Erie St., (414) 727-9300
hinterlandbeer.com
The Third Ward is the second location for this Green Bay-based restaurant. Hinterland successfully combines fine dining food, a tapas menu and beautiful casual ambiance. Looking for somewhere to cozy up with your special someone? Check out the back lounge with a separate bar and comfy couches.
La Merenda
125 E. National Ave., (414) 389-0125
lamerenda125.com
It doesn't get much more romantic than sharing food. The tapas style menu at La Merenda lets you do just that, offering a long list of international tapas for you and your sweetie to split. Tasty wines and fruit-filled sangria rank the drinks just as good as the food. Don't forget to try their incredible dark chocolate or fried banana desserts.
Le Reve
7610 Harwood Ave., Wauwatosa, (414) 778-3333
lerevecafe.com
Transport your tastebuds with a romantic Parisian experience. La Reve's cafe serves traditional bistro meals from breakfast through late-night dinner for a taste of French romance at any time of the day or evening. Save room for dessert – the patisserie stocks an array of traditional French pastries made by their classically trained chefs.
Lake Park Bistro
3133 E. Newberry Blvd., (414) 962-6300
lakeparkbistro.com
Transplant the Bartolotta family magic to the Lake Park Pavilion and you've got the recipe for a memorable evening. French cuisine and dramatic views of Lake Michigan don't hurt, either.
Meritage
5921 W. Vliet St., (414) 479-0620
meritage.us
Chef Jan Kelly's intimate Meritage boasts great good and fine service, creating the perfect atmosphere for a quiet dinner for two.
Page 1 of 2 (view all on one page)
Next >>
Talkbacks
Nickmiller1986 | Feb. 11, 2013 at 10:42 a.m. (report)
WOW Casablanca on Brady st got Most romantic 2012 on WISN A-list and there not on this list for romantic? Onmilwaukee who picks your list?
PlayerGotGame | Feb. 9, 2013 at 10:13 a.m. (report)
Mo's is not a romantic restaurant. It is filled with guys having business dinners most nights. Sometimes, there are ladies of the night at the bar. This is common at steakhouses in big cities. These aren't the kinds of places you take your lady.
mke4me | Feb. 14, 2012 at 10:43 a.m. (report)
Zak's Pleasant Valley Inn should be removed from this list! That place is horrible! You should not recommend it or dare to list it as a romantic restaurant! Food is awful, everything is frozen and they were out of 5 of the 10 items on the menu when I did go there. The service is poor and the waitress flashes you a card at the end of the meal asking for a cash tip. I would rather eat at Chili's or some other lame restaurant than ever set foot in this place again unless it's sold to someone else. It could be great but with the current ownership, it's absolutely horrible! Your other suggestions are valid...so confused by this one???
Facebook Comments
Disclaimer: Please note that Facebook comments are posted through Facebook and cannot be approved, edited or declined by OnMilwaukee.com. The opinions expressed in Facebook comments do not necessarily reflect those of OnMilwaukee.com or its staff.