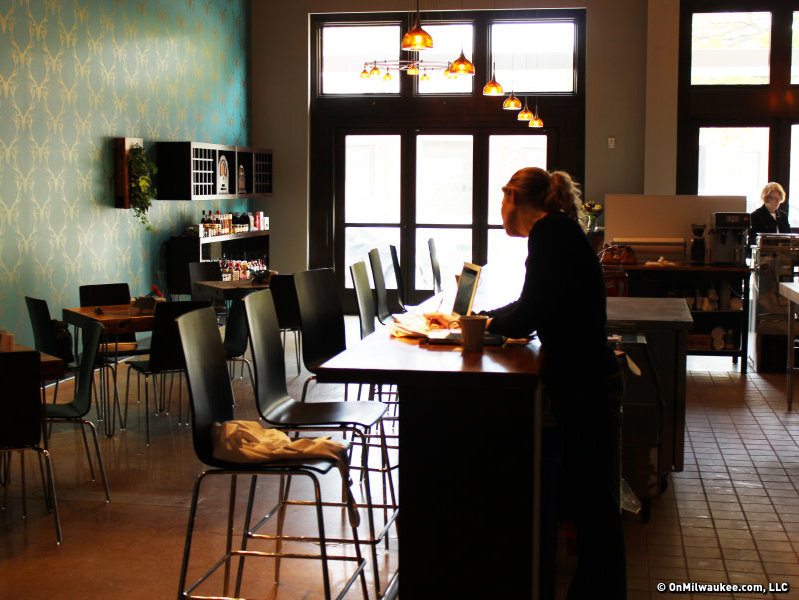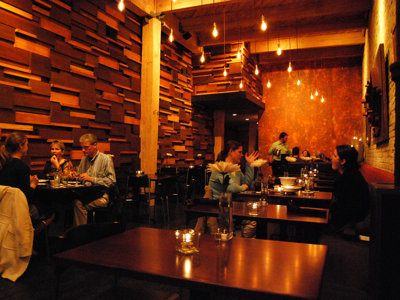 Third Ward dining guide
Note: The contents of this guide were checked for accuracy when this article was updated on Oct. 1, 2015 at 1:16 p.m. We continually update the thousands of articles on OnMilwaukee.com, but it's possible some details, specials and offers may have changed. As always, we recommend you call first if you have specific questions for the businesses mentioned in the guide.
For the ninth straight year, October is Dining Month on OnMilwaukee, presented by the restaurants of Potawatomi Hotel & Casino. All month, we're stuffed with restaurant reviews, dining guides, delectable features, chef profiles and unique articles on everything food, as well as voting for your "Best of Dining 2015."
These days, dining options are as plentiful as fashion boutiques and galleries in the Historic Third Ward. From the fun and casual Milwaukee Ale House to the upscale fashionings of Chef Dan Van Rite at Hinterland, there are myriad options to please your palate in Milwaukee's Arts & Fashion District.
Bavette La Boucherie
330 E. Menomonee St. (414) 273-3375
bavettelaboucherie.com
Step into Bavette and you'll be immediately transported to a time when butchery was a time-honored tradition. Chef Karen Bell honors the art of nose-to-tail butchery by sourcing and custom cutting meat from whole animals raised on small, local farms. The shop features fresh house-made sausages, locally made charcuterie, and Wisconsin cheese. Meanwhile, the café offers daily soup and sandwich specials, along with charcuterie and cheese boards, a selection of local beers and a carefully curated wine selection.
Bella Caffé
189 N. Milwaukee St., (414) 273-5620
bellacaffe.com
Perched at the corner of Milwaukee and Chicago Streets, Bella is a great morning, noon or late night stop. Featured lunch items include made-from-scratch soups that change daily. They've also got salads, quiche and more. They brew Colectivo coffee, pour Rishi tea and serve wonderful desserts for your post-theater, spa or shopping pleasure.
C. Adam's Bakery
Milwaukee Public Market, 400 N. Water St., (414) 271-1871
milwaukeepublicmarket.org
Orchard fresh streusel bars, berry chiffon cake, chocolate silk pie and amazing Wisconsin cookies with real maple syrup. These are just of few of the irresistible items featured at C. Adam's Bakery in the Milwaukee Public Market. Owner Lisa Crum's passion for creating decadent desserts sparked at the tender age of 14 when her grandmother gave her some candy molds as a gift. Things took off from there. Local chocoholics will certainly recall Sweet Perks, Crum's former bakery in Wauwatosa, and her award-winning brownies.
Café Benelux
346 N. Broadway, (414) 501-2500
cafebenelux.com
Café Benelux features roof top seating and a European-style market, in addition to its café, restaurant and bar options. Inspired by the Benelux region, the café features regional fare like mussels, pannenkoeken, and frites, along with a wide selection of Belgian style brews. Stop in for breakfast, lunch, dinner, or brunch on the weekend. They also feature a grab n' go menu featuring muffins, fruit, sandwiches and more.
Café La Scala
631 E. Chicago St., (414) 223-2185
lascalamilwaukee.com
Café La Scala (formerly the Italian Community Center Ristorante) is a public restaurant inside the semi-private ICC that serves great food -- Italian and non-Italian -- in a casual, friendly atmosphere. Stop in for dinner or grab a pizza or Panini at lunch.
Club Charlies
320 E. Menomonee St., (414) 763-8548
clubcharlies.com
Club Charlies serves up pretty good bar food in a city that's known for its pub fare. From chicken fingers and Mozzarella sticks to burgers and steaks, Charlies offers a little bit of something for everyone. Vegetarian options include a variety of sandwiches and pasta options. Check out their web site for great weekly specials like 1/2 price bottles of wine and 50 cent wings after 5 p.m. on Thursdays.
Colectivo Coffee
170 S. 1st St., (414) 765-9873
colectivocoffee.com
Colectivo (formerly Alterra) is a Milwaukee staple. While they offer a limited food menu, what they do have is tasty and bakery delivered fresh from their Bay View location. Choose from soups, sandwiches, burritos and daily quiche specials. Of course, the real star at Colectivo is the coffee. With the exception of the lakefront location, there's arguably no better Colectivo location than in the Third Ward.
Coquette Café
316 N. Milwaukee St., (414) 291-2655
coquettecafe.com
The dark wood, mirrored back bar and glowing gold walls invite you in to experience top quality and unassuming fare that you might find in the home kitchens of French grandmothers. But, no need to travel that far. Just venture to the Landmark Building for authentic bistro fare. The homemade pizzas are delightful and always be sure to request the pommes frites with aioli as your sandwich side.
Cuvee
177 N. Broadway, third floor, (414) 225-9800
cuveemke.com
It doesn't matter if you're looking for a quiet night out with your sweetie or a party with girlfriends, look no further than Cuvee. Specializing in fine champagne, the lounge also offers a full-service smoke-free bar, cheese plates and truffles.
Gouda's Italian Deli
218 N. Water St., (414) 221-6565
goudasitaliandeli.com
Specializing in carefully crafted Italian food, Gouda's stand as a testament to how Italian food should be done. The storefront doubles as a restaurant and an old-style Italian deli – you can stop in to get light groceries and deli meats or sit down for a meal made using family recipes. Try the daily specials for take-out and delivery service!
Hinterland Erie Street Gastropub
222 E. Erie St., #100, (414) 727-9300
hinterlandbeer.com
Hinterland, a Green Bay original, opened its second location in Milwaukee's Third Ward in Fall 2007. The fine dining restaurant features fresh wild game and seafood as well as an affinity for locally grown, fresh produce. Menu changes are made daily and seasonally. Patrons have the option of either a fine dining room or the more casual lounge. Be sure to check out their daily lounge specials, which include dishes like house-made pho, sausages and tacos.
Holey Moley Coffee + Doughnuts
316 N. Milwaukee St., (414) 308-1616
hospitalitydemocracy.com/holey-moley
A good donut shop is hard to beat. Holey Moley Coffee + Doughnuts can kick off your morning with Hawthorne coffee and a HUGE selection of doughy confections. They have gluten-free options, vegan options, cake doughnuts, yeast doughnuts, fritters and holes, sour cream old-fashioned doughnuts and more in a wide variety of flavors. Grab a box for the office and see what an work-routine breakfast could taste like.
Hudson Business Lounge
310 E. Buffalo St., (414) 220-9460
hudson-business-lounge.com
The Hudson is a co-working space/office space for working folks with non-traditional office situations. However, the espresso lounge/wine bar connected to the facility is open to the public and offers coffee, beer, wine, assorted baked goods and breakfast items. For those seeking a bite to eat after work, there are plenty of options including a variety of flatbreads, light bites, cheese plates, and desserts. The lounge is open until 10 p.m. on weekends.
The Irish Pub
124 N. Water St., (414) 225-9400
theirishpub.us
Aiming to replicate the warmth, comfort and wit of pubs in Ireland, the Irish Pub offers traditional food in a traditional setting. The menu combines Irish classics with American bar style cuisine, offering subtle changes to American classics such as Jameson Whiskey wings, Irish nachos and Corned Beef Sandwiches. Though not visible from the street, the Irish Pub has a large interior courtyard for outdoor seating. Check out the daily drink specials.
Jing's
207 E. Buffalo St., first floor, (414) 271-7788
Jing's, the only Chinese restaurant in the Third Ward, serves authentic, homemade dishes available for carry out, delivery, catering and dine in. It's open Tuesday-Friday at 11:30 a.m. for a lunch buffet.
Kanpai
408 E. Chicago St., (414) 220-1155
kanpaimilwaukee.com
If you're a lover of sushi and Asian fare, Kanpai is one to try. Chefs Marcus Lee and Andy Park have put together a menu that will challenge your typical sushi experience. You'll find a menu chock-full of Asian specialties, including Japchae, Bulgogi, and Bibimbop, as well as artful and creative sushi, rolls, and sashimi options. Open for lunch and dinner.
Kasana
241 N. Broadway, (414) 224-6158
kasana-mke.com
Part and parcel of a space that houses a kitchen collective and events space, Kasana offers American lunch and dinner specialties inspired by Argentinian and Brazilian cuisine, including empanadas, sandwiches, soups and salads.
Lucky Ginger
221 N. Water St., (414) 269-8829
Lucky Ginger is an Asian fusion restaurant with a riverfront view. The menu draws on a medley of Asian cultures featuring lad nah noodles and Korean short ribs. Check out their daily lunch specials 11 a.m.-2 p.m.
Milwaukee Ale House
233 N. Water St., (414) 276-2337
ale-house.com
Craft brews, live music, great bar food and one of the city's best patios make the Ale House a favorite stop. Louie's Demise, Pull Chain Pale Ale, Sheepshead Stout ... ale's what will cure ya at the Milwaukee Ale House. Trivia night is Wednesday and late nights on Thursday rock with serious karaoke.
Milwaukee Public Market
400 N. Water St., (414) 336-1111
milwaukeepublicmarket.org
We highlighted C. Adam's above, but don't forget that while the market isn't meant to be a suburban food court, it's full of wonderful dining options such as Aladdin, Thai-Namite, The Green Kitchen, St. Paul Fish Company and Margarita Paradise. Shop, eat, drink and sample!
Milwaukee Sail Loft
649 E Erie St., (414) 223-0100
milwaukesailloft.com
Located in the former Riptide location, Milwaukee Sail Loft offers upscale seafood dining with an emphasis on fresh. Aside from the masses of seafood, Milwaukee Sail Loft has a build-a-burger option that's customizable down to three different kinds of meat or a black bean patty.
Onesto
221 N. Broadway, (414) 308-1600
hospitalitydemocracy.com/onesto
Another recent addition to the Third Ward dining selection, Onesto focuses on cultivating an upscale atmosphere with fine Italian cuisine using locally sourced ingredients. For an appetizer, try the mussels cooked in a savory white wine and tomato base. Follow that with the Roasted Short Ribs and cap the meal with a glass of Tuscan wine. There's a reason why the restaurant name means "honest" in Italian.
Smoke Shack
332 N. Milwaukee St., (414) 431-1119
hospitalitydemocracy.com/smoke-shack
They're pretty serious about their BBQ here. Offering only hormone and antibiotic-free meats, dry-rubbed and slow-smoked, you can pick your own sauces. They also have delectable vegetarian options for those who want meat-free, like the roasted portobello sandwich or barbequed seitan. And the desserts will make your mouth water: gooey bacon bourbon brownies, seasonal fruit crumble, and purple door whiskey ice cream, just to name a few.
Red Elephant Chocolate Third Ward Cafe
333 N. Broadway, (855) 733-3574
redelephantchocolate.com
It's not your traditional café, but if you're a chocolate lover, it may just be the place you want to be. In addition to gourmet chocolates (including bars, truffles, and other delights), you can sample chocolate pastries, micro-roasted South American coffee, and drinking chocolate. The café offers minimal seating for those who wish to taste and linger.
Riverfront Pizzeria Bar and Grill
509 E. Erie St., (414) 277-1800
rfpmke.com
In a city full of many fine pizza options, Milwaukee's Third Ward has found, thanks to Greendale's Ricardo's Pizza (the owners of Riverfront Pizzeria), another great pizza and a new, cozy family-style restaurant that's sure to please for years to come.
Rustico Pizzeria
223 N. Water St., (414) 220-9933
rusticopizzeria.com
Rustico is a gourmet pizza restaurant opened by Brian Zarletti. The setting is casual, and the menu also offers a smattering of sandwiches, salads and pastas. In the warm months, both tiers of the Riverwalk patio are still available for scenic dining.
Swig
217 N. Broadway, (414) 431-7944
swigmilwaukee.com
Swig's move into the Third Ward meant more than just a change in location. The award winning upscale-casual restaurant brought with it a new menu and a new look. Featuring both small plates and entrees, Swig's menu is guaranteed to satisfy customers with a fresh take on casual dining. Small plates include bruschetta, skewers, salads and seafood. Entrees focus mainly on seafood but include beef tenderloin, chicken and pasta options, too. With an exceptional menu, classy setting as well as an extensive wine, beer and martini list, Swig has found a lasting niche in the Third Ward.
Water Buffalo
249 N. Water St., (414) 431-1133
waterbuffalomilwaukee.com
Water Buffalo combines the relaxation of a casual contemporary eatery with up close and personal views of the Milwaukee River. Opened in 2007, the foodstuffs served up by chef Frank Ortlieb are a new take on classic bar favorites. The menu offers salads, sandwiches and entrees while the location offers patrons the option of seating along the Riverwalk.
The Wicked Hop
345 N. Broadway, (414) 223-0345
thewickedhop.com
Miles and Andy O'Neil's space inside one of the Third Ward's oldest buildings has what they describe as "an Old World feel." Architects Vetter Denk and contractor Shawn Wardall preserved the look but added contemporary tweaks like a cool loft dining space, flat screens and the Jackalope Lounge live music space just to the south. Hop's food is bar standard with an upscale twist. Wash your food down with a tap of Father Damien's Belgian Wit from Harbor City or one of their award-winning Bloody Marys. It's oh so good.
Facebook Comments
Disclaimer: Please note that Facebook comments are posted through Facebook and cannot be approved, edited or declined by OnMilwaukee.com. The opinions expressed in Facebook comments do not necessarily reflect those of OnMilwaukee.com or its staff.