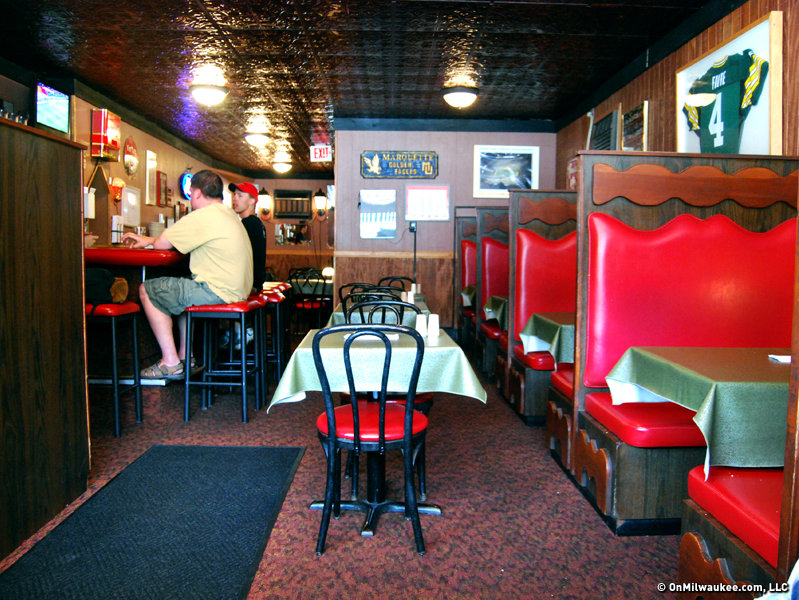 From the ashes, Tomaso's rises with quality
When Tomaso's fell victim to a blaze that destroyed sections of their interior last October, the restaurant -- W63N688 Washington Ave. in Cedarburg -- picked itself up, dusted itself off, and continued doing exactly what it has done successfully for 30 years now: serve fantastic thin crust, saucy pies, sandwiches and other Italian and American specialties at more than reasonable prices.
On one wall, diners can still see signs of the fire's damage, along with a brief article about the half carry-out, half dine-in restaurant getting back onto its feet.
But for someone who's never been there before, the right turn into the dining area would never belie that the restaurant was partially reconstructed. Everything, from floor to ceiling, has a fun, red, vintage pizzeria look and feel to it, and the menus, printed three months before the fire, are newspaper-spoof foldouts that read "Complimentary Collector's Menu."
Aside from the usual assortment of entrees and appetizers, the Tomaso's menu also provides brief and important instructions on how to place your order. The restaurant has no waitstaff so orders are placed with the bartender, who drops your food and your check on the bar area closest to your table so you can pop up and serve yourself.
If you don't want to wait on yourself in Tomaso's nostalgic dining room on the right, you simply take a left upon entering the front door and pick up your order to eat in the comfort of your own home.
If you are dining at the restaurant, you won't mind the self-service approach because the quality is top-notch.
Appetizers scream bar food, with mozzarella sticks ($4.95), garlic bread ($3), and jalapeno poppers ($4.50) mixed alongside other usual suspects, none of which is priced over $7.
Pizzas are inexpensive, as well. The pies come in deep dish or thin crust variety, and start at only $4.45 for a six-inch lunch special with one topping. A large 16-inch pizza with six toppings will only set you back $20.50, a remarkably reasonable price for pizzeria pizza.
I sampled a thin crust with tomatoes, spinach and onions and marveled at the sauce; a thick, zesty yet sweet, tomato sauce that takes over the pizza, and makes the fresh toppings compliments rather than the main attraction.
A Special "T" sandwich ($5.50) cooked with a charcoal broiler had my lunch companion raving. A fennel-filled Klement's Italian sausage patty was topped with melted cheese and red sauce, and served on garlicky buttered sourdough bread with crisp French fries on the side. Other sandwiches include hamburgers, sausage and meatball bombers and Italian beef, all priced under $9.
In addition to pizza, Tomaso's also offers rotisserie chicken, shrimp and fish fries, lasagna and spaghetti and ravioli with everything from Italian sausage and eggplant to veal and shrimp.
For dessert, several gelato is offered from behind the bar.
All this makes Tomaso's a carry-out gem, since you can choose from far more than just your standard pizza and breadsticks or fried chicken. Tomaso's is a one stop shop for all these items, and much, much more.
Talkbacks
hifimono | June 21, 2010 at 4:47 p.m. (report)
The pizza (both thin & deep dish) is a unique treat that I've been enjoying since I was 7 and haven't found any other pie like it.
Facebook Comments
Disclaimer: Please note that Facebook comments are posted through Facebook and cannot be approved, edited or declined by OnMilwaukee.com. The opinions expressed in Facebook comments do not necessarily reflect those of OnMilwaukee.com or its staff.