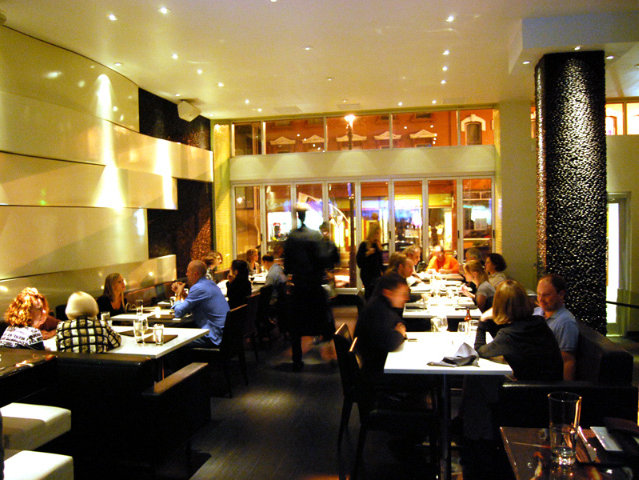 Umami Moto adds flavor, style to Milwaukee Street
October is Dining Month on OnMilwaukee.com. All month, we're stuffed with restaurant reviews, special features, chef profiles and unique articles on everything food. Bon appetit!

Umami Moto, 718 N. Milwaukee St., is self-described as the origin of (moto) "the source of the fifth element of taste-deliciousness" (umami).
While many diners may have been raised believing in strictly four tastes (sweet, salty, bitter and sour), the term umami has been making a splash in media lately as the fifth element in everything from restaurant names to Kikkoman advertising campaigns.
This taste, which is best described in layman's terms as "savory," is often equated with Asian-style cuisines.
Co-owned by Tom Wackman, Omar Shaikh and Michael Polaski, Umami Moto makes an easy entrance into Milwaukee Street as the trendy Downtown street's newest restaurant, and the best of the Wackman-Shaikh collaborations thus far. (The Downtown location has a sister in Brookfield by the same name, owned solely by Polaski, who is also the proprietor of Mi-Key's on nearby Jefferson Street).
Head chef Dominic Zumpano's beauty in the kitchen is rivaled only by the sleek decor of Umami Moto, which once housed Eve -- Wackman's nightclub meets dining hotspot. Envision smooth, black, individually strung stone pillars and walls, highlighted with glimmering glass tile and bar stool cushions so plush, you literally sink into a seat at the bar.
The menu here is simple, precise and delicious. Thai shrimp spring rolls ($7) and chicken lettuce wraps ($7) were pristinely assembled and deconstructed, respectively, with fresh clean flavors that made both appetizers, simply put, fun to eat. Hamachi (yellow tail, $11) comes sashimi style in a light, lemongrass vinaigrette with the crunch of julienne jicama and apple providing contrast to the buttery fish.
Lunch offers Pad Thai ($12) with shrimp or chicken for good results, heavy with the crunch of fresh peanuts, and a halibut ($15), which sits upon a creamy bamboo rice and painted plate with miso and yuzu (think of a pleasantly tart, orange-y flavor for this Japanese fruit). In the evening hours, that halibut morphs into a sea bass with the same presentation for $25, but the sea bass sings with even brighter, more exceptional flavors. Sesame shrimp ($15) is lightly fried and wok fired for a crunchy, yet tender, phenomenal plate, topped off with charred fresh asparagus and jasmine rice.
Service at Umami Moto is prompt, attentive and uses a team approach without being intrusive. While the restaurant bustles with the Milwaukee Street nightlife crowd, there was a diverse blend of patrons from all ages and ethnicities on both of our recent visits, making the experience at Umami Moto even more holistically enjoyable.
Facebook Comments
Disclaimer: Please note that Facebook comments are posted through Facebook and cannot be approved, edited or declined by OnMilwaukee.com. The opinions expressed in Facebook comments do not necessarily reflect those of OnMilwaukee.com or its staff.